August 14, 2017
Accenture Named a Leader in Salesforce Implementation Partners Report
NEW YORK; Aug. 14, 2017 – Accenture (NYSE: ACN) has been recognized as a leader and "stands out in scale, breadth, depth and focus on transformation" among global Salesforce Implementation Partners by Forrester Research, a leading global research and advisory firm. "The Forrester Wave™: Salesforce Implementation Partners, Q3 2017" report evaluated 11 of the vendors that matter most for digital transformation, based on their performance in three main categories: current offering, strategy and market presence.
In making its assessment, Forrester noted the following findings:
Accenture services run the full gamut of client needs – from ideation in its own design studios or using the Salesforce Ignite and Spark methodologies to implementation to ongoing support.
Accenture also holds a unique partnership – which means it is often a first mover in newer products and invests significantly in co-innovation with Salesforce and Salesforce customers.
Accenture is particularly well suited to larger, global, and more complex deployments where business transformation is a goal, as well as to clients looking to be on the bleeding edge of technology.
Accenture received the highest possible score in business transformation, prebuilt IP, market approach, innovation road map and partner ecosystem. As the largest provider of Salesforce Services globally, Accenture also scored highest in the client experience and practitioners and skills criteria.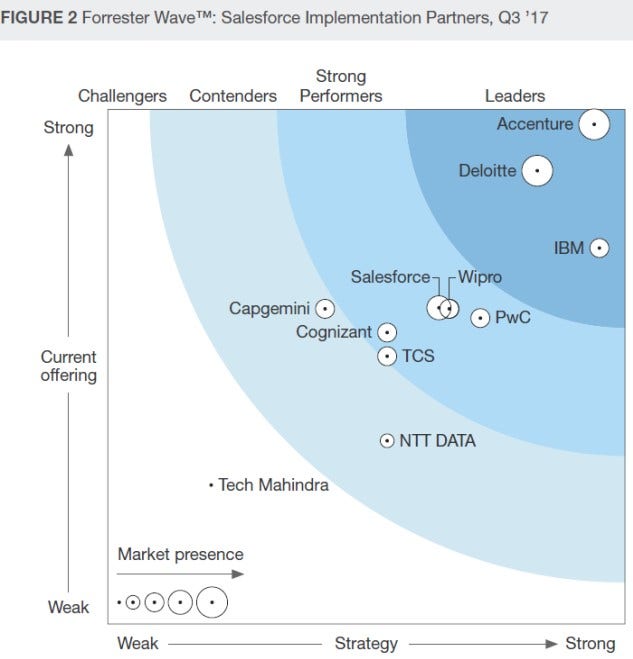 "We are thrilled about being recognized by Forrester as a leader in Salesforce implementation. We believe this confirms that we're on a path to deliver exceptional value and meaningful business outcomes for our clients," said Saideep Raj, senior managing director of Accenture Cloud First Applications. "Accenture is driving Salesforce's largest transformational projects with a track record of thousands of Salesforce implementations at more than 1,000 enterprise organizations. We bring deep industry expertise, and customer experience engagement combined with market-leading intelligent automation."

Accenture was one of the first global companies to establish a strategic alliance with Salesforce and continues to strengthen its position as a leading Salesforce partner. From introducing nearly 20 new industry solutions to training one of the largest ecosystem workforces, Accenture is unique in the Salesforce ecosystem. Accenture employs more than 11,000 Salesforce-skilled professionals and has invested in seven acquisitions in recent years as part of its investment in Salesforce capabilities. Since 2014, the seven Salesforce-related acquisitions include Phase One, Media Hive, New Energy Group, CRMWaypoint, Cloud Sherpas, Tquila and ClientHouse.

About Accenture
Accenture is a leading global professional services company, providing a broad range of services and solutions in strategy, consulting, digital, technology and operations. Combining unmatched experience and specialized skills across more than 40 industries and all business functions – underpinned by the world's largest delivery network – Accenture works at the intersection of business and technology to help clients improve their performance and create sustainable value for their stakeholders. With approximately 411,000 people serving clients in more than 120 countries, Accenture drives innovation to improve the way the world works and lives. Visit us at www.accenture.com.
# # #
Contacts:

Mylissa Tsai
Accenture
+ 1 917 452 9729
mylissa.tsai@accenture.com