August 15, 2017
Accenture Launches Liquid Studio in Toronto to Help Clients Accelerate Digital Business Transformation
TORONTO; Aug. 15, 2017 – Accenture (NYSE: ACN) today opened the doors to a new Liquid Studio in Toronto as part of the company's accelerated investment in innovation in Canada. At the Liquid Studio, clients will work side-by-side with highly skilled Accenture professionals to turn ideas into innovative applications and solutions with speed and agility.
"Continuous innovation is imperative to driving Canadian growth and competitiveness, and we will be working closely with our Canadian clients at the Liquid Studio to use new technologies and ways of working to solve their most significant business challenges," said Steve Convey, managing director, Accenture Technology Canada.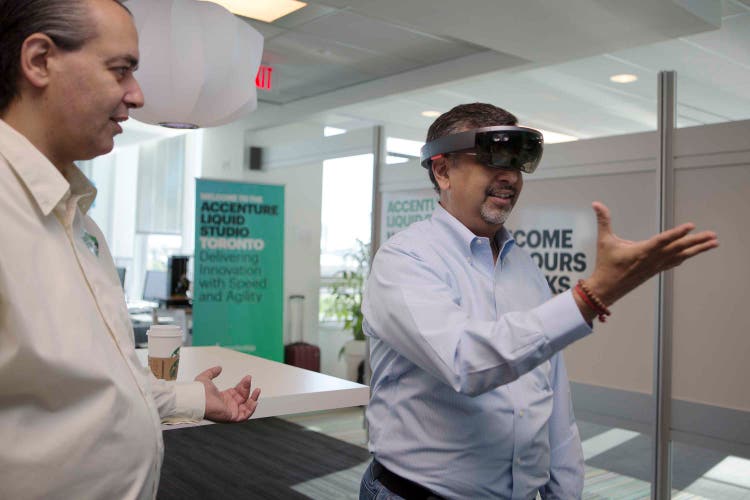 Accenture Liquid Studio Toronto
The Liquid Studio accelerates innovation by using rapid development approaches including Agile methodologies and DevOps, and applying disruptive technologies such as artificial intelligence (AI), blockchain and serverless architectures. This allows clients to reduce development time from months to days and shorten the time to business impact. The capabilities of the Liquid Studio will be supplemented by Accenture's alliance ecosystem, start-ups, and organizations like the Vector Institute, among others.

"Through immersive workshops, organizations will receive tangible, hands-on experience of how their business can benefit from the most disruptive technologies, such as artificial intelligence and augmented reality," Convey said. "By leveraging agile teams, a start-up culture and multi-speed, microservice and cloud-based architectures, organization will see more value quickly and easily."

The Liquid Studio in Toronto is one of several new Accenture initiatives in Canada, which include expanded investments in training and hiring, aimed at driving innovation locally.

The Liquid Studio in Toronto will collaborate with Accenture Liquid Studios in Silicon Valley, Houston, Paris, Milan, London, Kronberg, Singapore, Sydney and other locations, and with the Accenture Labs, where Accenture incubates and prototypes new concepts through applied R&D projects. Liquid Studios are an integral part of the Accenture Innovation Architecture, which brings together capabilities — from research, ventures and labs to studios, innovation centers and delivery centers —to develop and deliver disruptive innovations for clients, and to scale them faster.

About Accenture
Accenture is a leading global professional services company, providing a broad range of services and solutions in strategy, consulting, digital, technology and operations. Combining unmatched experience and specialized skills across more than 40 industries and all business functions – underpinned by the world's largest delivery network – Accenture works at the intersection of business and technology to help clients improve their performance and create sustainable value for their stakeholders. With approximately 411,000 people serving clients in more than 120 countries, Accenture drives innovation to improve the way the world works and lives. Accenture plans to hire 1,000 people in Canada this fiscal year. Visit us at www.accenture.com.\
Accenture, its logo, and High Performance Delivered are trademarks of Accenture. Any third-party names, trademarks or copyrights contained in this document are the property of their respective owners.
# # #
Contact:

Theresa Ebden
Accenture
+ 1 416 358 6741
theresa.ebden@accenture.com

David Greenberg
Accenture
+ 1 514 867 2165
d.greenberg@accenture.com