June 14, 2017
Accenture Launches Liquid Studio in Stockholm to Help Clients Accelerate Digital Business Transformation
STOCKHOLM; June 14, 2017 – Accenture (NYSE: ACN) has opened a Liquid Studio in Stockholm, Sweden to help Nordic clients speed innovation and software development cycles. At the Liquid Studio, clients can work side-by-side with highly skilled Accenture professionals to turn ideas into applications and solutions with speed and agility.
Aligned with the Swedish government's recently announced digitization strategy, which is focused on driving digital innovation in the local economy, the Accenture Liquid Studio in Stockholm helps clients experiment with disruptive technologies such as artificial intelligence (AI), blockchain and serverless architectures. At the Liquid Studio, clients can reduce development time from months to days by applying rapid development approaches including Agile methodologies and DevOps to quickly generate business impact.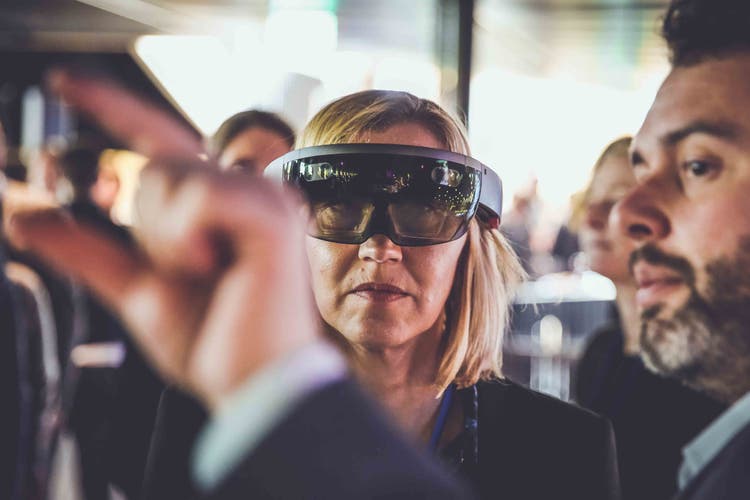 Clients experience mixed reality technology demo at the Accenture Liquid Studio in Stockholm
"We are very pleased to contribute to Sweden's vibrant technology innovation ecosystem with the launch of the Accenture Liquid Studio in Stockholm," said Sven-Bertil Carlsson, Nordic Liquid Studio Lead, Accenture Technology. "Building, testing and delivering software with speed and agility is essential to compete in today's dynamic marketplace. By combining cutting-edge technologies with our digital expertise, we have created a start-up-like environment that equips our Nordic clients with new ways to creatively and quickly solve real-world problems using techniques such as rapid prototyping and design thinking."

In addition to serving clients, the Liquid Studio will be used by Accenture professionals to build knowledge in new technical areas, develop prototypes for Accenture industry groups, write extensible software code that can handle growth and change, and apply automated testing capabilities to speed-up the delivery of applications to clients.
Accenture opens the doors to a new Liquid Studio in Stockholm to help Nordic clients speed innovation


Liquid Studios are an integral part of the Accenture Innovation Architecture, which brings together capabilities – from research, ventures and labs to studios, innovation centers and delivery centers – to develop and deliver disruptive innovations for clients, and to scale them faster.

The Stockholm site will collaborate with Accenture Liquid Studios in Silicon Valley, Paris, Milan, London, Kronberg, Singapore and other locations, and with the Accenture Labs, where Accenture incubates and prototypes new concepts through applied R&D projects.

Accenture works with 80 percent of the largest companies in Sweden and 90 percent have been clients for more than ten years.

About Accenture
Accenture is a leading global professional services company, providing a broad range of services and solutions in strategy, consulting, digital, technology and operations. Combining unmatched experience and specialized skills across more than 40 industries and all business functions – underpinned by the world's largest delivery network – Accenture works at the intersection of business and technology to help clients improve their performance and create sustainable value for their stakeholders. With more than 401,000 people serving clients in more than 120 countries, Accenture drives innovation to improve the way the world works and lives. Visit us at www.accenture.com.

# # #

Contact:

Anna Markelius
Accenture
+ 46730513452
anna.markelius@accenture.com