July 11, 2017
Accenture Launches Industrial IoT Innovation Center to Support Clients in Digitally Re-Inventing Their Industries


Clients work with Accenture to design and prototype digital solutions that improve engineering, manufacturing, production and deliver new customer experiences

Center to serve as hub for co-innovation and co-development of analytics and Industry X.0 solutions based on SAP® Leonardo

FRANKFURT; July 11, 2017 – In its new Industrial IoT (IIoT) Innovation Center in Garching near Munich, Germany, Accenture (NYSE: ACN) is helping clients explore ways to reach new levels of efficiency and agility, unlock new sources of growth, and deliver personalized experiences through smart, connected digital technologies.
The Innovation Center, which has been set-up as an industrial "shop floor", helps enable clients to design and prototype innovative digital solutions for their businesses and customers. It offers an Industrial Design Thinking capability for innovation workshops, a Connected Products Studio for rapid prototyping, and draws on an industrial ecosystem that connects clients with key technology partners, start-ups and academia.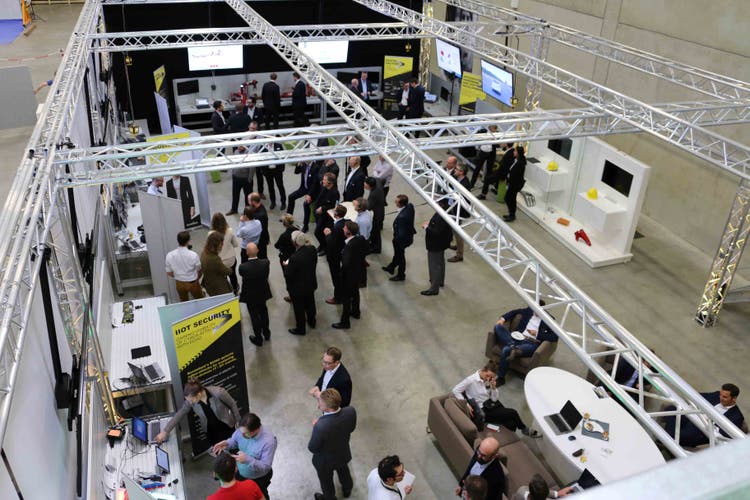 A look inside the Accenture Industrial IoT Innovation Center in Garching, Germany
"Many of our clients have begun to take steps to digitize their businesses – be that from experiment to pilot, or from pilot to rollout. But many are missing some of the capabilities required to rapidly explore and scale the solutions they want to use," said Eric Schaeffer, senior managing director, head of Accenture's Industrial practice, and author of Industry X.0 – Realizing Digital Value in Industrial Sectors.

The Garching center includes a large workshop and IIoT experience area with a range of real-life IIoT demos and applications. The area gives clients a hands-on experience of how new automation and IIoT solutions might improve their innovation, engineering, manufacturing and after sales strategies and operations. The key themes, technologies and best practices clients can explore include:
Invention and Innovation: ideating and prototyping new products, services, solutions and business models using customer insight driven approaches and design thinking
"Industrial Consumerism": digitizing the industrial customer experience in business-to-business environments, future-proofing the industrial marketing and sales organization
Human-Machine-Interaction: Leveraging IIoT, cloud and, mobile with AI and augmented or virtual reality for safer, more productive human-machine interactions
Platforms and Services: leveraging and building IIoT-enabled platforms and services for new efficiency and growth, enabling "Manufacturing in the New"
Smart Products: embedding software and connectivity in industrial products, applying analytics and machine learning, as well as other IIoT-technologies to enhance product value
Engineering, Manufacturing and Production: enabling digital engineering, industrial product development, manufacturing and heavy process operations, using intelligent automation, robotics, and integrated shop-floor (e.g. PLM, ALM, MES/MOM) and enterprise (e.g. CRM) systems
Cyber Security: securing and validating end-to-end industrial networks participating in IIoT
"We built this Innovation Center here because Germany is at the forefront of industry digitization and automation, and Garching is close to many of Germany's leading businesses in automotive, industrial equipment, chemicals and other industries, as well as research centers and universities that are working on IIoT and Industry 4.0," said Frank Riemensperger, senior managing director and country managing director for Germany at Accenture.

Industrial clients that begin their innovation journey at the Garching IIoT Innovation Center can also leverage the wider, Industry X.0 Global Innovation Network including Budapest, Hungary, for industrial automation; Clermont Ferrand, France, for digital asset management; Cluj, Romania, for industrial software; Modena, Italy, for Digital Manufacturing; and in the United States, Houston for energy, chemicals and other process industries and San Jose for Accenture's Industry X.0 research program.

The center is also building specific capabilities to co-innovate and co-develop with SAP new industry-specific digital solutions based on the SAP® Leonardo portfolio. Accenture is applying its Industry X.0 approach and IIoT expertise to develop use cases based on real-world client requirements in areas including:
End-to-End Manufacturing: Uses IIoT to allow manufacturing assets to collaborate as a connected ecosystem by creating a virtual model known as a Digital Twin, helping enable real-time views of plant performance.
End-to-End Food & Beverage: Leverages IIoT and advanced analytics to help enable end-to-end tracking of all ingredients and monitoring of machinery status across the production value chain.
Clients visiting the center can also take advantage of Accenture's other alliance relationships and joint offerings with leading vendors like AWS, Dassault Systèmes, GE, Microsoft, PTC, Schneider Electric, Siemens, and edge analytics start-up Lone Star Analysis along with others. All of these offerings are designed to help clients achieve better results and generate more value through their analytics, IIoT, and software investments in Accenture alliance partner technologies.

For more information about the IIoT Innovation Center in Garching visit: https://www.accenture.com/us-en/service-iiot-center-innovation-garching.

About Accenture
Accenture is a leading global professional services company, providing a broad range of services and solutions in strategy, consulting, digital, technology and operations. Combining unmatched experience and specialized skills across more than 40 industries and all business functions – underpinned by the world's largest delivery network – Accenture works at the intersection of business and technology to help clients improve their performance and create sustainable value for their stakeholders. With more than 411,000 people serving clients in more than 120 countries, Accenture drives innovation to improve the way the world works and lives. Visit us at www.accenture.com.

SAP and SAP products and services mentioned herein as well as their respective logos are trademarks or registered trademarks of SAP SE (or an SAP affiliate company) in Germany and other countries. See http://www.sap.com/corporate-en/legal/copyright/index.epx for additional trademark information and notices. All other product and service names mentioned are the trademarks of their respective companies.

# # #

Contact:

Florian Heinrichs
Accenture
+ 49 151 114 07803
florian.heinrichs@accenture.com