November 02, 2017
Accenture Launches Connected Digital Hackathon with Expo 2020 Dubai to Develop Digital Solutions that Improve Urban Living
24-hour global hackathon will tap best thinking from 11 cities across four continents
Teams challenged to find innovative solutions that improve urban living conditions, support more inclusive populations, promote sustainable urban practices
Expo will shortlist its favorite project for the Expo Live "Innovation Impact Grant Programme"
NEW YORK and DUBAI; Nov. 2, 2017 – Accenture (NYSE: ACN), in collaboration with Expo 2020 Dubai, is challenging participants from 11 cities around the world to develop prototypes of human-centered digital solutions that help improve the quality of urban living through its first global digital hackathon.
The 24-hour hackathon will take place simultaneously in Chicago, Bangalore, Dubai, Istanbul, London, Manila, Mexico City, Monterrey, Rome, Shanghai and Singapore on November 11 and 12, 2017.1 Registrations are open to recent graduates, undergraduates, entrepreneurs and individuals from start-ups with expertise in technology development, design and marketing, at accenture.com/digital by November 6.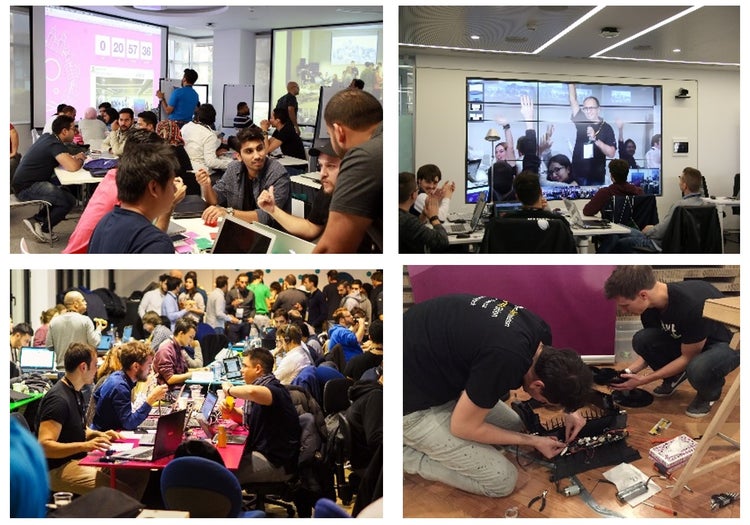 The Accenture Digital Hackathon is a 24-hour event in 11 cities across four continents where talented individuals will prototype digital solutions that help create a truly human city environment
Inspired by Expo 2020 Dubai's theme of "Connecting Minds, Creating the Future," participants will compete on finding digital solutions that organizations can use to address urbanization challenges. Over half of the world's population currently lives in cities and urban areas.2 This trend, which is expected to continue, is raising challenges such as creating truly inclusive environments, improving work and travel conditions in cities areas, and adopting a more sustainable approach to urbanization.

The proposed solutions need to meet two requirements:
Putting human beings at the heart of the experience;
Using latest digital technologies including wearables, artificial intelligence, analytics, augmented and virtual reality, blockchain and the Internet of Things.
Mike Sutcliff, group chief executive, Accenture Digital, said: "We are asking people with digital talents to apply their creativity and ingenuity to two game-changing trends – urbanization and digitization. With both, it is people who should come first. Accenture strongly believes that digital experiences have the power to make cities more livable for customers, patients, workers, students, and citizens, but these experiences can only be successful if they are truly human."

Gillian Hamburger, Senior Vice President of Commercial at Expo 2020 Dubai said: "World Expos have always been a showcase for innovation. This hackathon, with our Official Digital Services Partner Accenture, is another example of Expo 2020 encouraging innovation and connecting people from around the world to exchange ideas and contribute to the future."

Accenture was named Digital Services Premier Partner and Systems Integrator of Expo 2020 Dubai earlier this year to provide technologically advanced and innovative experiences to participants and visitors.

Why participate in the Accenture Global Digital Hackathon?
Accenture will award prizes worth up to a total of US$ 80,000 to the top teams in each city, region (Europe & Middle East, North America & Latin America, Asia), and globally. The best works will be determined by a panel of judges of experienced practitioners from Accenture, Expo 2020 Dubai and local sponsors.3
Expo will select its favorite project from among the three regional winners and shortlist it for the Expo Live "Innovation Impact Grant Programme." The program is expected to provide winning projects with grants of up to US$ 100,000 and a chance to showcase their innovations at the next World Expo.4
Individual participants demonstrating exceptional teamwork, problem-solving and goal orientation skills whose profiles are in line with Accenture's recruitment plans, may be interviewed for roles in Accenture Digital, or elsewhere in the company.
Learn more at accenture.com/digital and follow #AccentureDigiHack.

1 To ensure participants from all cities can connect for a certain amount of time, in Chicago, Mexico and Monterrey the hackathon will start in the late afternoon of November 10.
2 "Globally, 54% of the population lives in urban areas today (…) [B]y 2045, the number of people living in cities will increase by 1.5 times to 6 billion, adding 2 billion more urban residents." Source: The World Bank, "Urban Development", March 29, 2017 (http://www.worldbank.org/en/topic/urbandevelopment/overview)
3 For terms and conditions of the Accenture Global Digital Hackathon and its prizes, see https://www.accenture.com/us-en/digital-index.
4 World Expo is a separate event that is not connected to the Accenture Global Digital Hackathon. Expo Live has the sole discretion as to whether or not they choose a winning project and, if so, Expo Live will determine what benefits the selected project will receive.

About Accenture
Accenture is a leading global professional services company, providing a broad range of services and solutions in strategy, consulting, digital, technology and operations. Combining unmatched experience and specialized skills across more than 40 industries and all business functions – underpinned by the world's largest delivery network – Accenture works at the intersection of business and technology to help clients improve their performance and create sustainable value for their stakeholders. With approximately 425,000 people serving clients in more than 120 countries, Accenture drives innovation to improve the way the world works and lives. Visit us at www.accenture.com

Accenture Digital , comprised of Accenture Analytics, Accenture Interactive and Accenture Mobility, offers a comprehensive portfolio of business and technology services across digital marketing, mobility and analytics. From developing digital strategies to implementing digital technologies and running digital processes on their behalf, Accenture Digital helps clients leverage connected and mobile devices; extract insights from data using analytics; and enrich end-customer experiences and interactions, delivering tangible results from the virtual world and driving growth. To learn more about Accenture Digital, follow us @AccentureDigi and visit www.accenture.com/digital.

Copyright © 2017 Accenture. All rights reserved. Accenture, its logo, and High Performance Delivered are trademarks of Accenture.

About Expo 2020 Dubai
Expo 2020 Dubai is guided by the belief that innovation and progress are the result of people and ideas combining in new ways. Over the course of six months from October 2020, Expo aims to bring together hundreds of countries and millions of people to celebrate human ingenuity: 'Connecting Minds; Creating the Future'.
Between its opening day on 20 October 2020, and its close on 10 April 2021, it is expected that Expo will be visited by millions of people.
70% of all visitors are expected to come from outside the UAE - the largest proportion of international visitors in Expo history.
The goal is to create and deliver an inclusive and global Expo with over 200 participants, including nations, multilateral organisations, businesses and educational institutions.
Expo 2020 also has an ambitious volunteer programme, which aims to include more than 30,000 volunteers from a wide range of ages, nationalities and cultures and backgrounds.
The Expo site covers a total of 4.38 sq. km, including a 2 sq. km gated area. It is located within the Dubai South District, adjacent to Al Maktoum International Airport.
Visit: www.expo2020dubai.ae
Follow: Twitter: @expo2020dubai | Facebook: @Expo2020Dubai | Instagram: expo2020dubai

# # #

Contacts:

Jens R. Derksen
Accenture
+49 175 57 61393
jens.derksen@accenture.com

Jon Bramley
Expo 2020 Dubai
+971 52 757 9993
jon.bramley@expo2020dubai.ae