February 17, 2017
Accenture is Accelerating Innovation Investment in the U.S.

NEW YORK; Feb. 17, 2017 – By the end of 2020, Accenture will open 10 new innovation hubs in key cities in the U.S. and expand its regional network of technology delivery centers. Additionally, Accenture will invest $1.4 billion in training to ensure its people have leading-edge capabilities to serve its clients, while creating 15,000 highly skilled new jobs in the U.S.
"In recent months, I have met with clients across all the major industries we serve, and the need for innovation to grow, compete and transform in the digital economy has never been greater," said Julie Sweet, Accenture's chief executive officer – North America. "Accenture is a leader in digital, cloud, and security-related services, and with this announcement, we are accelerating our investments in innovation in the U.S."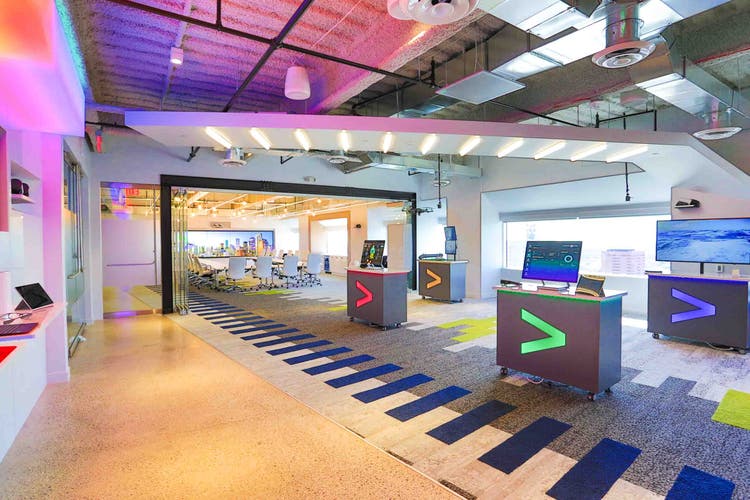 Opening the week of February 20th in Houston, Accenture unveils a new innovation hub
to collaborate more closely with clients.
Accenture's expansion plans in key cities and regions will allow it to collaborate more closely with clients to develop, scale and deliver innovative solutions. Accenture is investing in the critical capabilities needed to serve its clients in the digital economy across all of its businesses – Strategy, Consulting, Digital, Technology and Operations. The new jobs will increase Accenture's total workforce in the United States to more than 65,000 people, an increase of 30 percent by the end of 2020.

"I am excited that we are creating even more opportunities for our people to participate in one of the most dynamic parts of the American economy," said Sweet. "Today marks a key moment for Accenture to help our clients play an even bigger part in the nation's growth and innovation agenda."

Accenture in the United States
Accenture is a leading professional services company, providing a broad range of services and solutions in strategy, consulting, digital, technology and operations. With more than 50,000 people and operations in 41 cities in the United States, Accenture serves 93 of the Fortune 100 and more than 70 percent of the Fortune 500. In the United States, Accenture has innovation hubs which bring together key elements of the Accenture Innovation Architecture – including labs, studios and innovation centers – to help clients develop and deliver disruptive innovations to drive growth. With an unwavering commitment to inclusion and diversity, Accenture is consistently recognized on FORTUNE's 100 Best Companies to Work For and DiversityInc's Top 50 Companies for Diversity lists.

Forward-Looking Statements
Except for the historical information and discussions contained herein, statements in this news release may constitute forward-looking statements within the meaning of the Private Securities Litigation Reform Act of 1995. Words such as "may," "will," "should," "likely," "anticipates," "expects," "intends," "plans," "projects," "believes," "estimates," "positioned," "outlook" and similar expressions are used to identify these forward-looking statements. These statements involve a number of risks, uncertainties and other factors that could cause actual results to differ materially from those expressed or implied. These include, without limitation, risks that: the company will not be able to complete the planned expansion in the time period anticipated, or at all; the expansion might not achieve the anticipated benefits for the company; as well as the risks, uncertainties and other factors discussed under the "Risk Factors" heading in Accenture plc's most recent annual report on Form 10-K and other documents filed with or furnished to the Securities and Exchange Commission. Statements in this news release speak only as of the date they were made, and Accenture undertakes no duty to update any forward-looking statements made in this news release or to conform such statements to actual results or changes in Accenture's expectations.

# # #

Contact:

Stacey Jones
Accenture
+ 1 917 452 6561
stacey.jones@accenture.com

Rachel Frey
Accenture
+ 1 917 452 4421
rachel.frey@accenture.com