October 05, 2017
Accenture Interactive Named a Leader in IDC MarketScape for Worldwide Retail Digital Marketing Technology Services


Report cites innovation and artificial intelligence capabilities as Accenture Interactive strengths for transforming retail experiences

NEW YORK; Oct. 5, 2017 – Accenture Interactive has been recognized as a Leader in the recently published "IDC MarketScape: Worldwide Retail Digital Marketing Technology Services 2017 Vendor Assessment*" report.
The report highlights Accenture Interactive's deep industry expertise and its ability to deliver end-to-end digital marketing capabilities to clients to reinvent retail experiences. In making its assessment, the IDC MarketScape noted that "innovation and application of artificial intelligence to retail marketing, an imperative in our view, is an area in which Accenture Interactive excels."

Accenture Interactive was recognized for its ability to help retailers align their digital marketing technology strategies to evolving competitive realities, as well as its strengths in innovation with a broad portfolio of patents and strong retail-oriented start-up ecosystem and business strategy consulting services. The report also noted Accenture Interactive's diverse agency and analytics talent.

The report evaluated Accenture Interactive and six other service providers on criteria for successful delivery of services that help retailers digitally transform their omni-channel marketing technologies.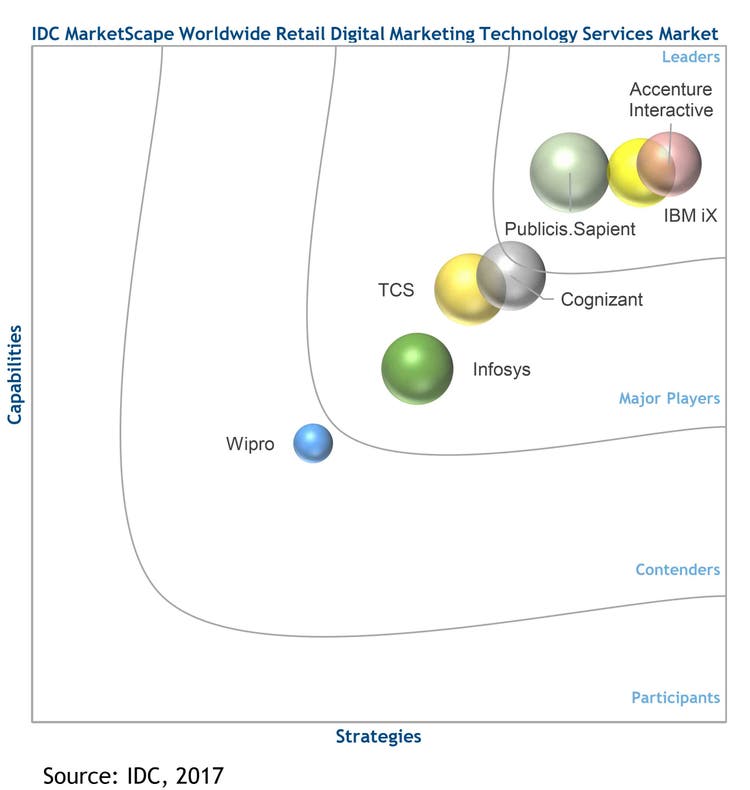 Accenture Interactive named a leader in Worldwide Retail Digital Marketing Technology Services
© Copyright IDC. Source: IDC MarketScape: Worldwide Retail Digital Marketing Technology Services 2017 Vendor Assessment, by Greg Girard, May 2017, IDC Doc # US40149616. Access the IDC reprint: http://idcdocserv.com/US42556916e_ACCENTURE

IDC MarketScape vendor analysis model is designed to provide an overview of the competitive fitness of ICT suppliers in a given market. The research methodology utilizes a rigorous scoring methodology based on both qualitative and quantitative criteria that results in a single graphical illustration of each vendor's position within a given market. The Capabilities score measures vendor product, go-to-market and business execution in the short-term. The Strategy score measures alignment of vendor strategies with customer requirements in a 3-5-year timeframe. Vendor market share is represented by the size of the icons

"Retailers are at an inflection point with their customers and are increasingly focused on connected digital experiences to remain relevant under the pressure of changing shopping behaviors," said Bob Markham, managing director, Accenture Interactive. "We are honored to be distinguished as a leader in helping retailers transform their digital marketing capabilities, while also being recognized for our unique blend of creative talent, retail consulting, and technology acumen to deliver exceptional customer experiences."

"Accenture Interactive continues to lead when it comes to delivering innovative and connected experiences for clients. By marrying the deep industry expertise of Accenture with the breadth of experience capabilities, Accenture Interactive continues to be a key player in helping top retailers achieve their digital marketing and transformation goals," said Greg Girard, program director, Worldwide Omni-Channel Retail Analytics Strategies, IDC Retail Insights.

"We recognized the fundamental shift in consumers' retail behaviors and the disruption to the industry and took some bold steps to further strengthen our digital marketing and technology services capabilities," said Jill Standish, senior managing director and head of Accenture's global Retail practice. "We are focused on developing the digital content and commerce strategies and platforms our clients need to provide hyper-personalized brand and buying experiences to their customers to reach the next frontier of digital commerce."

*doc # US42556916, May 2017

About Accenture Interactive
Accenture Interactive helps the world's leading brands transform their customer experiences across the entire customer journey. Through our connected offerings in design, marketing, content and commerce, we create new ways to win in today's experience-led economy. Accenture Interactive is ranked the world's largest digital agency in the latest Ad Age Agency Report. To learn more, follow us @AccentureSong and visit www.accentureinteractive.com.

About Accenture
Accenture (NYSE: ACN) is a leading global professional services company, providing a broad range of services and solutions in strategy, consulting, digital, technology and operations. Combining unmatched experience and specialized skills across more than 40 industries and all business functions – underpinned by the world's largest delivery network – Accenture works at the intersection of business and technology to help clients improve their performance and create sustainable value for their stakeholders. With approximately 425,000 people serving clients in more than 120 countries, Accenture drives innovation to improve the way the world works and lives. Visit us at www.accenture.com.

About IDC MarketScape
IDC MarketScape vendor analysis model is designed to provide an overview of the competitive fitness of ICT (information and communications technology) suppliers in a given market. The research methodology utilizes a rigorous scoring methodology based on both qualitative and quantitative criteria that results in a single graphical illustration of each vendor's position within a given market. IDC MarketScape provides a clear framework in which the product and service offerings, capabilities and strategies, and current and future market success factors of IT and telecommunications vendors can be meaningfully compared. The framework also provides technology buyers with a 360-degree assessment of the strengths and weaknesses of current and prospective vendors.

# # #

Contact:

Kelly Coffed
Accenture
+1 404 219 3100
kelly.coffed@accenture.com