July 17, 2017
Accenture Interactive, Marriott International and 1776 Launch the Travel Experience Incubator


New program challenges startup community to develop innovative solutions that enhance the travel experience

Washington, D.C.; July 17, 2017 – Accenture Interactive, Marriott International, and 1776 , a leading global incubator and network for startups, today announced the launch of the Travel Experience Incubator, a new program designed to discover and foster startups working on innovative technologies and solutions to improve the travel experience. The incubator will bring together the hospitality industry expertise of one of the world's most innovative companies, Marriott International, and its official Travel Experience Incubator partner, Accenture Interactive, along with participating startups, to co-create unique and inventive new experiences for travelers.
Startups are invited to immediately apply to The Travel Experience Incubator Challenge. Selected startups will be invited to participate in The Travel Experience Incubator, a three-month, travel industry focused program with opportunities for paid piloting and investment at the program's conclusion. The incubator will kick off in September 2017 at 1776's Crystal City Campus in Arlington, Virginia.

The selected participants will receive a dedicated curriculum, drawing on the hospitality expertise of Marriott leadership, Accenture experts and the 1776 global mentor network. Through the program, startups will develop, validate, and test travel solutions using data and technology, with the goal to increase customer connectedness and enhance travel experiences.

Marriott will draw on its deep experience in the hospitality business, supporting the incubator with its data-rich knowledge of customers as well as mentors from its executive team to coach the startups. Accenture will provide resources focused on human-centered design and digital technologies, as well as proprietary tools to help accelerate and scale real-time solutions. Startups will also will have access to Accenture's deep industry expertise in hospitality to lend additional mentorship and insight throughout the program. Accenture has proven experience working with the startup community through Accenture Ventures, which partners with and invests in growth-stage companies that create innovative enterprise technologies using an open innovation approach.

"Now, more than ever, people want their travel to be tailored, hyper-personalized and connected," said Julie Sweet, Accenture's Chief Executive Officer – North America. "As the official Travel Experience Incubator partner with Marriott, we are uniquely positioned to collaborate and scale innovation across the startup community to create new experiences for travelers."
New collaboration between @AccentureSong, @MarriottIntl & @1776 to launch Travel Experience Incubator


"We see The Travel Experience Incubator as a terrific opportunity to fuel promising startups focused on game-changing innovation for the lodging industry. We look forward to collaborating with these independent visionaries to reveal new business opportunities and enhanced guest experiences," said Stephanie Linnartz, Global Chief Commercial Officer, Marriott International. "Continuously innovating the guest experience from design to technology is a centerpiece of Marriott's culture and competitive advantage."

"We've seen the success that is possible when startups and corporations work together to find better technological solutions, and the Travel Experience Incubator is an exciting opportunity to accomplish that in an established and global industry," said Evan Burfield, co-founder and CEO at 1776. "Large, forward-thinking companies, like Accenture and Marriott, are engaging successfully with startups, looking at startups as discovery arms and co-collaborators for innovation."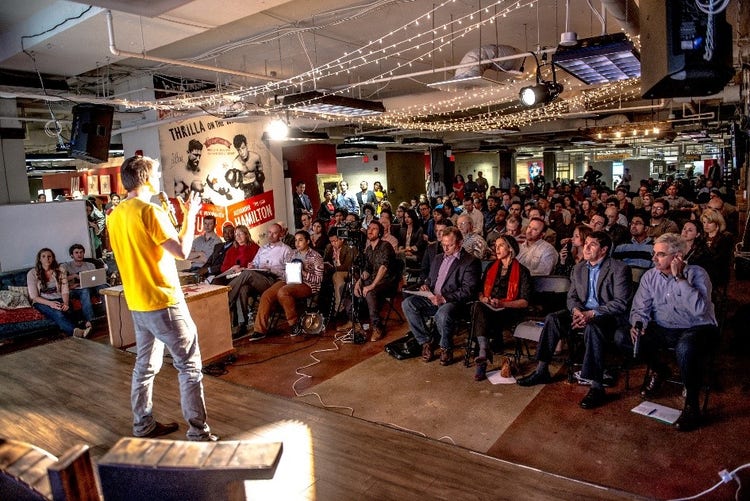 1776 brings together entrepreneurs, change-makers and industry leaders for an event
More information about the Travel Experience Incubator Challenge, including the related application, is available on the 1776 website, click here.

About Accenture Interactive
Accenture Interactive helps the world's leading brands transform their customer experiences across the entire customer journey. Through our connected offerings in design, marketing, content and commerce, we create new ways to win in today's experience-led economy. Accenture Interactive was ranked the world's largest digital agency in the latest Ad Age Agency Report. To learn more follow us @AccentureSong and visit www.accentureinteractive.com.

About Accenture
Accenture (NYSE: ACN) is a leading global professional services company, providing a broad range of services and solutions in strategy, consulting, digital, technology and operations. Combining unmatched experience and specialized skills across more than 40 industries and all business functions – underpinned by the world's largest delivery network – Accenture works at the intersection of business and technology to help clients improve their performance and create sustainable value for their stakeholders. With approximately 411,000 people serving clients in more than 120 countries, Accenture drives innovation to improve the way the world works and lives. Visit us at www.accenture.com.

About Marriott International
About Marriott International (NASDAQ: MAR) is based in Bethesda, Maryland, USA, and encompasses a portfolio of more than 6,100 properties in 30 leading hotel brands spanning 124 countries and territories. Marriott operates and franchises hotels and licenses vacation ownership resorts all around the world. The company also operates award-winning loyalty programs: Marriott Rewards®, which includes The Ritz-Carlton Rewards®, and Starwood Preferred Guest®. For more information, please visit our website at www.marriott.com, and for the latest company news, visit www.marriottnewscenter.com. In addition, connect with us on Facebook and @MarriottIntl on Twitter and Instagram.

About 1776
1776 is a public benefit corporation that empowers startup ecosystems around the world to solve complex challenges. To accomplish this, the company leverages its digital startup network, UNION; physical campuses in Washington, D.C., New York City, San Francisco and Dubai; a global startup pitch competition, Challenge Cup; and deep staff expertise in regulatory issues. 1776 accelerates connections and outcomes among startups, corporations, and public institutions. For more information, please visit www.1776.vc and follow @1776 on Twitter and @1776vc on Instagram.

# # #

Contact:

Kelly Coffed
Accenture
+1 404-219-3100
kelly.coffed@accenture.com

Barbara DeLollis
Marriott International
+ 1 301 380 3550
barbara.delollis@marriott.com

Morgan Gress
1776
+ 1 716 445 1509
morgan@1776.vc