October 04, 2017
Accenture Helps Dai-ichi Life Expand Its Digital Health Promotion Services

TOKYO; Oct. 5, 2017 – Accenture (NYSE: ACN) has helped Dai-ichi Life Insurance Company, Limited ("Dai-ichi Life") enhance its Kenko Dai-ichi (Health First) app, which promotes healthy lifestyle choices and enables users to monitor their well-being.
The enhancements include the addition of several new features. For example, the app's standard menu now includes Dai-ichi Life's "health age" check-up services, which analyze photos of medical exam results and give instant health age assessments. New health improvement courses have been added to the app's newly launched premium menu and the functionality of the app's cutting-edge FaceAI feature – which enables users to simulate what they might look like in the future based on a photo taken with their smart phone's camera – has been improved.\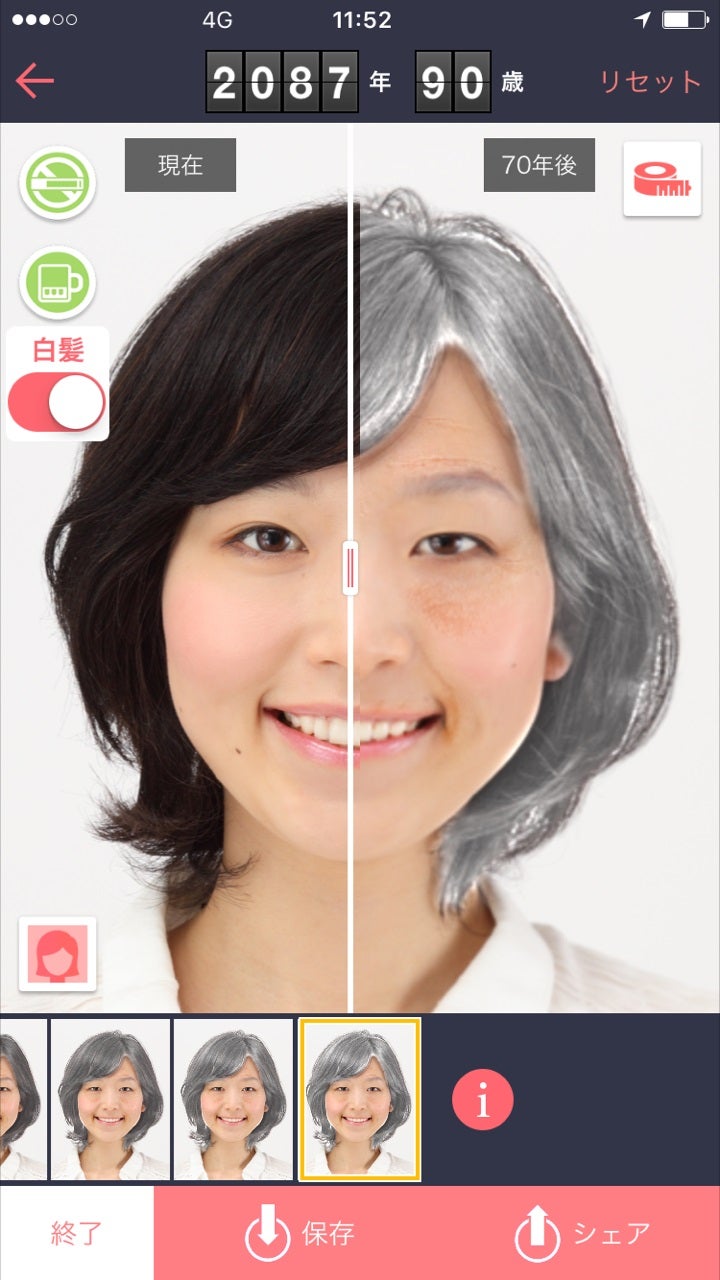 Dai-ichi Life's health app's enhanced FaceAI recognition
can predict how people will look as they age
Kenko Dai-ichi, which was first launched in March, is free to use even for those who do not have an insurance policy with Dai-ichi Life. However, the updated app adds more personalized functions on its premium menu for Dai-ichi Life's policyholders and their families. New features include:

Standard menu
Users can input a photo of the results of a physical exam, and the app will automatically determine a person's "health age" and "health type".
Enhanced FaceAI capabilities can factor in behaviors such as smoking and drinking habits.

Premium menu
Adds six new health improvement courses, such as "Improving Hyperglycemia Levels" and "Improving Blood Lipid Levels" mobile classes. Users can select any of the improvement courses themselves, and the app also recommends courses based on the results of the health age checkup.
Diversifies and increases the lottery drawings for coupons that can be used at convenience stores around the country to promote healthier living.
Expands the offering of new and popular articles, featured monthly from the healthcare magazines produced by NHK Publishing Inc. and Karadaniiikoto Co. Ltd.
Includes recipes provided by Tanita Corporation and FiNC Inc.
Enables users to see their caloric intake simply by photographing their meal with a smart phone camera.
Adds the Okusuri Techo (medical record) Plus app that enables drug-taking management provided by Nihon Chouzai Co., Ltd., such as sending alerts to remind people to take medicine or attend a doctor's appointment.
Accenture provided integral support throughout all phases of the app's enhancement. Dai-ichi Life leveraged Accenture's global expertise of healthcare apps, its research capabilities and knowledge of the Japanese market to choose the services to offer. As part of its project management, Accenture selected the 24 companies involved in delivering the app and coordinated the implementation. Accenture also designed the app's core functions that manage the content, putting a priority on excellent usability and user interface design.

"Western countries have taken the lead in InsTech," said Dai-ichi Life senior executive Yasumasa Iwai. "We were able to quickly launch this groundbreaking app because of Accenture's digital and insurance expertise, end-to-end services and global network. We plan to continue to be a leader in innovation to the entire life insurance industry, as we actively adopt ideas and technologies from other areas, promoting the realization of a robust ecosystem shared with other kinds of businesses."

Takero Hayashi, managing director of Accenture's financial services group in Japan, said: "Today's customers expect insurance companies to be more than just providers of insurance; they expect them to also be a conduit for services and advice from industry partners — and they expect that service to be convenient and intuitive. This is what we helped Dai-ichi Life provide with the new app, which is an agile, digital-driven, analytics-led tool that makes it easier for people to live a healthier lifestyle."

About Accenture
Accenture is a leading global professional services company, providing a broad range of services and solutions in strategy, consulting, digital, technology and operations. Combining unmatched experience and specialized skills across more than 40 industries and all business functions – underpinned by the world's largest delivery network – Accenture works at the intersection of business and technology to help clients improve their performance and create sustainable value for their stakeholders. With approximately 425,000 people serving clients in more than 120 countries, Accenture drives innovation to improve the way the world works and lives. Visit us at www.accenture.com.

Accenture Disclaimer:
Accenture is in no way promoting or intending to market a medical product for consumer use or comment on the effectiveness or safety of any medical platform for purposes of any diagnosis or treatment. Accenture expects Dai-ichi Life Insurance Company and other companies involved to use its own operations to ensure compliance with applicable laws and regulations.

# # #

Contact:

Ken Kanda
Accenture Japan
+81 80 3723 9580
kentaro.kanda@accenture.com

Michael McGinn
Accenture
+1 917 452 9458
m.mcginn@accenture.com