February 10, 2017
Accenture Further Strengthens Commitment to Ireland: Creates 300 Jobs in Tech and Design, and Launches The Dock – an innovation, R&D and Incubation Hub


An Taoiseach, Enda Kenny, TD, joins Accenture Chairman & CEO Pierre Nanterme for official opening of The Dock

DUBLIN; Feb. 10, 2017 – Accenture announced plans to grow and deepen its presence in Ireland, drawing further upon the country's globally-recognized diversity of talent and business leadership. Specifically, Accenture will hire more than 300 technology and design professionals in Ireland this year. This includes 100 new roles at The Dock, the company's multi-disciplinary research and incubation hub, which was officially opened today.
"Accenture continues to make significant investments in Ireland, and we are delighted the company has made the country its centre of innovation, which further cements Ireland's position globally as a technology hub," said An Taoiseach, Enda Kenny, TD. "The Government has been committed to driving initiatives that create high value jobs and competitive advantage for both multinational and indigenous companies looking to set up leading-edge research, innovation and technology facilities. The opening of The Dock and the creation of new technology jobs validates our strategy. Accenture is a committed, long-term resident of these shores and we look forward to continued partnership as the company further enhances its presence in Ireland."
At The Dock, more than 200 professionals from multiple countries co-create new services and solutions – bringing the Accenture Innovation Architecture to life for clients. The Accenture Innovation Architecture integrates the company's capabilities across research, ventures, labs, studios and innovation and delivery centers to pioneer new ways of working. In this vibrant collaborative environment, Accenture people and clients, universities and startups team to investigate, develop and scale disruptive innovations.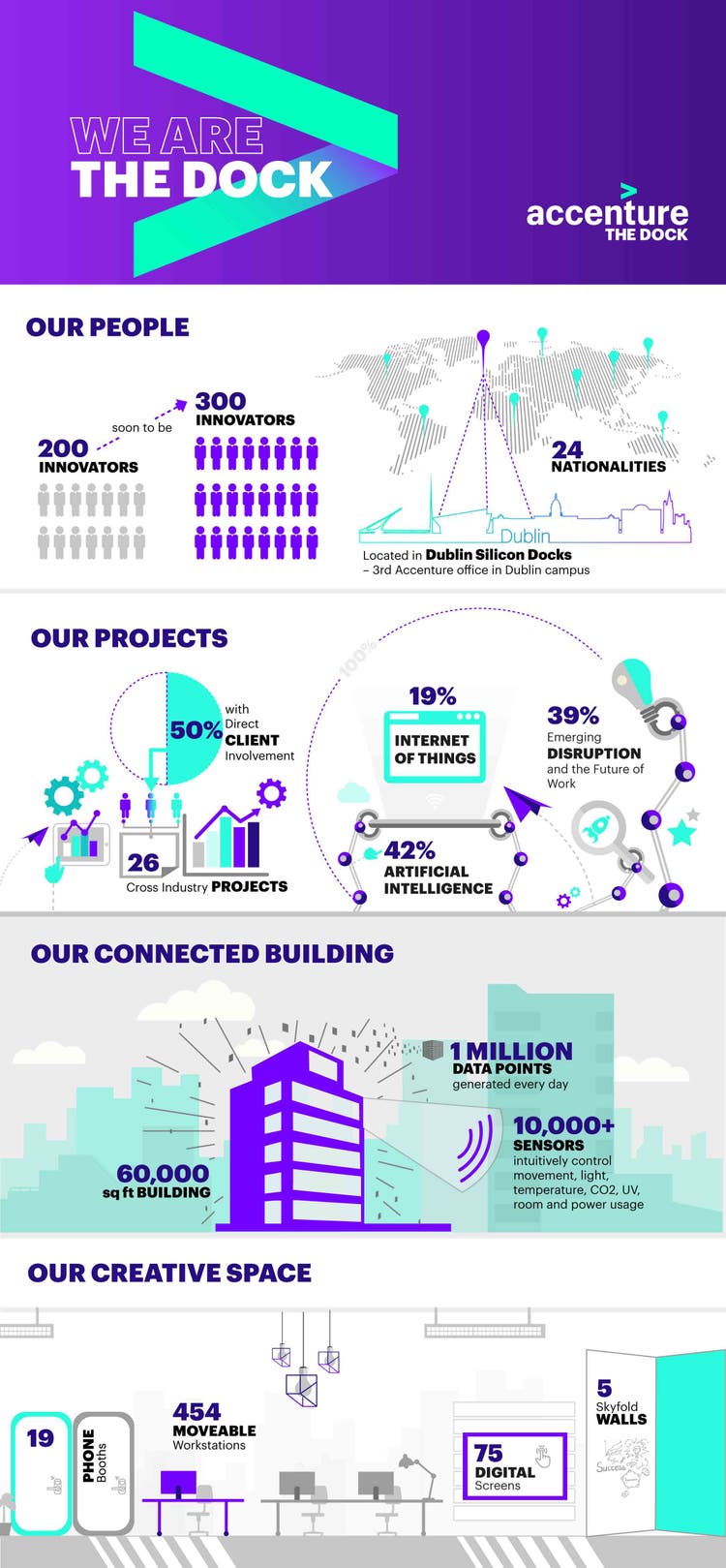 The new jobs will add to Accenture's workforce of more than 2,200 in Ireland, offering technology and design career opportunities across a range of areas including artificial intelligence, advanced analytics and the Internet of Things, and industries including financial services, retail, consumer goods, life sciences and utilities.

"Our talented professionals across Ireland are imagining the future every day to solve some of the biggest challenges facing businesses, governments and consumers," said Pierre Nanterme, Accenture's chairman and CEO. "We are proud to build on our long history in Ireland with today's official opening of The Dock and investment in new jobs to drive innovation that helps our clients meet the demands of a rapidly evolving digital world."

Located in Dublin's Silicon Docks, The Dock is one of the world's most connected and intelligent buildings, using sensors to learn from occupant behavior, react to user feedback and allow the building to continually evolve.

The Dock is supported by the Department of Jobs, Enterprise & Innovation through IDA Ireland.

"Accenture's decision to expand its innovation capability in Ireland represents a major win for the country, providing high-value employment and opportunities for people to work on exciting projects," said Minister for Jobs, Enterprise and Innovation Mary Mitchell O'Connor said. "We have earned a great reputation for technology innovation in recent years, and The Dock will enhance our country's credentials even further. I wish the company and employees the very best in the future."

Martin Shanahan, Chief Executive of the IDA, said, "The Dock showcases Accenture's depth of technology expertise in Ireland. The company's continued investment in innovation and in its team of talented professionals greatly enhances Ireland's position as a compelling location for global professional service firms. IDA continues to target additional investment in this key sector."

About Accenture
Accenture is a leading global professional services company, providing a broad range of services and solutions in strategy, consulting, digital, technology and operations. Combining unmatched experience and specialized skills across more than 40 industries and all business functions – underpinned by the world's largest delivery network – Accenture works at the intersection of business and technology to help clients improve their performance and create sustainable value for their stakeholders. With more than 394,000 people serving clients in more than 120 countries, Accenture drives innovation to improve the way the world works and lives. Visit us at www.accenture.com.

Accenture in Ireland
Accenture has a strong presence in Ireland, with more than 2,200 employees across three locations. The company has a strong commitment to inclusion and diversity, including gender equality, and women make up 43 percent of the company's employees in Ireland. Accenture recently partnered with the Royal Irish Academy to launch Women on Walls, an award-winning initiative that seeks to make women leaders visible through a series of commissioned portraits. The company commissioned portraits of leading female academics to recognize their achievements and inspire future generations. The portraits are on display at the Royal Irish Academy and are the first female subjects to grace the walls in the Academy's 230-year history. Visit us at https://www.accenture.com/ie-en/

# # #

Contact:

Caroline Douglas
Accenture
+ 353 87 680 0074
caroline.douglas@accenture.com