November 13, 2017
Accenture Forms Alliance with Paxata to Help Clients Build an Intelligent Enterprise by Putting Business Users in Control of Data


Accenture Ventures makes minority investment in Paxata

NEW YORK and REDWOOD CITY, California; Nov. 13, 2017 – Accenture (NYSE: ACN) has formed a strategic alliance with and made a minority investment in Paxata, a company empowering businesses to transform raw data into ready information. The alliance aims to help clients provide enterprise end users with exceptional data control across multiple data sources. This will speed time-to-business-insight and free up IT resources, allowing scarce data talent to work on strategic data architecture, rather than tactical data preparation. Terms of the investment were not disclosed.
Recognizing Paxata as a strategic data partner, Accenture will include Paxata's Adaptive Information Platform and self-service data prep application in the Accenture Insights Platform (AIP). AIP is a cloud-based analytics-as-a-service solution designed to solve business problems supporting a data-driven culture.

Using Paxata's Adaptive Information Platform and approach for data democratization with governance, Accenture helps clients accelerate access to contextual information. Business analysts will be able to gather, explore, discover and prepare data themselves and rapidly assemble and construct information that is trustworthy and ready for business use.

Paxata will also support Accenture clients' emerging enterprise requirements such as digital transformation, modern data supply chain, and General Data Protection Regulation (GDPR) for hybrid and multi-cloud environments.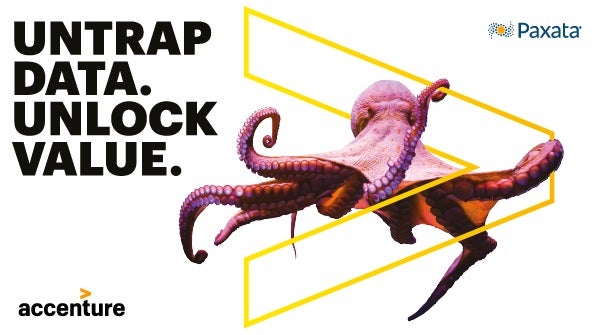 Accenture and Paxata are teaming to help clients speed time-to-business-insight from data
and free up time of scarce data talent
"Paxata's Adaptive Information Platform empowers users to unlock trapped data and use it to develop robust insights, which can lead to more intelligent decision-making and better business outcomes," said Narendra Mulani, chief analytics officer, Accenture Analytics. "Through Accenture's investment and strategic alliance with Paxata, we are well positioned to help our clients' transformation to becoming data-native organizations."

The investment and alliance was undertaken through Accenture Ventures, which identifies, partners and strategically invests in the most promising innovations in the market to quickly scale disruptive innovation. As part of the alliance, Accenture will be a preferred systems integrator for Paxata's platform globally. Accenture and Paxata will collaborate on Paxata's product roadmap with the opportunity to undertake joint solution design and technical integrations, for the benefit of clients of both companies.

"Accenture's drive for efficiency, innovation, and assisting clients with emerging technologies makes this an incredibly strong and an exciting alliance", said Prakash Nanduri, CEO, Paxata. "From the outset, Paxata has focused on methods to democratize data by creating the tools for transforming raw data into information and placing them in the hands of the business consumer. Our platform can help clients increase productivity for their business analysts and generate value from information more quickly. It supports the needs of business and IT teams for digital business transformations, data lake migrations, and regulatory compliance while ensuring enterprise-wide governance."

"Together, Accenture and Paxata are building new capabilities that will help our clients create modern and highly effective data supply chains, and, ultimately, enabling them to become intelligent data-powered enterprises," said Sanjeev Vohra, group technology officer, Accenture Technology Services. "We are excited about this partnership that will unleash new opportunities for business growth and client value creation."

Paxata has received broad recognition of its solutions, which in the last year include being named in CRN's Emerging Vendors 2017: Big Data Startups You Need to Know list and CRN's 2017 Big Data 100: 35 Coolest Data Management and Integration Vendors. In March 2017, Paxata was also recognized as a 'Leader' in the Forrester Wave™: Data Preparation Tools, Q1 2017.

About Accenture
Accenture is a leading global professional services company, providing a broad range of services and solutions in strategy, consulting, digital, technology and operations. Combining unmatched experience and specialized skills across more than 40 industries and all business functions – underpinned by the world's largest delivery network – Accenture works at the intersection of business and technology to help clients improve their performance and create sustainable value for their stakeholders. With approximately 425,000 people serving clients in more than 120 countries, Accenture drives innovation to improve the way the world works and lives. Visit us at www.accenture.com.

Accenture Ventures accelerates the adoption of early stage enterprise technology innovations. It identifies the most promising sources of innovation in the market, working with start-ups, entrepreneurs, investors, academic R&D, and corporate R&D groups around the world. Accenture Ventures develops alliances and partnerships to more quickly scale innovation. It also participates as a strategic investor where appropriate – always aligned with the objective to deliver the most innovative solutions to our clients.

About Paxata
Paxata is the pioneer in empowering all business consumers to intelligently transform raw data into ready information, instantly with an enterprise-grade, self-service, scalable, intelligent platform. Our Adaptive Information Platform weaves data into an information fabric from any source, any cloud, or any enterprise to create trusted information. With Paxata, business consumers use clicks, not code to achieve results in minutes, not months. Companies around the globe rely on Paxata to get smart about information at the speed of thought. Be an Information Inspired Business.

Paxata is headquartered in Redwood City, California with offices in New York, Ohio, Washington DC, and Singapore. Visit paxata.com or engage with us on Twitter, LinkedIn, Facebook, or YouTube.

# # #

Contacts:

Jens R. Derksen
Accenture
+49 175 57 61393
jens.derksen@accenture.com

Chris McCoin
Paxata (McCoin & Smith Communications Inc.)
+1 508 429 5988
chris@mccoinsmith.com

Richard Smith
Paxata (McCoin & Smith Communications Inc.)
+1 978 433 3304
rick@mccoinsmith.com