September 05, 2017
Accenture Finds Only Four Percent of China's Manufacturing Companies Achieve Both Digital and Financial High Performance


Digital Performance analysis reveals how Digital High Performers lead industries by successfully Rotating to the New

SHANGHAI; Sept. 5, 2017 – A small minority of Chinese manufacturing companies are significantly outperforming their industry peers by combining strong commitment to digital initiatives with strong financial performance, according to new analysis by Accenture (NYSE:ACN). The analysis shows that these companies are successfully committing to digital transformation across the full breadth of their business activities.
The Accenture Digital Performance research, published in Rotating to the New: How can Manufacturing Companies in China Thrive in the Digital Age, examines 170 manufacturing companies in China across six industry sectors. The research was done in collaboration with the National Research and Development Center for Industrial Information Security and the China Service Platform for Integration of Information and Industrialization.

It identifies only four percent of the sample manufacturing companies as Digital High Performers, companies that have successfully translated their digital investments into stronger financial performance. Nineteen percent are Digital Leaders, companies that made significant progress in digital capabilities, but are yet to realize the full scale of financial benefits. A majority (58 percent) have achieved neither strong digital nor outstanding financial performance. (See Figure 1).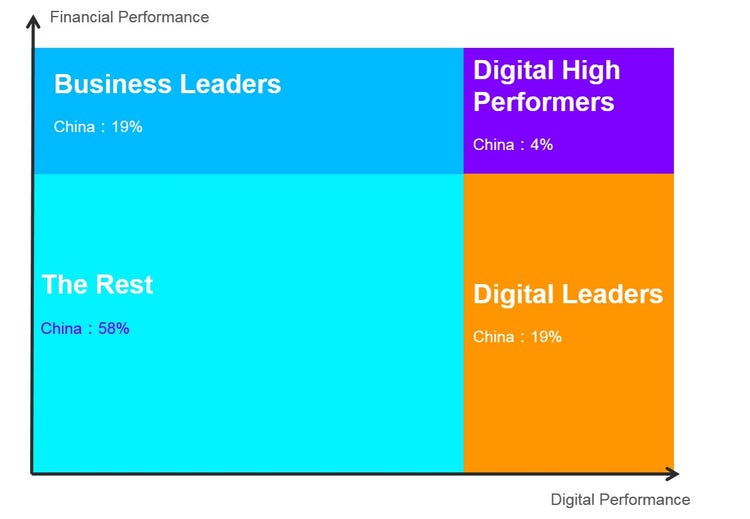 Companies need to focus on achieving high digital and financial performance
Source: Accenture and National Research and Development Center
for Industrial Information Security
According to the Accenture Digital Performance Index, the Digital High Performers outperformed the Digital Leaders by 67 percent on revenue growth and 98 percent on profitability. Similarly, they generated more sustained and profitable growth than Business Leaders, those who perform relatively well financially without having made strong digital commitments in the past. The Digital High Performers enjoy higher investor confidence, as indicated by 14 percent higher Future Value when compared to Business Leaders.

Digital High Performers succeed by identifying and releasing value in all parts of their organization and across their ecosystem. Most notably, they apply digital technologies and strategies to both their core business and to new technology-enabled business models. The companies use growth in the core to generate the investment to scale new market opportunities. This comprehensive approach enables them to turn digital investments into sustained financial performance.

"Embracing digital strategies in parts of the company, or merely in customer-facing channels does not amount to true digital transformation," said Wu Qi, Senior Managing Director and Deputy Chairman of Accenture Greater China. "Digital transformations require implementation throughout the organization, from planning to manufacturing and then selling a product. Companies must look beyond only improving efficiencies, or adding ad-hoc digital solutions and instead focus on generating a holistic approach to digital that drives sustained growth in new digitally contested markets."

To achieve both high digital and financial performance, manufacturing companies need to embrace the following principles:
Plan: Develop new digital growth strategies, targeted at identifying and capturing opportunities within and outside of current industry boundaries.
Make: Apply digital technologies (including mobile, cloud, analytics, robotics, cyber security, IoT), which are key to enabling innovation, from design to production of new products and services.
Sell: Generate customer insights using big data to create hyper-personalized experiences across both digital and physical channels.
Manage: Remember digital transformation is a new driver of change touching not only processes, but also culture and talent, all of which will enable established organizations to become more agile and competitive.
"Some Chinese companies are not acting fast enough to make significant investment in digitalization to see any changes," said Wu. "The most successful companies don't just maintain their core businesses but rather they invest in them, transforming them into platforms for new customer experiences and revenue streams."

"Technology is really just an enabler. Enterprise transformation is no longer optional if businesses are to thrive in the changing digital environment in China, the largest digital market. Real success comes from the courage to innovate and change your entire business, we call this rotating to the new," said Yu Yi, Digital Lead for Accenture Greater China.

The research report, Rotating to the New: How can Manufacturing Companies in China Thrive in the Digital Age, can be accessed here.

About Accenture
Accenture is a leading global professional services company, providing a broad range of services and solutions in strategy, consulting, digital, technology and operations. Combining unmatched experience and specialized skills across more than 40 industries and all business functions – underpinned by the world's largest delivery network – Accenture works at the intersection of business and technology to help clients improve their performance and create sustainable value for their stakeholders. With more than 411,000 people serving clients in more than 120 countries, Accenture drives innovation to improve the way the world works and lives. Visit us at www.accenture.com.

For more information about Accenture, please visit its corporate homepage www.accenture.com and its Greater China homepage www.accenture.cn.\
About China Industrial Control Systems Cyber Emergency Response Team
China Industrial Control Systems Cyber Emergency Response Team (CNICS-CERT), formerly known as the Electronic Technology Information Research Institute (ETIRE), is a public institution directly affiliated to the Ministry of Industry and Information Technology. Since its inception in 1959, CNICS-CERT has developed a wide range of businesses focusing on industry information security and Integration of Informatization and Industrialization, along with military electronics, intellectual property rights and digital resources construction over nearly 60 years. It serves governments, leading business, Scientific Research Institutes, as well as colleges and universities, including the Ministry of Industry and Information Technology, Cyberspace Administration of China, State Administration of Science, Technology and Industry for National Defense, the Ministry of Science and Technology, National Development and Reform Commission, and the Ministry of National Defense. During the China's 13th Five-Year Plan (2016-20), it contributes to the National Mission for enhancing Manufacturing & Internet power in a strategic manner, by strengthening core businesses, consolidating traditional business advantages, promoting the deep Integration of Informatization and Industrialization, and protecting information security in the area of industry, thus to develop CNICS-CERT into a high-end think tank for national strategic decision-making, and an authority on consulting service.

About China Service Alliance for Integration of Information and Industrialization
China Service Alliance for Integration of Information and Industrialization (CSAIII), a nonprofit organization, was founded in October 2013 on a voluntary basis, which is a national network of governments, central enterprise groups, industry associations, scientific research institutes, and leading businesses who come together to assist governments, industries or enterprises optimizing decisions, conducting monographic study, developing general standards, organizing evaluating and counseling, setting up pilot demonstration, providing solutions, promoting achievements, and boosting international cooperation. The Ministry of Industry and Information Technology has declared that CSAIII takes the responsibility of implementing the Special Action Plan for the Deep Integration of Industrialization and Information (2013-18). To date, CSAIII has 486-member units, setting branches in Fujian, Guangdong, Henan, Hebei, Wuhan, and etc. Separate commissions have also been established, which cover a variety of areas, such as the standard of Integration of Informatization and Industrialization, entrepreneurship and innovation of large enterprises, industrial big data, drug traceability, new media, finance and personnel development. And the international alliance has been on the track.

# # #

Contact:

Minjie Zha
Accenture
+ 86 13564382350
minjie.zha@accenture.com