June 08, 2017
Accenture Calls for Applications for the HealthTech Innovation Challenge


Program, now in its second year, fosters next-generation technology and innovation in the healthcare industry

NEW YORK; June 8, 2017 –- Accenture today announced it will continue to serve as a catalyst for identifying and engaging with emerging innovators and disruptors with the second annual Accenture HealthTech Innovation Challenge. Building on the success of the inaugural program in which 500 startups participated, the Accenture HealthTech Innovation Challenge brings together leading-edge startups with prominent health and life sciences companies to tackle some of the world's greatest health challenges including access, affordability and transparency.
As part of Accenture's broader HealthTech Innovation program, startups will compete to bring innovative technology and creative solutions forward to improve the way people access and manage healthcare. Selected finalists will present to an exclusive panel of judges, comprised of senior executives from globally-recognized health and life sciences companies, gaining exposure and access to these industry-leading companies to bring their ideas to market. Startup businesses can enter by clicking here until September 1, 2017.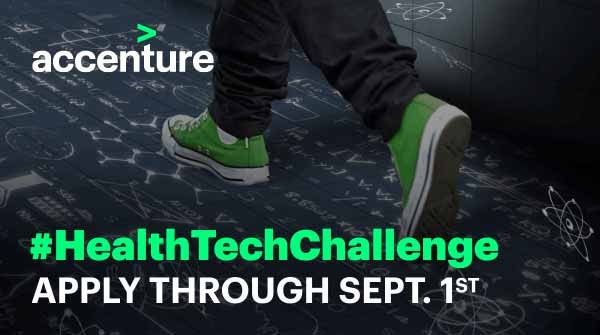 "Our global innovation program brings together startups and top tier life sciences companies and healthcare providers to tackle some of the world's key digital challenges, providing the components needed for meaningful transformation through curiosity, co-creation and collaboration," said Anne O'Riordan, senior managing director of Accenture Life Sciences and co-author of Healthcare Disrupted. "Engagement last year was overwhelmingly positive and the success of the Accenture HealthTech Innovation Challenge is a testament to the role we play with our clients and in the industry at large as we help them rotate to the NEW."

The four categories startup companies can enter in the Accenture HealthTech Innovation Challenge are:
Help ME better manage my health where applicants address how consumers (patients, caregivers or families) can get the right health information and services at the right time; how people's lifestyle needs be better understood to optimize care.
Help ME get better faster where applicants address how services can be provided to support care plan adherence and improved outcomes; how real world evidence and/or non-traditional data streams can be used to improve patient outcomes.
Help ME have better and easier access to healthcare where applicants address how the underserved or remote populations get access to better trained and skilled healthcare workers and the right treatment for improved health and lifestyle needs.
Help keep MY information private and secure where applicants address how personal health information can be kept both private and secure while enabling information sharing and improved experience.
Key criteria applications should address when applying include providing an innovative solution, design quality of the solution, disruptive business model, potential impact on patient outcomes and a scalable solution.

"Accenture works as a bridge maker that connects fresh ideas from startups with a broad spectrum of stakeholders to help accelerate ideas and drive rapid, low-cost solutions to the industry's toughest challenges," said Brian Kalis, managing director of digital health and innovation services, Accenture. "We look forward to continuing to facilitate open innovation as startups around the globe further demonstrate the momentum of digital innovation in healthcare."

Three initial pitching sessions will take place in Singapore on October 26; London on November 3; and Boston on November 9. Selected startups will be invited to pitch to an exclusive panel of judges that includes senior executives from leading health and life sciences companies. The established health and life sciences companies involved in the program will gain exposure to fully vetted, cutting-edge technologies as they evolve and potentially disrupt the healthcare industry.

The final judging round will take place at the StartUp Health Festival in San Francisco during the JP Morgan Healthcare Conference January 8, 2018. Accenture is the Lead Innovation Partner of the festival which brings together over 2,000 of the world's leading healthcare innovators and investors. The top entrants in each category will gain exposure and access to leading companies in their target market or therapeutic area. They will also be offered the opportunity to participate in StartUp Health's Moonshot Academy program.

This program from Accenture's Health and Life Sciences practices is tied to Accenture Ventures, which is focused on accelerating the adoption of early stage enterprise technology innovations.

About Accenture
Accenture is a leading global professional services company, providing a broad range of services and solutions in strategy, consulting, digital, technology and operations. Combining unmatched experience and specialized skills across more than 40 industries and all business functions – underpinned by the world's largest delivery network – Accenture works at the intersection of business and technology to help clients improve their performance and create sustainable value for their stakeholders. With approximately 401,000 people serving clients in more than 120 countries, Accenture drives innovation to improve the way the world works and lives. Visit us at www.accenture.com.
# # #


Contacts:

Jenn Francis
Accenture
+ 1 630 338 6426
jennifer.francis@accenture.com

Cam Granstra
Accenture
+ 1 312 693 5992
cameria.l.granstra@accenture.com