March 30, 2017
Accenture Becomes Founding Sponsor of Vector Institute for Artificial Intelligence in Toronto


Institute Supported by Canadian, Ontario governments, Industry, and University of Toronto

TORONTO; Mar. 30, 2017 – Accenture (NYSE: ACN) announced it is a founding sponsor of the new Vector Institute for artificial intelligence (AI) in Canada. The relationship is based on a shared mission to identify new business models for artificial intelligence and to position Canada as a global leader in the digital era.
The goal of the new Vector Institute – a non-profit enterprise funded by industry and the federal and Ontario governments – is to help build and maintain Canada's position at the scientific forefront of the global shift to artificial intelligence (AI). Together with industry and educational organizations including the University of Toronto, the Vector Institute will promote and nurture Canadian talent and research excellence in deep learning and machine learning, and actively seek ways to enable and sustain AI-based economic growth in Canada.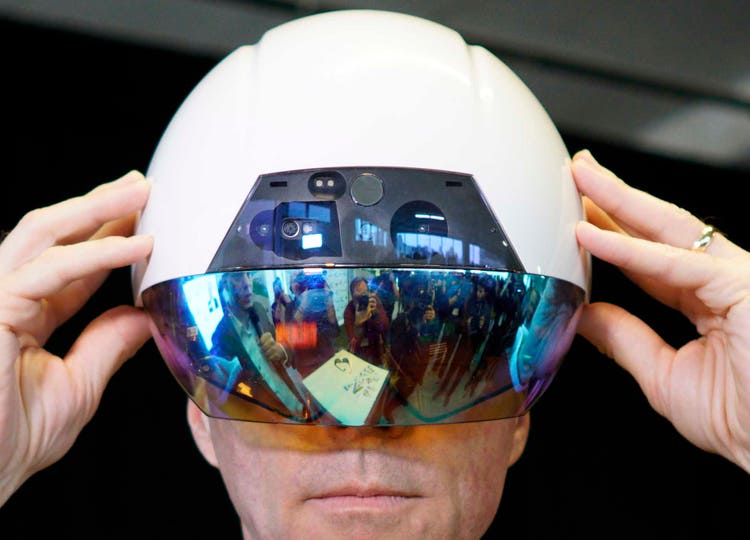 Canadian Finance Minister Bill Morneau wears Accenture's AI-enabled DAQRI Smart Helmet
during the launch of the Vector Institute for AI at the MaRs Discovery District in Toronto, Ont.
The Vector Institute launch was led by Ontario Premier Kathleen Wynne, federal Minister of Finance, Bill Morneau, Ed Clark, Chair of the Vector Institute, and Chief Scientific Advisor Geoffrey Hinton. An Accenture demonstration showcased the latest in AI technology, featuring the IPsoft Amelia AI platform and virtual assistant, as well as a DAQRI Smart Helmet and Microsoft HoloLens.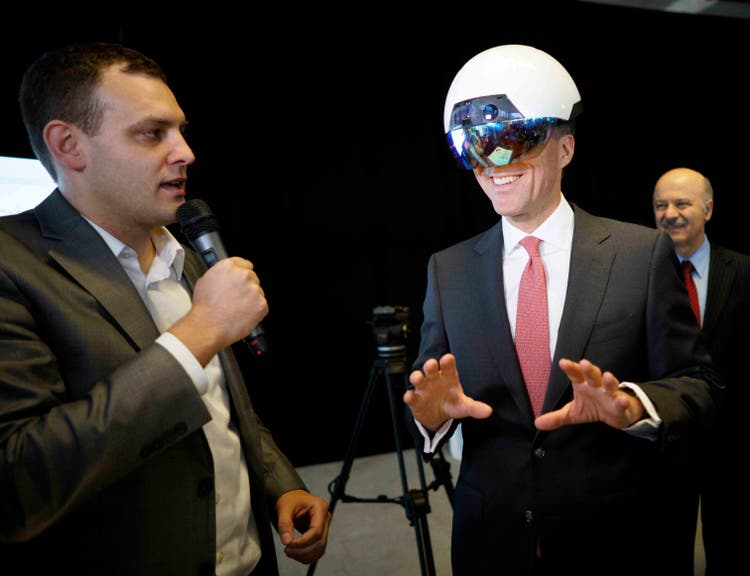 Ben Holfed of Accenture's AI practice, left, helps Canadian Finance Minister Bill Morneau, right, use a
DAQRI Smart Helmet during the launch of the Vector Institute for AI at the MaRs Discovery District
"We are excited to work with the Vector Institute on this unprecedented collaboration in Canada, to explore how business, government, academia and innovators can continue to master AI – which increasingly is becoming the predominant way to create new business, economic and social value," said Bill Morris, senior managing director and Canada president of Accenture. "Accenture is focused on helping our Canadian corporate and government clients better understand how to apply AI to help reinvent business models, unlock the trapped value of data, and improve the way we live and work as a society."

Nicola Morini, global managing director of artificial intelligence at Accenture, said, "Accenture believes that businesses require strong partnerships across industry, governments, centers for higher learning, and research and development organizations, to take advantage of a new era in which artificial intelligence will open up new sources of valuable growth. The Vector Institute in Toronto is well-positioned to be a leader in AI and our new relationship reflects Accenture's commitment to help our clients transform their businesses and improve the outcomes they achieve."

About Accenture
Accenture is a leading global professional services company, providing a broad range of services and solutions in strategy, consulting, digital, technology and operations. Combining unmatched experience and specialized skills across more than 40 industries and all business functions – underpinned by the world's largest delivery network – Accenture works at the intersection of business and technology to help clients improve their performance and create sustainable value for their stakeholders. With approximately 401,000 people serving clients in more than 120 countries, Accenture plans to hire 1,000 people in Canada this fiscal year. Accenture drives innovation to improve the way the world works and lives. Visit us at www.accenture.com

# # #

Contact:

Theresa Ebden
Accenture
+ 1 416 358 6741
theresa.ebden@accenture.com