December 11, 2017
Accenture Announces Winners of First 'Accenture Innovation Challenge'


Students from IIT-Kharagpur win grand prize for solution to alleviate sleep disorders

BENGALURU, India; Dec. 11, 2017 – Accenture (NYSE: ACN) today announced the winners of the first Accenture Innovation Challenge, a competition designed to inspire innovation among college students in India. The grand prize was awarded to a team from the Indian Institute of Technology (IIT) Kharagpur for their solution to address sleep disorders.
Winners in other categories were students from Dronacharya Group of Institution, Noida; Indian Institute of Space Science and Technology, Thiruvananthapuram; IIT-Roorkee; Shri Vishnu Engineering College for Women, Bhimavaram; and IIT-Madras.

"We are thrilled that over 13,000 students from over 900 colleges took part in this year's Accenture Innovation Challenge and submitted over 7,000 innovation ideas. It was exciting to see students apply their innovative and creative abilities in developing technology prototypes aimed at disrupting business and creating social impact," said Mohan Sekhar, senior managing director, Accenture Technology Services.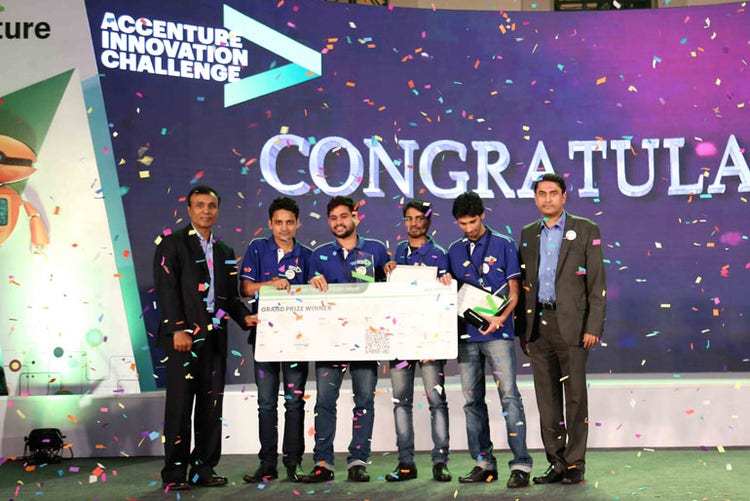 Grand Prize winners of the Accenture Innovation Challenge 2017:
Team from IIT, Kharagpur with Accenture Technology Services leaders Mohan Sekhar and Raghavan Iyer (L – R).
The students – representing various disciplines, including engineering, design, commerce and business management – demonstrated innovative uses of technologies such as artificial intelligence, the internet of things, blockchain, cloud, mobility and analytics.

Winners were chosen from the 12 teams selected to participate in the Grand Finale round held recently in Bengaluru, based on the criteria of innovativeness, technical feasibility and impact. The 12 teams presented to a jury consisting of entrepreneurs, venture capitalists, academics and industry leaders. In addition to the grand prize, awards were also given in five other categories: 'Disruptive Businesses'; 'Tech for Good'; Jury's Choice; Most Popular Team; and Employees' Choice.

The six awards and their winners include:
Grand Prize: Awarded to the team from IIT Kharagpur for 'SleepDoc' – a wireless sleep assistant that addresses the growing problem of sleep disorders plaguing the current generation. SleepDoc uses a wireless device to remotely monitor sleep patterns and an intelligent voice-interactive system to suggest changes to the user. The live data monitoring system tracks the user's heart and breathing rate and alerts the nearest doctor automatically in case of discrepancies in the parameters.
Disruptive Business category award: Won by the team from Dronacharya Group of Institution, Noida for 'BinBot'. This idea features a robot that performs various waste management tasks such as waste collection, segregation and disposal. It uses infrared sensors to keep the disposal bin's lid closed and has a built-in plastic detector to alert users to segregate plastic waste from other waste.
Tech for Good category award: Won by the team from the Indian Institute of Space Science and Technology in Thiruvananthapuram for 'Real Time Text to Braille Converter'. This idea makes printed information accessible to the visually impaired. It comprises of a letter-to-letter Braille converter that prints the recognized letter in the Braille cell and a small cuboid that can be held with three fingers, enabling the visually impaired to read any printed book.
Jury's Choice award: Won by the team from IIT Roorkee for 'SNAP', a solution to help farmers increase the quality of farm yield, optimize spends on fertilizers and increase income by addressing the problem of soil acidification due to fertilizer overuse. The solution features a hand-held patented device based on the principles of multi-spectral imaging to capture images of plants at specific wavelengths and determine the exact nitrogen concentration in the plant and soil.
Most Popular Choice award: Won by the all-women's team from Shri Vishnu Engineering College for Women in Bhimavaram for 'Sahaya' – a blockchain solution designed to deal with the unique challenges associated with making donations. The solution makes the donation process completely transparent to all stakeholders involved and ensures that the donation reaches the original requestor and beneficiary.
Employees' Choice award: Won by the team from IIT Madras, which developed a 'Compact Bio-inspired robot for septic and sewage line cleaning and inspection'. Featuring a robot that can remove blockages and clean sewers, this innovative solution deals with the challenges of manual sewage cleaning, which often results in health disorders and death for the laborers involved.
Each member of the Grand Prize team received prizes worth INR 100,000, as well as an all-expense paid trip to 'The Dock', Accenture's multidisciplinary research and incubation hub in Dublin, Ireland. Each member of the two teams selected as a category winner – for 'Disruptive Businesses' and 'Tech for Good' – received prizes worth INR 50,000.

Besides awarding the prizes and trophies, Accenture conducted a fast-track recruitment process for eligible students in the Grand Finale to join Accenture's technology centers in India.

The jury that judged the top 12 teams in the Grand Finale included: Ajay Chaturvedi – founder of HarVa, a non-profit outfit focused on skill development, BPO and microfinance; Chaitanya Ramalingegowda – vice president of investor relations at LetsVenture; Dr. T.V. Geetha – dean of the College of Engineering at Guindy Anna University in Chennai; Hari Nair – founder and CEO of HolidayIQ.com; Mabel Chacko – co-founder and COO of Open Financial Technologies Pvt Ltd; Dr. Milind Pandey – project director of the MIT Group of Institutions in Pune; Roopam Sharma – two-time winner of Innovation Jockeys contest sponsored by Accenture and Innovator of Manouve; and Suryaprakash Konanuru – CTO at Ideaspring Capital.

About Accenture
Accenture is a leading global professional services company, providing a broad range of services and solutions in strategy, consulting, digital, technology and operations. Combining unmatched experience and specialized skills across more than 40 industries and all business functions – underpinned by the world's largest delivery network – Accenture works at the intersection of business and technology to help clients improve their performance and create sustainable value for their stakeholders. With approximately 425,000 people serving clients in more than 120 countries, Accenture drives innovation to improve the way the world works and lives. Visit us at www.accenture.com.

# # #

Contact:

Kiran Balasubramanian
Accenture
+91 9886771250
kiran.bala@accenture.com