May 03, 2017
Accenture Achieves Lead Position in Winner's Circle of HfS Research's 2017 Utility Operations Blueprint

LONDON; May 3, 2017 – Accenture (NYSE: ACN) has been positioned in the "As-a-Service Winner's Circle" as the leader in both execution and innovation of the inaugural HfS Research 2017 Utility Operations Blueprint. Accenture's position among the 14 assessed service providers providing utility operations services was based on excellence across a number of facets in the key categories of innovation and execution.
The report analyzed how well providers met clients' needs in business process services, information technology services and engineering services across the utilities value chain. The highest performers like Accenture were recognized by clients for demonstrating excellence in realizing the eight ideals of the As-a-Service economy, which provide a flexible way of engaging and managing resources to deliver services and drive targeted business outcomes.

"Our market leader position in this report reflects our broad industry expertise across the globe and ongoing commitment to collaborate with our clients to drive cutting edge innovation end-to-end across the value chain in the utilities industry," said Matias Alonso, senior managing director for the Accenture utilities industry group. "We've managed to significantly expand our portfolio of offerings and capabilities through a program of strategic and focused investments in both acquisitions and new industry solutions. Our ongoing focus on delivering outcomes through platform assets and As-a-Service solutions differentiates us, enabling our clients to compete in an increasingly challenging industry, while reducing costs."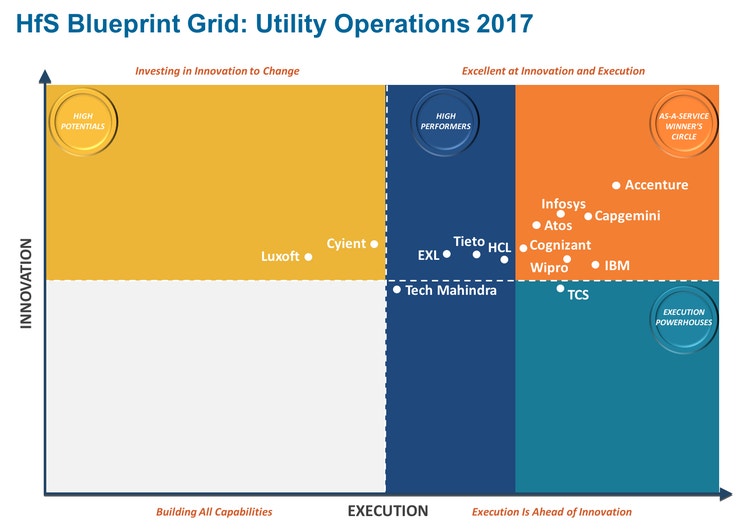 Accenture was recognized in the report for its deep industry-specific expertise, industry vision and capability to flexibly provide solutions end-to-end across the value chain, delivered both via digital platforms and in an As-a-Service model. Accenture was also commended for its strong ecosystem of partners and alliances, which enables new capabilities, and both drives innovation in and brings new value to client relationships, as well as its managed security operations centers for clients, recognizing the importance of holistic security. Its energy hubs, facilitating collaborative client engagement, were also cited.
Accenture Achieves Lead Position in Winner's Circle in HfS Research's 2017 Utility Operations Blueprint


"Accenture's high-growth utility practice is partnering with clients on their transformation journey, leveraging digital technologies, actively helping clients to improve customer engagement, reduce the cost to serve and explore new business models," said Derk Erbé, Research Vice-President, Supply chain, Procurement and Energy for HfS Research, The Services Research CompanyTM. "It demonstrates a strong focus on platforms and As-a-Service delivery and outcomes; Accenture is the leader in this report because its capabilities and investments in utility-related platforms, partnerships, joint-ventures and acquisitions stand out."

HfS Research highlighted key Accenture strengths in the report:
Enabling Outcomes and New Business Models: Accenture is partnering with clients to jointly pursue outcomes; for example, it is actively helping clients to reduce cost-to-serve and explore new revenue model opportunities. The value proposition is enabled by Accenture's five businesses (Strategy, Digital, Consulting, Operations, and Technology).
Strong Focus on Platforms and As-a-Service: Accenture brings together expertise, capability, intellectual property, and technology in industry platforms such as a retail platform for utilities, smart grid advanced analytics, and a connected home platform.
Co-Development of Industry-Specific Solutions with Alliance Partners: As an example, Accenture and Salesforce developed the Accenture Customer Experience Solution for Utilities, based on Salesforce's Customer Success Platform.
Consultative Approach Gives Clients Confidence and Innovation: Accenture's strong consulting-led approach brings a high level of industry expertise and understanding of clients' challenges.
Continued Investment in Utility Industry Capabilities: Recent acquisitions like New Energy Group, Realworld OO Systems, Structure Group, and Cimation have brought substantial industry expertise in areas like Geographic Information Systems and IT-OT integration, the industrial Internet of Things, process automation, asset analytics, and cyber security.
Events and Research Programs to Help Shape the Industry: Accenture invests in its Digitally Enabled Grid and the New Energy Consumer research programs as well as events and forums like the International Utilities and Energy Conference, Accenture Utilities Global Council, and the Accenture Smart Grid Leadership Network.
Information for the report came from market research, client interviews and other service buyers, briefings from service providers, and publicly available information, such as financial data.

The HfS Utility Operations Blueprint Report can be accessed here.

More information about Accenture's services to the utilities industry can be accessed here.

About Accenture
Accenture is a leading global professional services company, providing a broad range of services and solutions in strategy, consulting, digital, technology and operations. Combining unmatched experience and specialized skills across more than 40 industries and all business functions – underpinned by the world's largest delivery network – Accenture works at the intersection of business and technology to help clients improve their performance and create sustainable value for their stakeholders. With more than 401,000 people serving clients in more than 120 countries, Accenture drives innovation to improve the way the world works and lives. Visit us at www.accenture.com.

# # #

Contacts:

Guy Cantwell
Accenture
+ 1 281 900 9089
guy.cantwell@accenture.com

Matt Corser
Accenture
+ 44 755 784 9009
matthew.corser@accenture.com