September 07, 2017
Accenture Achieves Lead Position in Winner's Circle of HfS Research's 2017 Energy Operations Blueprint

LONDON; Sept. 7, 2017 – Accenture (NYSE: ACN) has been positioned in the "As-a-Service Winner's Circle" as the leader in both execution and innovation of the HfS Research 2017 Energy Operations Blueprint. Accenture's position among the 13 energy operations service providers was based on the strongest performance across a number of facets in the innovation and execution categories.
The report analyzed how well oil and gas clients' needs were met by providers in business process services (BPS), information technology services and engineering services across the value chain in the upstream, midstream and downstream sectors. The strongest performers like Accenture demonstrated truly collaborative relationships with clients and invested in future capabilities in talent and technology to increase value delivered over time. They also best incorporated the eight ideals of the As-a-Service economy to flexibly engage and manage resources to deliver services with targeted outcomes.

"We're so pleased to have achieved a market-leading position in this report, which recognizes the impact we have had when helping clients navigate the energy industry's many challenges. It's a testament to our vision for the future of the industry and efforts to drive leading edge innovation across the oil and gas value chain," said Andrew Smart, managing director and lead for Accenture's energy industry group. "Through our strong domain expertise and focus on collaboration and co-creation, Accenture is best placed to deliver successful outcomes that align with our clients' business needs. We remain committed to continuing to expand our capabilities and services, while strengthening our portfolio of technologies, As-a-Service solutions and platform assets."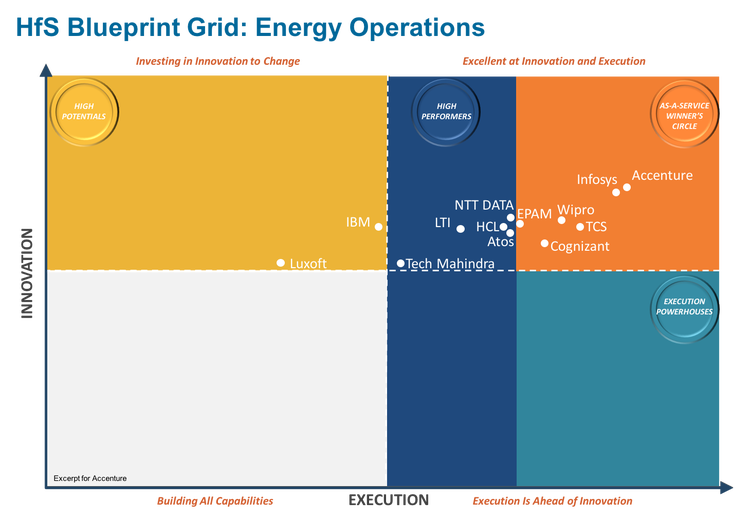 Accenture Achieves Lead Position in Winner's Circle of
HfS Research's 2017 Energy Operations Blueprin t
In the report, Accenture was commended for the depth of its domain-specific expertise and capabilities, industry vision, co-innovation with partners, successful integration of partner services and large scale application of automation in BPS service delivery. Accenture was also recognized for its continued innovation in digitally transforming clients' businesses and delivering solutions across the value chain in an As-A-Service model, to drive cost and schedule performance improvements.

"In an industry seeking to drive new business models and efficiency, Accenture's formidable end-to-end digital transformation capabilities and consulting-led As-a-Service solutions allow clients to plug into its innovation-driven expertise," said Derk Erbé, Research Vice-President, Supply chain, Procurement and Energy for HfS Research, The Services Research CompanyTM. "Accenture also continues to invest heavily in strategic partnerships that deliver business value to clients. Both clients and partners also highlight the value that Accenture's Energy Hubs and Centers of Excellence bring in developing solutions and imagining business transformation journeys."

The key strengths HfS Research highlighted for Accenture in the report included:
Partnerships: Accenture has the most comprehensive ecosystem of technology, platform, automation, business services and industry-specific partners, and is expanding some of its most strategic partnerships. Accenture is making investments in relationships, identifying business value and executing joint go-to-market plans.
Dominance in Business Process Services (BPS) for Oil & Gas: Accenture has a dominant market share in the Energy Operations BPS value chain. Most notable are the large and long-running BPS relationships for Finance & Accounting, Procurement and HR with certain super majors.
Energy Hubs and Centers of Excellence (CoEs) Prove to Be a Major Differentiator: Clients and partners speak highly of the way Accenture's Hubs and CoEs bring topics like IoT and augmented reality to life. They enable co-creation with clients and drive education and the ability to scale opportunities at pace. Accenture offers oil and gas clients access to R&D via its labs.
Significant Progress in The Move to As-a-Service: Accenture is actively offering and delivering As-a-Service contracting models with the prevalence of new digital services, promoting outcome-based models and As-a-Service structures in new deals.
Continued Focus on Integration of Digital, Consulting, BPS and Technology for Energy Operations: Services across the value chain are delivered by different business units. Accenture is rapidly expanding its already substantial digital capabilities with acquisitions of design studios, cloud specialists and digital consultancies. This provides a differentiated ability to pair digital strategy and execution with a full-circle philosophy to digital.
The findings of the report were based on extensive market research, interviews with clients and other service buyers, interviews with vendors' partners, briefings with service providers, and publicly available information, including financial data.

The HfS Energy Operations Blueprint Report can be accessed here.

More information about Accenture's services to the energy industry can be accessed here.

About Accenture
Accenture is a leading global professional services company, providing a broad range of services and solutions in strategy, consulting, digital, technology and operations. Combining unmatched experience and specialized skills across more than 40 industries and all business functions – underpinned by the world's largest delivery network – Accenture works at the intersection of business and technology to help clients improve their performance and create sustainable value for their stakeholders. With more than 411,000 people serving clients in more than 120 countries, Accenture drives innovation to improve the way the world works and lives. Visit us at www.accenture.com.

# # #

Contacts:

Guy Cantwell
Accenture
+1 281 900 9089
guy.cantwell@accenture.com

Matt Corser
Accenture
+44 755 784 9009
matthew.corser@accenture.com