November 16, 2017
Accenture Achieves Lead Position in Winner's Circle in HfS 'Travel and Hospitality Customer Engagement Services'
Blueprint Report

NEW YORK; Nov. 16, 2017 – Accenture (NYSE: ACN) has been positioned in the "Winner's Circle" as a leader in "innovation and execution" in the HfS inaugural "Travel and Hospitality Customer Engagement Services" Blueprint report.
HfS analyzed the innovation and execution capabilities of 16 service providers who offer support for customer engagement in the travel and hospitality services market. The report looked at the evolution of the market as it transforms to a more agile, consumer-centric as-a-service economy, with increasingly diverse talent, analytics and platform-based services.

"Accenture stands out as an As-A-Service winner in the travel and hospitality industry, leading in the use of design and consulting to help re-imagine the customer experience, including using operating models that enable technologies and talent to drive business outcomes," said Melissa O'Brien, research director of Customer Engagement, Retail, and Travel Strategies for HfS.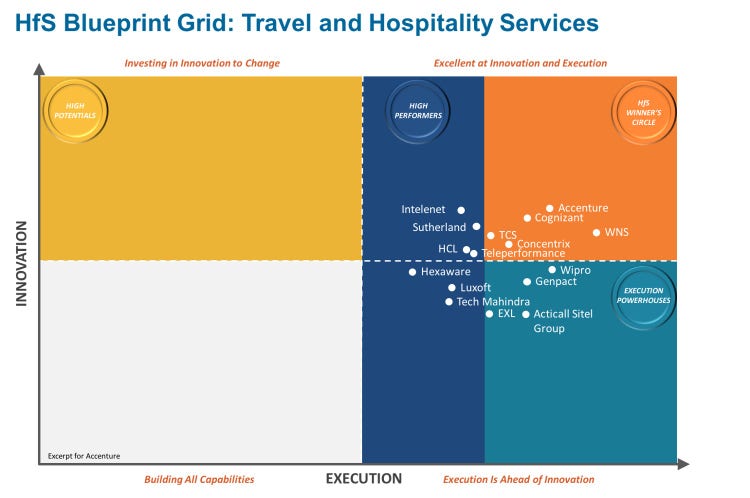 © 2017 HfS Research Ltd.; HfS Blueprint Travel and Hospitality Customer Engagement Services; Excerpt for Accenture
The report commended Accenture on its breadth of capabilities across the value chain of services in the travel and hospitality market. The report noted that by combining the five dimensions of its business – strategy, consulting, digital, technology and operations – "Accenture's portfolio thoroughly covers a range of travel and hospitality buyers' needs to impact the customer experience." Accenture also stood out with its creation of the Accenture Connected Travel platform, which "helps clients innovate"; its ability to articulate vision and a "new way of thinking"; and its long-standing, collaborative relationships with clients.

"Accenture believes that leading travel and hospitality companies should be able to deliver improved customer insight and engagement and respond rapidly to – if not actually pre-empt – ongoing industry disruption," said Steve Ferneyhough, managing director leading Accenture's Travel industry group. "This HfS assessment is a recognition of our continued ability to help our clients innovate and deliver better customer experiences. Using analytics and digital technology to gain predictive insights, we enable clients to take proactive actions and achieve better outcomes."

Click here for more information on the "HfS Blueprint: Travel and Hospitality Customer Engagement Services" report.

About Accenture
Accenture is a leading global professional services company, providing a broad range of services and solutions in strategy, consulting, digital, technology and operations. Combining unmatched experience and specialized skills across more than 40 industries and all business functions – underpinned by the world's largest delivery network – Accenture works at the intersection of business and technology to help clients improve their performance and create sustainable value for their stakeholders. With approximately 425,000 people serving clients in more than 120 countries, Accenture drives innovation to improve the way the world works and lives. Visit us at www.accenture.com.

# # #

Contact:

Cam Granstra
Accenture
+1 312 693 5992
cameria.l.granstra@accenture.com