January 18, 2017
Accenture Achieves Lead Position in HfS Research's Procurement As-a-Service Blueprint Report

NEW YORK; Jan. 18, 2017 – For the second year in a row, Accenture (NYSE: ACN) is positioned as the leader in the 'Winner's Circle' – ahead of all other competitors in both the innovation and execution categories – in the HfS Research Procurement As-a-Service Blueprint Report.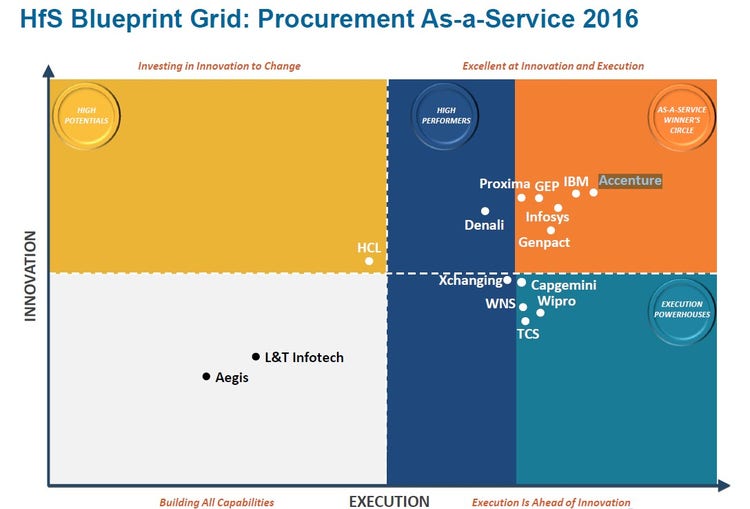 The report recognizes Accenture for leading the market in the breadth, depth and sophistication of its strategic sourcing and category management capabilities with innovative specializations; for its combination of deep expertise, platform, intelligence and analytics, and automation that combine to drive outcomes fused across the end-to-end process; and for its As-a-Service approach to procurement outsourcing that allows clients to select the skills and technology needed to more effectively integrate into their retaining procurement functions. Clients praised Accenture in the report for the company's "unbelievable commitment to account management" and for its ability to deliver business outcomes.

"Accenture continues to lead the procurement services market with As-a-Service delivery and commercial models," said Derk Erbe, research vice president, supply chain, procurement and energy, HfS Research – The Services Research Company. "Its Radix procurement platform underpins all services and leverages intelligent automation, advanced analytics, and information across clients, enabling Accenture to provide deep insights, market intelligence, and closed loop processes. The breadth, depth, and sophistication of strategic sourcing capabilities and category expertise at scale is unparalleled in the market."

The report assessed 15 Procurement As-a-Service service providers and builds on the 2015 Blueprint report, analyzing and reviewing how the market is evolving towards more business outcome-focused, flexible, and on-demand and collaborative services.

"Accenture's continued leadership in the procurement As-a-Service market is a testament to our ongoing commitment to deliver expertise, analytics and market intelligence, technology and process automation, and innovation to our clients," said Debbie Polishook, group chief executive of Accenture Operations. "Having improved billions of dollars of spend, we aggregate and translate that data into valuable insights, helping our clients put them into action and ultimately drive better business outcomes."

In addition to its end-to-end breadth and depth, as-a-service capabilities and account management expertise, other Accenture strengths highlighted in the report include:
Modularized Service Offering: Accenture has made the necessary changes to offer modules of procurement services to ensure flexibility and simpler ways to contract.
Innovation in Delivery and Commercial Modeling: Accenture has moved many of its contracts to fixed fee constructs (with adjustment mechanisms to deal with volume/resource fluctuations) along with a performance-based fixed fee element and delivery on the Radix business platform.
Balanced Client Portfolio: Accenture has a balanced portfolio of clients ranging from medium to large enterprises across most major industries.
About Accenture
Accenture is a leading global professional services company, providing a broad range of services and solutions in strategy, consulting, digital, technology and operations. Combining unmatched experience and specialized skills across more than 40 industries and all business functions – underpinned by the world's largest delivery network – Accenture works at the intersection of business and technology to help clients improve their performance and create sustainable value for their stakeholders. With more than 394,000 people serving clients in more than 120 countries, Accenture drives innovation to improve the way the world works and lives. Visit us at www.accenture.com.

# # #

Contact:

Oriana Branon
Accenture
+ 1 415 537 5032
oriana.branon@accenture.com