May 17, 2017
Accenture Achieves Lead Innovation Position in "Winner's Circle" of HfS Research's 2017 Managed Security Services Report

NEW YORK; May 17, 2017 – Accenture (NYSE: ACN) has been positioned in the "Winner's Circle" and ranked as the leader in innovation in the inaugural HfS Research's 2017 Managed Security Services report. The report recognizes Accenture for industry focus, global capabilities and depth of major Managed Security Service areas among other category rankings.
"Businesses want clear advice on how to prevent, monitor and mitigate cyber threats. That is why we continue to aggressively invest in next-generation technology and business solutions that enable organizations to proactively manage their most pressing security challenges," said Kelly Bissell, managing director of Accenture Security. "We are extremely proud to be recognized as leading the industry in innovation for managed security services. Our mission is to continue innovating and expanding our industry expertise across the full spectrum of our services to help our clients protect their entire attack surfaces."

The report evaluated 13 service providers of managed security services against a broad set of capabilities related to depth and quality of services, automation and analytics, industry expertise, vision for security as well as talent strategy. The 'Winner Circle' position reflects Accenture's ability to execute well on these capabilities while focusing on emerging technologies like predictive analytics and crafting differentiated thought leadership in the market.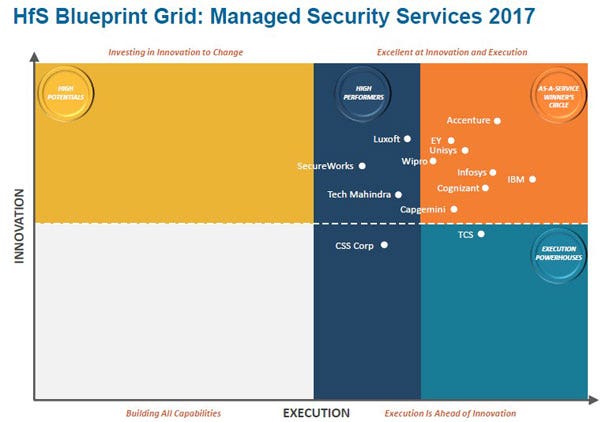 "Accenture's focus on bringing industry depth to its security practice helps the firm move beyond tactical checklist-style approaches to managed security, said Christine Ferrusi Rossi, research vice president, Security and Blockchain, HfS Research. "The firm's thought leadership on data ethics also helps differentiate the firm in the market."
A CISO in the financial services sector said, "Cyber adversaries are constantly adapting and creating new ways to find and exploit vulnerabilities in corporate IT systems. To out-innovate attackers, you cannot do it alone. Securing an organization hinges on a team of knowledgeable security specialists with the right skills, approaches and tools to combat these adversaries. We have found that Accenture's comprehensive Managed Security Services helps makes that possible through great talent and comprehensive solutions, enabling us to embed risk management into the fabric of our business."
@Accenture achieves lead innovation position in HfS Research's 2017 Managed Security Services Report


The 2017 Managed Security Services HfS Blueprint focuses on Managed Security Services delivered on an ongoing basis to help clients prevent, monitor, report and remediate threats to their business. An important element of the ranking recognizes offerings and delivery that demonstrated clear understanding of how security fits into broader business context, proactively staying current with changing security threats and a vision for security's role in the customer experience.

Accenture strengths highlighted in the report include:
Industry Focus: "Accenture has specifically invested over the past year in expanding its security delivery beyond industry-specific regulatory requirements to putting security in the context of business trends that affect clients' business."
Cyber Fusion Centers: "The firm has combined its security innovation labs and Liquid Studios capabilities for proof of concepts to move clients faster into operationalized security."
Global Capabilities: "Accenture has strong delivery capabilities with security-specific delivery centers in all major geographic regions."
Depth in all Major Security Areas: "The provider has services in all of the areas included in the Managed Services category except for physical security, which it plans to add in the next 12-18 months."
Data Ethics: "Accenture is building thought leadership around data ethics, the concept of ensuring data and algorithms used in security are used for ethical and legal purposes."
Client Relationships: "Accenture's strong account management capabilities are evident in the number of references, the seniority of references (all CISOs), and the speed with which those references made time to speak on Accenture's behalf."
The HfS 2017 Managed Security Services Blueprint report can be accessed here .

More information about Accenture Security's Managed Security Services can be found here.

About Accenture
Accenture is a leading global professional services company, providing a broad range of services and solutions in strategy, consulting, digital, technology and operations. Combining unmatched experience and specialized skills across more than 40 industries and all business functions – underpinned by the world's largest delivery network – Accenture works at the intersection of business and technology to help clients improve their performance and create sustainable value for their stakeholders. With approximately 401,000 people serving clients in more than 120 countries, Accenture drives innovation to improve the way the world works and lives. Visit us at www.accenture.com.

Accenture Security helps organizations build resilience from the inside out, so they can confidently focus on innovation and growth. Leveraging its global network of cybersecurity labs, deep industry understanding across client value chains and services that span the security lifecycle, Accenture protects organizations' valuable assets, end-to-end. With services that include strategy and risk management, cyber defense, digital identity, application security and managed security, Accenture enables businesses around the world to defend against known sophisticated threats, and the unknown. Follow us @AccentureSecure on Twitter or visit us at www.accenture.com/security.

# # #
Contact:
Alison Geib
Accenture
+1 703-947-4404
Alison.geib@accenture.com