July 28, 2016
University Graduates Are Well Prepared and Ambitious, But Employers Are Struggling to Deliver Challenging Work Experiences, Finds Accenture Strategy

LONDON; Jul 28, 2016 – Today's university graduates are focused and driven, entering the job market well prepared and ready to commit to their career, but employers aren't making the most of this mindset, according to new research from Accenture (NYSE: ACN) on the workforce of the future.
Conducted by Accenture Strategy, the 2016 UK University Graduate Employment Study found that growing up in an age of austerity, surrounded by job fears and escalating tuition fees, has meant that almost eight out of 10 students (79 percent) graduating this year considered the job market before selecting their area of study. Science, technology, engineering and mathematics (STEM) subjects remain the most popular, with almost a third (30 percent) of students choosing such courses at university.


In addition to careful subject selection, more students are stopping at the traditional three-year degree (up from 83 percent in 2015 to 89 percent today), which requires less tuition fees while allowing them to get started with their career sooner.

The majority of graduates are willing to complete an internship or work overtime during evenings or weekends (67 percent and 60 percent, respectively), and more than three quarters (78 percent) are willing to relocate for a job.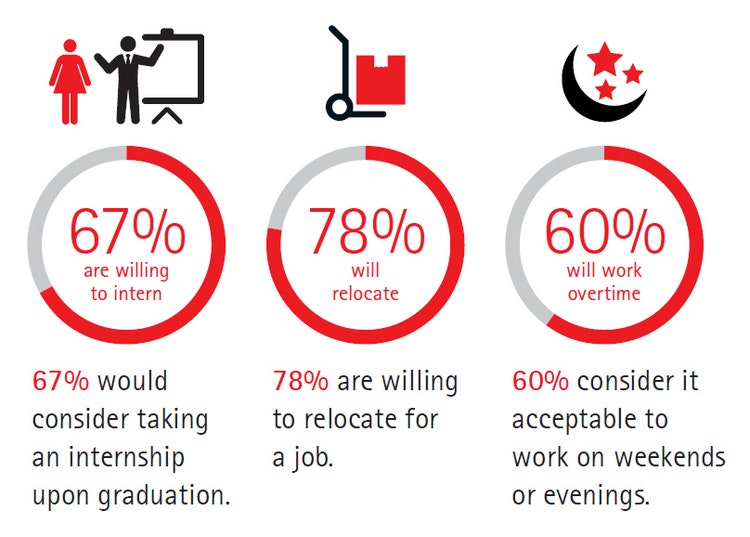 "This all sounds like good news for employers – a cohort of graduates completing their formal education focused on their career and flexible about their hours and location," said Payal Vasudeva, managing director, Accenture Strategy. "The challenge lies in best harnessing the talents of these graduates, and satisfying their drive and ambition, to not only attract, but also retain the top performers".
Are UK employers ready for 2016 grads? See latest #futureworkforce survey from @AccentureStrat http://bit.ly/2ap1aRQ


Graduates are also more selective about the type of organisation they want to work for, with only 24 percent saying they want to work for a large company. Additionally, more than two thirds (69 percent) of recent graduates feel underemployed in their current role, an increase of nine percentage points compared to 2015. Of those, nearly nine out of 10 (89 percent) plan to leave their first employer within five years.

"Going to university has become a huge financial decision. Graduates want to feel that the time and money spent on a degree is being recouped through the use of their skills at work, but the number of recent graduates who end up in a job that doesn't require their degree is growing," Payal Vasudeva continued.

What can employers do to attract and retain top graduates?
The study found that bridging the divide between the knowledge gained at university and the tasks they perform in the workplace helps recent graduates feel more valued and appreciated.

New graduates are also positive about the impact of technology on the future of work. Two thirds (68 percent) believe that advancement in digital technologies and artificial intelligence will enhance their experience at work.

"Employers can address this knowledge gap and harness the enthusiasm for digital advancement by providing relevant formal training, especially in the early stages of a career. But this needs to be coupled with informal and experiential learning, and tailored to each individual. New and recent graduates do not accept a one-size-fits-all approach to development and career advancement," Payal Vasudeva added.

Furthermore, according to the research, nearly two thirds of graduates (64 percent) would trade a higher salary for a better culture and social atmosphere at work.

"Offering graduates more than a job is key. Employers can increase retention and engagement by providing a positive work environment that is perceived as fun with social and volunteering opportunities, as well as learning and development programmes," she said.

For more information on the Accenture Strategy 2016 UK University Graduate Employment Study please visit www.accenture.com/UK2016GradResearch.

Methodology
Accenture Strategy conducted an online survey in the United Kingdom of 1,016 students graduating from university in 2016, and 1,016 university graduates who entered the workforce in 2014 or 2015. The survey was conducted in April 2016.

About Accenture
Accenture is a leading global professional services company, providing a broad range of services and solutions in strategy, consulting, digital, technology and operations. Combining unmatched experience and specialized skills across more than 40 industries and all business functions – underpinned by the world's largest delivery network – Accenture works at the intersection of business and technology to help clients improve their performance and create sustainable value for their stakeholders. With more than 375,000 people serving clients in more than 120 countries, Accenture drives innovation to improve the way the world works and lives. Visit us at www.accenture.com.

Accenture Strategy operates at the intersection of business and technology. We bring together our capabilities in business, technology, operations and function strategy to help our clients envision and execute industry-specific strategies that support enterprise wide transformation. Our focus on issues related to digital disruption, competitiveness, global operating models, talent and leadership help drive both efficiencies and growth. For more information,visit www.accenture.com/strategy.

# # #

Contact:

Ceri Jones
Accenture Media Relations
+ 44 78 244 51404
ceri.l.jones@accenture.com