November 09, 2016
UK Spending on Christmas Purchases is Set to Increase This Year but Retailers Must Provide Strong Incentives to Win Over UK Shoppers, Accenture Survey Reveals


Consumers undeterred by Brexit vote, feeling optimistic about their personal finances, but plan to go the extra mile for a good deal

LONDON; Nov. 9, 2016 – UK retailers could enjoy strong festive sales this Christmas, with 85 percent of consumers likely to spend the same or more compared with last year, according to Accenture's annual holiday shopping survey.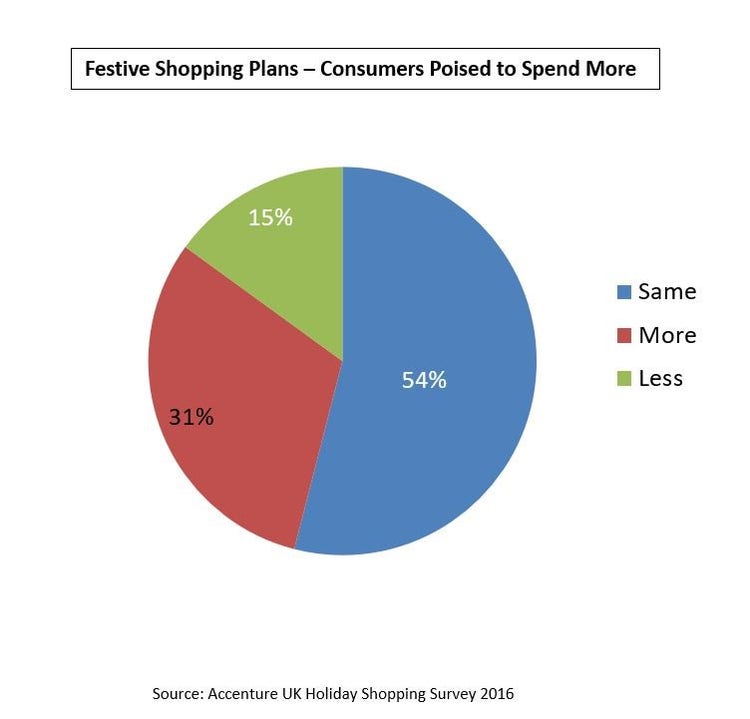 --- However, consumers are more promotion-driven than before, with eight out of ten shoppers planning to check Amazon.co.uk before looking or buying elsewhere. The research shows that retailers need to be prepared to deliver enticing offers and a seamless multichannel consumer experience if they want to win an increased share of wallet this Christmas.

Festive Spending Plans Appear Unaffected by Brexit Vote
The annual Accenture UK Holiday Shopping Survey found that 57 percent of shoppers say their spending habits have been entirely unaffected by the Brexit vote, and just 11 percent said they are both more cautious on essentials and are not spending anything on non-essentials following the UK referendum result.

Frugal Consumers Want More for their Money
The survey revealed that while shoppers are planning to spend more, they also want more for their money and are willing to put in the extra work to get the best deals:
Nearly three-quarters (74 percent) of respondents said they will purchase items from different stores or sites to get each at the lowest price, rather than buy all items in one place.
Over half (54 percent) will be/can be enticed by promotions to shop in a store they have not shopped at in the past year.
On average, a 30 percent discount will persuade consumers to purchase an item
Forty-three percent of shoppers are open to sharing personal information and shopping preferences with retailers in order to receive personalized offers (up from 35 percent in 2015).
"While it's encouraging to see that many consumers are planning to spend more this festive season, the challenge for UK retailers will be to drive profitable sales," said Matt Prebble, managing director of Accenture's Retail Practice in the UK. "In a world in which their own costs are under pressure from a weak pound, and consumers are more promotion focused than ever, retailers have a difficult balance to achieve. They will need to adopt an agile approach if they want to successfully target each customer segment by providing enticing services and offers that will persuade consumers to purchase."

The Multichannel Sales Opportunity
'Showrooming,' visiting a store to review a product before purchasing it online, and 'webrooming,' shopping for products online before visiting the retail store to make a purchase, will again be prevalent among UK shoppers, with 75 percent and 72 percent of survey respondents planning to participate in each respectively. This represents a 21 percent and 19 percent increase from 2015.

The buy online and pick-up in-store option has also seen a huge rise in popularity among UK shoppers, according to the survey findings. Forty-three percent of survey respondents said they are planning to take advantage of this option (up 12 percent from 2015). Additionally, over half (56 percent) of shoppers are likely to buy additional items during their in-store visit to pick up an online purchase (up 13 percent from 2015).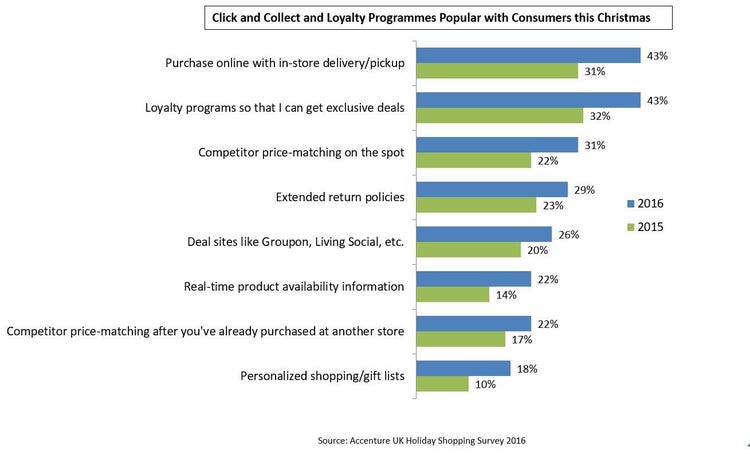 "Over the last decade, retailers have had to adjust to the explosion of e-commerce," said Prebble.

"The days of thinking about independent channels are over, with shoppers buying goods online, only to travel to the physical store to collect their items, opening up the prospect of multichannel sales. Retailers need to gather as much data as possible about their customers' journeys to ensure they convert every possible point of sale opportunity."

About the survey
The Accenture Holiday Shopping Survey offers insights into consumer buying patterns during the holiday period. It gives an indication of retail performance expectations both on the high street and online at a key time for the sector across a number of markets including the U.S., Canada, the UK and France. For this year's UK survey, Accenture queried a representative sample of 1,500 U.K. consumers online in September and October 2016.

About Accenture
Accenture is a leading global professional services company, providing a broad range of services and solutions in strategy, consulting, digital, technology and operations. Combining unmatched experience and specialized skills across more than 40 industries and all business functions – underpinned by the world's largest delivery network – Accenture works at the intersection of business and technology to help clients improve their performance and create sustainable value for their stakeholders. With approximately 384,000 people serving clients in more than 120 countries, Accenture drives innovation to improve the way the world works and lives. Visit us at www.accenture.com.

# # #

Contact:

Aleks Vujanic
Accenture
+ 44 7500 974 814
aleks.vujanic@accenture.com