December 06, 2016
Supermarket of the Future Opens its Doors, Coop Italia and Accenture Reinvent the Grocery Shopping Experience


COOP, Accenture and Avanade deliver a range of technologies to increase brand loyalty and store profitability

MILAN; Dec. 6, 2016 – Coop Italia, Italy's largest supermarket chain, has collaborated with Accenture (NYSE: ACN) to reinvent the customer experience in grocery shopping with the opening of its Supermarket of the Future store.
The new flagship store, located in Milan's University area of Bicocca, provides a welcoming, innovative and informative shopping environment. It merges the physical and digital to recreate the atmosphere of local open-air markets, combined with innovative digital solutions that provide useful product information, while improving store navigation.

Accenture helped Coop to completely redesign the supermarket's information architecture. Working with Avanade, a joint venture company between Accenture and Microsoft, Accenture helped implement the IT infrastructure, and analyze and develop point-of-sale touch points. The result is a modular and flexible solution, underpinned by a Microsoft Azure cloud-based platform that can be easily scaled to a large number of stores.

"Following the great success and positive feedback we received when we showcased the Supermarket of the Future concept at Expo Milano 2015, we got straight to work to make our vision a reality," said Marco Pedroni, President of Coop Italia. "Using their digital expertise, Accenture and Avanade have helped us redesign the grocery shopping experience through a digital journey that meets customer demand for information, engagement and functionality in a simple and intuitive way."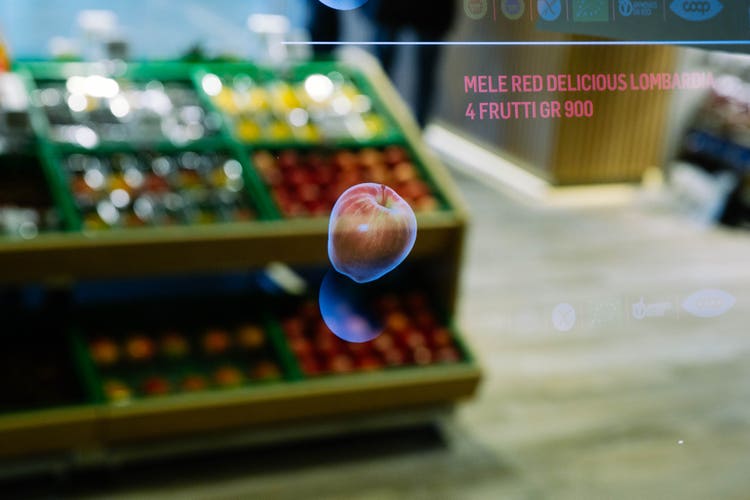 The customer experience is enabled by the implementation of interactive food display tables and smart shelves to make shopping more relevant and personalized by providing customers with a range of product information. The project incorporates a series of technical solutions originally developed by Accenture for COOP at Expo Milano 2015, based on designs by MIT professor and head of Carlo Ratti Association, Carlo Ratti, the Supermarket of the Future includes:
Interactive tables: Products are exhibited in the supermarket on large interactive tables where a simple movement of the hand shows augmented information about the product on a monitor, including its origins, nutritional facts, the presence of allergens, waste disposal instructions, correlated products and promotions. This augmented experience is made possible by Microsoft Kinect sensors that use body detection to interpret the customer's gestures.
Vertical shelving: In the new store the traditional layout of the shelving has been rethought and associated with a touch application, which enables the customer to navigate through the product categories, to filter and search for most suitable products, discover promotions, view detailed product information. The result is an augmented label that gives the customer deeper insight into the product they are purchasing.
Real Time Data Visualization: During the journey through the store, the customer can take a look at a large real-time data visualization screen showing content including: Coop's brand values, special daily offerings and cooking suggestions, social media information including posts on Coop's Facebook account, top selling products and promotions for each category, facilitating an additional interaction point with the shoppers.
" Through Coop's Supermarket of the Future, we are bringing to life how the physical and the digital are capable of converging to create an engaging and immersive grocery shopping experience," said Alberto Pozzi , managing director in Accenture's Retail Practice in Italy. "Coop is shaping the future of supermarkets by combining hyper personalization, deep product information and connected devices in-line with customer buying journeys. We are looking forward to continued collaboration and bringing future innovation straight into the hands of Coop's customers."

"Avanade is passionate about the power of digital innovation and how it can transform the customer experience. We are particularly excited to have helped Coop make the supermarket of the future concept a reality for its customers," said Stefania Filippone, executive in Consumer Goods & Retail, Avanade, Italy.

About Accenture
Accenture is a leading global professional services company, providing a broad range of services and solutions in strategy, consulting, digital, technology and operations. Combining unmatched experience and specialized skills across more than 40 industries and all business functions – underpinned by the world's largest delivery network – Accenture works at the intersection of business and technology to help clients improve their performance and create sustainable value for their stakeholders. With approximately 384,000 people serving clients in more than 120 countries, Accenture drives innovation to improve the way the world works and lives. Visit us at www.accenture.com.

# # #

Contacts:

Aleks Vujanic
Accenture
+ 44 7500 974 814
aleks.vujanic@accenture.com

Armando Barone
Accenture
+ 39 3485608969
armando.barone@accenture.com