June 28, 2016
Small Minority of Industry Leaders Achieve Both Digital and Financial High Performance


Digital Performance analysis reveals how Digital High Performers stand out

NEW YORK; June 28, 2016 – A small minority of leading global companies are significantly outperforming their industry peers by combining strong commitment to digital technologies with strong financial performance, according to new analysis by Accenture (NYSE:ACN).
The Accenture analysis, published in Digital Performance, Rotating to the New, examines 343 companies across eight industry sectors. It identifies 18 percent of the sample as Digital Leaders, who have invested significantly in digital but who have not delivered outstanding financial outcomes. However, only six percent are classed as Digital High Performers, who have successfully translated their digital investments into both higher profitability and growth.

Digital High Performers outscored Digital Leaders by 44 percent on revenue growth and 34 percent on profitability, according to the Accenture Digital Performance Index. Together with their greater returns to shareholders, Digital High Performers' financial outcomes resulted in investors awarding them 48 percent higher future value than other companies who had similar levels of digital commitment (see Figure 1).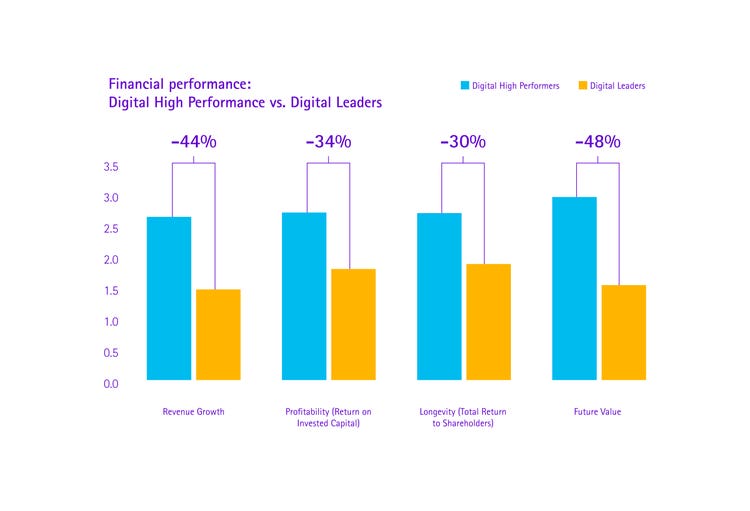 Digital High Performers turn digital investments into sustained financial performance
"Many companies fail to translate their significant digital investment into lasting financial success because they focus simply on efficiencies and short term profitability and less on longer term growth," said Omar Abbosh, Chief Strategy Officer, Accenture. "Our analysis shows that Digital High Performers identify trapped value in their organization and across their value chains that enable them to generate sustained growth in new digitally contested markets."

The Accenture Digital Performance model measures major companies in each industry sector against 42 business activities and 117 behavioral metrics that reflect their implementation of digital technologies. These are grouped into four categories that cover running a business. Digital High Performers successfully pursue all four.
Plan: They shape and implement digital strategies that leverage the collective intelligence of disrupters, partners and competitors to identify and capture growth in core and adjacent industries.
Make: They use digital technologies – such as mobile, cloud, analytics, robotics, cyber security and the industrial Internet – to transform innovation, design and production, as well as to create digital products and services.
Sell: They create hyper-personalized customer experiences across both digital and physical channels, engaging with customers long after transactions are completed.
Manage: They use digital to redesign processes and culture, and to equip workforces with the new skills needed to create more agile and experimental organizations.
"Digital High Performers set the example of how to rotate to the new," continued Omar Abbosh. "Instead of simply driving efficiencies in their core businesses while exploring new opportunities elsewhere, the most successful companies refuse to distinguish between the core and the new. They don't just maintain their core businesses but invest in them, transforming them into platforms for new customer experiences and revenue streams."

The Accenture Digital Performance Index (DPI) finds a significant difference in the levels of digital commitment and investments between sectors. The communications, hi-tech and retail sectors scored above average DPI scores. The energy and consumer goods and services sectors scored below average.

Accenture will be extending the Digital Performance modelling to a range of other industries in the coming months and is offering clients the opportunity to assess their digital and financial performance against peers and digital disruptors.

Learn more about Digital Performance by visiting: https://www.accenture.com/us-en/insight-digital-performance

About Accenture
Accenture is a leading global professional services company, providing a broad range of services and solutions in strategy, consulting, digital, technology and operations. Combining unmatched experience and specialized skills across more than 40 industries and all business functions – underpinned by the world's largest delivery network – Accenture works at the intersection of business and technology to help clients improve their performance and create sustainable value for their stakeholders. With approximately 375,000 people serving clients in more than 120 countries, Accenture drives innovation to improve the way the world works and lives. Visit us at www.accenture.com.

# # #

Contact:

Matthew McGuinness
Accenture
+ 1 917 282 7187
matthew.mcguinness@accenture.com