October 25, 2016
Six Accenture Leaders Named to the 2016 OUTstanding-Financial Times' Leading LGBT and Ally Lists

NEW YORK; Oct. 25, 2016 – Accenture's Sander van 't Noordende, Andrew Wilson, Simon Eaves, Marty Rodgers, Ramsés Aldana and Rica Paras have been recognized by OUTstanding and the Financial Times as 2016 Leading LGBT and Ally Executives.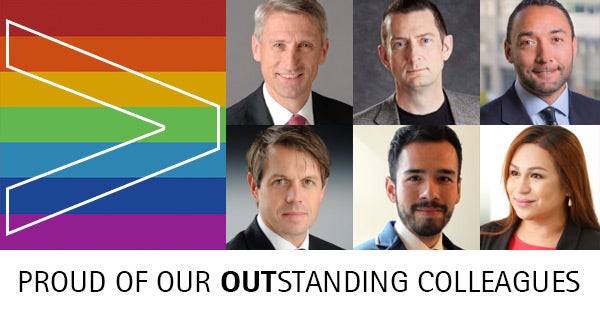 "At Accenture, we want to be a haven for inclusion, where all people can be their best because they can bring their whole self to work," said Sander van 't Noordende, Accenture Products group chief executive. "Our LGBT leaders and allies are stepping forward to serve as role models to others, sharing their stories and providing support, at Accenture and in our communities. Alongside my fellow colleagues, I am proud to be recognized again by OUTstanding."

The company's executives were named across the three categories – LGBT Executives, Allies and Future Leaders – and represent Accenture offices around the world including the U.S., U.K., Mexico and the Philippines. Van 't Noordende, Aldana and Paras are recognized for the second consecutive year.
Top 100 Leading LGBT Executives:

Sander van 't Noordende is a passionate advocate for the LGBT community, at Accenture and beyond. A member of the company's Global Management Committee, he recently was appointed to the board of Out & Equal, the premier LGBT workplace equality nonprofit, and is a 'LinkedIn Influencer' on topics such as marriage and workplace equality.
Andrew Wilson, Accenture's chief information officer, is the company's Global LGBT Network sponsor. Wilson pioneered Accenture's global LGBT mobile app, networking its LGBT employees around the world, and championed the company's #PrideAcrossBorders campaign, focused on breaking barriers to equality.

Top 50 LGBT Allies:

Simon Eaves , senior managing director, Accenture Products, is the executive sponsor of the company's LGBT Allies Program in the UK, where he has helped increase ally membership from 750 to 2,200. Eaves was nominated as Corporate Straight Ally of the Year at the 2016 British LGBT Awards.
Marty Rodgers leads Accenture's Washington D.C. Metro office – one of the company's largest in the U.S. – and is a strong ally to the LGBT community. Rodgers supports the company's national and local LGBT employee resource groups, helps advance LGBT recruiting efforts and advocates for LGBT equality at external events, coalitions and task forces, including at the White House.

Top 50 Future LGBT Leaders (Under 35):

Ramsés Aldana , manager, Accenture Products, leads the company's LGBT Network in Mexico where, under his leadership, membership has tripled in two years. He co-founded Pride Connection Mexico, a network of 24 large corporations to connect LGBT employees and allies. Aldana has spoken at the LGBT Mexican Entrepreneurs Federation Congress and Pride Connection Summit in 2016.
Rica Paras , manager, Accenture Technology, is the LGBT Lead for the company in Southeast Asia. Paras speaks publically about her experiences as a transgender woman and has helped inform the company's inclusion of All Gender restrooms and Gender Authentic Dress Code policies in the Philippines.
Those on the OUTstanding-Financial Times' Leading LGBT and Ally lists were nominated by peers and colleagues. All nominations were reviewed by OUTstanding's judging panel and scored on the seniority and influence of the nominee's role, impact on LGBT inclusion inside and outside the workplace and business achievements.

Accenture is committed to ensuring an inclusive environment, where all people can feel comfortable to be themselves and, as a result, be inspired. The company implements policies to ensure the equal treatment of employees regardless of sexual orientation or gender identity and expression, where permitted by law. It received 100 out of 100, a perfect score, on the 2015 Human Rights Campaign's Corporate Equality Index (CEI) for the ninth year in a row, and is recognized as a 2016 Stonewall Top 100 Employer.
For more on LGBT at Accenture, visit: accenture.com/LGBT

About Accenture
Accenture is a leading global professional services company, providing a broad range of services and solutions in strategy, consulting, digital, technology and operations. Combining unmatched experience and specialized skills across more than 40 industries and all business functions – underpinned by the world's largest delivery network – Accenture works at the intersection of business and technology to help clients improve their performance and create sustainable value for their stakeholders. With approximately 384,000 people serving clients in more than 120 countries, Accenture drives innovation to improve the way the world works and lives. Visit us at www.accenture.com.

# # #

Contacts:

Sam Hyland
Accenture
+ 1 917 452 5184
samuel.hyland@accenture.com