September 06, 2016
Retailers and Consumer Packaged Goods Companies Must Enhance Their Understanding of Millennial Consumers to Capture Share of $6Trillion Wallet in Asia, Accenture Warns


Millennials represent more than 45 percent of the region's population, with 60 percent of the world's millennials expected to live in Asia by 2020

SINGAPORE; Sept. 6, 2016 – Retailers and consumer packaged goods (CPG) companies must improve their understanding of the millennial generation in Asia, according to Accenture, with millennials set to dominate the consumer market in the region.
Looking at the millennial generation in the region, Accenture analysis from a number of research reports including Accenture Adaptive Retail and the "The future is now: understanding the new Asian consumer" reveals the extent to which this group is set to dominate spending across the region. This potential impact highlights the need for retailers and CPG companies to embrace digital solutions so they can achieve the connected and integrated shopping experience that millennials are seeking.

The opportunity is here and now
According to Accenture's analysis e-commerce adoption continues to increase, with sales in the Asia Pacific region expected to rise 300 percent to US$2.6 trillion by 2020. Millennials in Asia will have more spending power than any previous generation – estimated to be US$6 trillion in disposable income by 2020. Millennials represent more than 45 percent of Asia Pacific's population, and with 60 percent of the world's millennials expected to live in Asia by 2020, retailers and CPG companies must improve their understanding of this tech-savvy, media-connected generation to capitalize on the huge opportunity and capture this powerful customer segment.\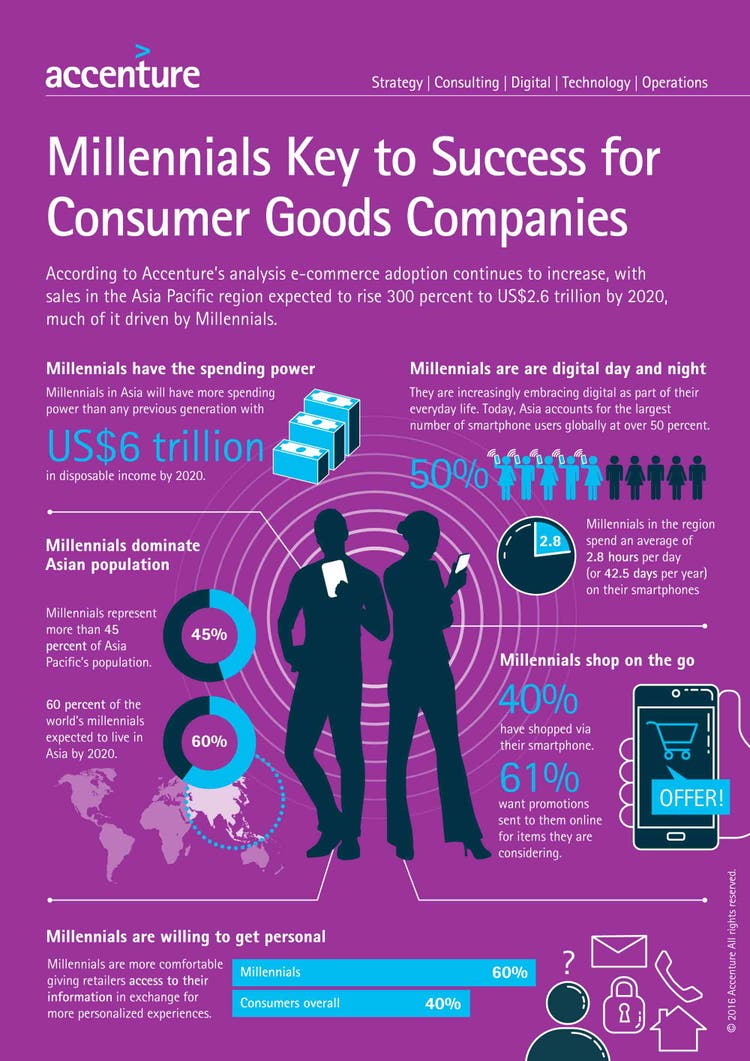 Speaking at the Accenture World of ME showcase at the Millennial 20/20 summit in Singapore, Teo Correia, senior managing director in Accenture's Consumer Goods and Services practice, said, "Digital is transforming the industry globally by empowering customers with more choices, insights and control. Millennials expect easy and delightful experiences that are tailored to their interests and lifestyles. They are more difficult to predict, increasingly segmented, and devoted to powerful brands and engaging shopping experiences. To win their loyalty, it is imperative for brands to keep it simple but make it personal using data-driven applications."

Millennials are shopping on the go and demanding more
Consumers are increasingly embracing digital technology and services as part of their everyday life. Today, Asia accounts for the largest number of smartphone users globally at over 50 percent. Within the region, Singapore and Australia have the highest smartphone penetration globally at over 80 percent. Meanwhile, millennials in the region spend an average of 2.8 hours per day (or 42.5 days per year) on their smartphones, and over 40 percent of millennials have shopped via their smartphone.

Accenture's analysis suggests that millennials are more open to receiving advice than other customer segments. Retailers and CPG companies are trying to meet this generational need through personalization – but must ensure their methods are acceptable to consumers. For example, in China and Japan:
Sixty percent of millennials surveyed, compared to 47 percent of consumers overall, are comfortable with giving retailers access to their information in exchange for more personalized experiences.
In stores, 77 percent of millennials approve of items being automatically discounted for loyalty points and discounts, yet only 37 percent were interested in sales associates asking about their recent purchases.
Sixty-one percent of this group wants promotions sent to them online for items they are considering.
"We see successful brands ramping up their data and analytics capabilities to enable personalised customer experiences and pricing based on loyalty, purchase history, and demographics," added Correia. "They are increasingly utilising predictive analytics to provide personalised service offerings, and taking advantage of location-based services to embed themselves within customer lifestyles. The key to success is communication with the customer on every level. The customer has to have a satisfying brand experience from the very beginning of the experience to the end."

Even buying a car is a new experience
In an upcoming research report by Accenture on the automotive retail market, millennial car buyers indicate they are more likely to be seeking excellent customer experience than other groups. In China millennials have a strong affinity to the car-maker's flagship dealership, with 40 percent of millennials preferring this buying format. In addition, Accenture's research has found that millennials want digital advice but at the same time seek personal interaction. Finally, when buying a car, millennials don't want to wait for their purchase once they have decided on a model to buy, with 87 percent of Chinese millennials ranking "immediate availability" of the desired model after configuration as important in the buying process.

Digital solutions for a digitally empowered generation
At the Millennial 20/20 summit, Accenture is staging The World of ME, a pop-up concept store of the near-future, which demonstrates some of the most innovative products, services and experiences in the consumer retail sector that Accenture believes will impact the Asia Pacific region. It examines the evolving relationship between millennials and retailers, featuring start-ups from around the globe.

"The key challenge today is 'digital innovation at speed' and at Accenture, we believe that start-ups and big brands have something to admire in each other and to learn from each other," continued Correia. "The pace of change has increased and in a world where new markets and services are created almost overnight, connecting and collaborating to enhance their operations, services and business to better serve their customers will separate winning retailers from the laggards."

Methodology
Accenture surveyed more than 10,000 consumers across 13 countries for the Adaptive Retail Research report. As part of the study Accenture drew out 746 millennial respondents who shopped online and in stores during the last three months of 2015 in China and Japan. Sourced from panel data, survey respondents were vetted by ESOMAR, which adheres to strict international guidelines for market research. The sample of shoppers came from seven equally weighted sectors: apparel; consumer electronics; department stores; discount, mass, and hypermarket stores; grocery stores; drug stores; and home improvement outlets. The survey's respondents represent a range of gender, generation, household income level and place of residence. The survey screened all shoppers for regular Internet and smartphone use and has a 95 percent confidence level with a margin of error of plus or minus 3.6 percent.

Accenture also carried out a range of qualitative and quantitative research for "The future is now: understanding the new Asian consumer" report. It included the creation of "online consumer communities" across China, Indonesia and Singapore to better understand e-commerce preferences, pain-points, and motivations in relation consumer goods and services purchases. The communities were active from December 2015 to January 2016. In addition, Accenture hosted interviews with a sample of senior level executives with a strong exposure to the CPG industry. and desk research was used to complement this.

About Accenture
Accenture is a leading global professional services company, providing a broad range of services and solutions in strategy, consulting, digital, technology and operations. Combining unmatched experience and specialized skills across more than 40 industries and all business functions – underpinned by the world's largest delivery network – Accenture works at the intersection of business and technology to help clients improve their performance and create sustainable value for their stakeholders. With more than 375,000 people serving clients in more than 120 countries, Accenture drives innovation to improve the way the world works and lives. Visit us at www.accenture.com.

# # #

Contact:

Caroline Douglas
Accenture
+ 35 3 87 680 0074
caroline.douglas@accenture.com