April 14, 2016
Personalized Performance Management is Essential to Meet the Needs of the Workforce of the Future, Finds New Accenture Strategy Research


89 Percent of Employees Believe Their Performance Would Significantly Improve with Changes to Performance Management

NEW YORK; April 14, 2016 – Today's performance reviews are becoming irrelevant, according to a new study by Accenture (NYSE: ACN). The Accenture Strategy study finds that 77 percent of business leaders and employees believe that a personalized performance management approach should be mandatory to meet the needs of the workforce of the future. However, only one third of organizations (34 percent) have moved away from more traditional annual performance management.
The Accenture Strategy report, Is Performance Management Performing?, shows that while 94 percent of workforce leaders believe performance management improves business performance, only 39 percent of them think their current practices help to achieve their organization's business objectives. Workforces are demanding action: three-quarters (73 percent) of respondents say that their employers should change their performance management practices.

On a personal level, almost two thirds (65 percent) of employees do not believe performance ratings accurately and objectively reflect their performance, and 58 percent of them say that the use of ratings creates a negative experience for everyone except the few at the top. However, dropping current approaches entirely may not be the answer. The vast majority of both leaders (92 percent) and employees (89 percent) believe traditional rankings and ratings should have some role in determining rewards in the future.

"As the workforce becomes more diverse, organizations need to treat their employees as individually as they treat their customers," said Deborah Brecher, managing director, Accenture Strategy. "Performance management needs to be radically modernized to suit the needs of the workforce of the future."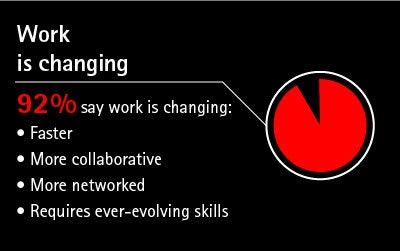 There is a widespread desire for transparency. Seventy-nine percent of leaders (and 69 percent of employees) accept that making performance management transparent to employees is expected and necessary in this era of open information sharing. However, only 32 percent of leaders and 27 percent of employees indicate that they have experienced an increase in the openness of performance management.

The trend points towards employees having a greater appetite for sharing information. Three quarters (74 percent) of employees discuss details of their salary and performance evaluations with colleagues, while 60 percent share details of their salary and opinions about their leaders on public social sites. What's more, 51 percent of employees would be comfortable if their own salary information was visible to their colleagues.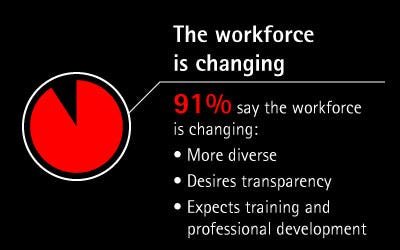 "The expectation to access and share information extends from the consumer world to the workplace, and employers can't ignore this when it comes to performance management," said David Smith, senior managing director, Accenture Strategy. "Social media, crowdsourcing and other techniques must become part of the reinvention of performance management. They can provide true transparency, and support the real-time coaching and personal conversations expected by today's workforce."

Digital technologies have the potential to transform performance management
Workforces recognize that technology will have an important part in modernizing performance management. The majority of respondents are positive about the potential impact of performance tracking technology, although leaders are consistently more optimistic than employees. Sixty-eight percent of leaders and 53 percent of employees are comfortable with technology tracking their performance at work. Furthermore, 78 percent of leaders and 64 percent of employees say performance tracking technologies will change the future of performance management for the better.

Big organizations can learn from their smaller counterparts
The Accenture Strategy report shows that employees at larger organizations are less satisfied with performance management than peers at smaller organizations. Additionally, smaller organizations report more changes to performance management practices over the past five years and are more eager to see further change (85 percent versus 66 percent). Smaller organizations are also more likely to be using crowdsourced feedback and experimenting with new technologies.

Prescriptions for Revitalized Performance
Accenture Strategy's recommendations for organizations that want to improve their performance management approaches, include:
Help supervisors provide constructive conversations and real-time coaching. Conversations must be forward looking and focused on building strengths rather than correcting weaknesses.
Embrace simplicity and transparency. In place of time-consuming competency assessments, and ratings and rankings, modern performance management must be simple in order to improve organizational agility.
Personalize performance management across the workforce. Organizations are increasingly customizing coaching and feedback, the goal-setting process and types of rewards and compensation based on the needs of each individual employee or segments of the workforce.
Clearly define high performance. High numbers of workers feel performance management does not accurately identify high-potential employees. Organizations need to radically rethink the very definition of high performance by taking into account collaborative work, the ability to quickly learn new skills, as well as cultural criteria they want to encourage.
Learn more at www.accenture.com/IsPerformanceManagementPerforming
Follow the debate at #futureworkforce .

Methodology
Methodology: From December 2015 to January 2016 Accenture Strategy surveyed 1,050 leaders and 1,050 employees from 12 industries, in 11 countries covering: Asia-Pacific, Europe, Latin America, and North America. Our objective was to understand how performance management needs to be refined and updated to better support next-generation work practices, as organizations transform into digital, collaborative, networked businesses that need to attract and retain a new generation of workers. The term leaders is defined as respondents in a variety of roles at all levels with supervisory experience over teams and/or groups. Additionally, small organizations are defined as those with 100-499 employees and large organizations are those with greater than 500 employees.

About Accenture
Accenture is a leading global professional services company, providing a broad range of services and solutions in strategy, consulting, digital, technology and operations. Combining unmatched experience and specialized skills across more than 40 industries and all business functions – underpinned by the world's largest delivery network – Accenture works at the intersection of business and technology to help clients improve their performance and create sustainable value for their stakeholders. With more than 373,000 people serving clients in more than 120 countries, Accenture drives innovation to improve the way the world works and lives. Visit us at www.accenture.com.

Accenture Strategy operates at the intersection of business and technology. We bring together our capabilities in business, technology, operations and function strategy to help our clients envision and execute industry-specific strategies that support enterprise wide transformation. Our focus on issues related to digital disruption, competitiveness, global operating models, talent and leadership help drive both efficiencies and growth. For more information, visit www.accenture.com/strategy

# # #

Contact:

Tourang Nazari
Accenture Strategy
+ 1 202 322 4640
tourang.nazari@accenture.com