May 25, 2016
New Research from Accenture Reveals Gap in Pharma R&D's Journey to Delivering Better Patient Outcomes


Adoption of digital transformation to drive patient outcomes may improve competitive position for pharma R&D organizations

NEW YORK; May 25, 2016 – Despite R&D-focused pharmaceutical executives recognizing digital as the primary driver to be more patient-outcome focused, only half of them are currently adopting digital, according to a new report from Accenture.
The report - Industry at a Crossroads: The Rise of Digital in the Outcome-Driven R&D Organization - is based on a survey of nearly 80 R&D executives at leading pharmaceutical companies in the United States and Europe.

When asked to identify the areas in which digital technologies will have the greatest impact on the industry, executives cited "transforming their R&D model to become more patient-focused" more often than any other area (29 percent), ahead of "improving R&D productivity through digitized processes" (22 percent); "enhancing quality and compliance to meet changing regulatory requirements" (18 percent); and "cost reduction in R&D to improve productivity" (12 percent), among other areas.

However, 42 percent of respondents said they are still "exploring" how digital might improve their organizations, with another three percent saying they are still "waiting and seeing" how digital is deployed before developing their own digital capabilities.


"R&D pharma executives clearly believe that digital can help them accomplish their goal of improving patient outcomes," said Kevin Julian, managing director of Accelerated R&D Services, Accenture Life Sciences. "Companies that are slow to embrace digital may run the risk of conceding competitive position, profit margin and even customer loyalty."

While all but one (99 percent) of the executives surveyed said that increasing focus on patient outcomes is a "critical" or "very important" priority, four in 10 respondents (39 percent) said that focusing more on patient outcomes was already a key priority of their R&D organizations, and half (49 percent) said that it should be the top priority by 2020.

The research also revealed those pharmaceutical companies that have already adopted digital report significantly stronger R&D capabilities in key areas. They are far more advanced in core process redesign of Target Product Profile (TPP) and Clinical Development Plan (CDP), collaborating with other commercial organizations, harnessing real-world data analytics, and using digital to make more effective use of Medical Science Liaisons (MSLs).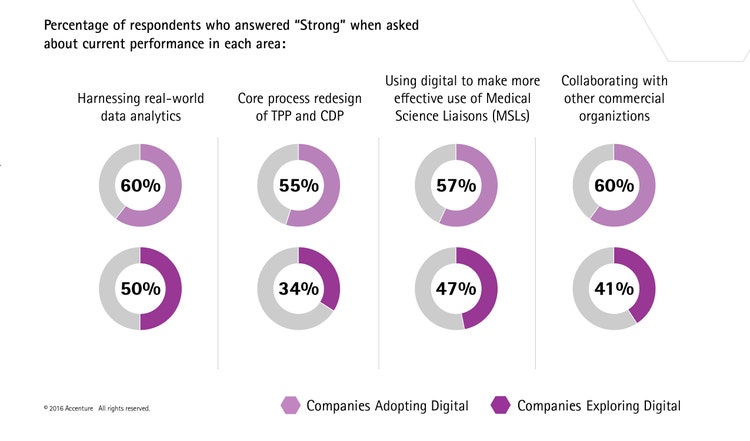 "R&D plays a critical role in deciding which products or services get developed, and how quickly," Julian said. "Digital can help R&D organizations make the right decisions more quickly by improving data integration and analysis, as well as through better collaboration with and engagement of patients, providers, regulators and other stakeholders."

In the report, Accenture suggests that, to capture the benefits of digital technologies, R&D pharmaceutical leaders should consider the following steps:
Outline a digital strategy that aligns with current company and R&D priorities. As an example, for each strategic goal, identify digital enablers that reflect the same scope, objective, competitive differentiation, and patient value.
Map specific digital enablers to major clinical processes as well as to important stakeholders, such as investigators, patients, caregivers and vendors. Then, define quantifiable value, ideal outcomes and experiences for investigators, patients, caregivers, and vendors.
Think 'out of the box' to gain market growth in specific therapeutic areas, such as lifestyle diseases or most chronic illnesses, as well as customer segments, like non-mobile patients. For instance, therapeutic areas such as lifestyle diseases or most chronic illnesses, as well as customer segments like non-mobile patients, can provide the best opportunity to think broadly and differently about the strategy to engage patients to ensure improved outcomes.
Enable stronger collaboration with other digital adoption stakeholders, such as the internal commercial organization as well as third parties.
Foster a more digital culture and mindset by investing in or leveraging existing digital capabilities in R&D. This could range from data analytic skills and working with Real World Evidence platforms to social media engagement.
Click here to learn more about Accenture Life Sciences latest research: Industry at a Crossroads: The Rise of Digital in the Outcome-Driven R&D Organization.

About the Research
McGuire Research conducted an email survey of 76 R&D executives at leading pharmaceutical companies in November 2015. The executives represented 35 US-based companies and 41 companies based in France, Germany, Switzerland and the United Kingdom. All respondents were focused on R&D as their primary role within a pharmaceutical company, with 86 percent serving as their organization's most-senior R&D executive or senior divisional R&D executive, and the remainder (14 percent) serving as a senior R&D technology executive. Twenty-nine respondents (38 percent) are from pharmaceutical companies with revenues of at least US$11 billion, and 47 respondents (62 percent) are from pharmaceutical companies with revenues between US$1 billion and US$10 billion.

About Accenture
Accenture is a leading global professional services company, providing a broad range of services and solutions in strategy, consulting, digital, technology and operations. Combining unmatched experience and specialized skills across more than 40 industries and all business functions – underpinned by the world's largest delivery network – Accenture works at the intersection of business and technology to help clients improve their performance and create sustainable value for their stakeholders. With approximately 373,000 people serving clients in more than 120 countries, Accenture drives innovation to improve the way the world works and lives. Visit us at www.accenture.com.
# # #


Contact:

Cam Granstra
Accenture
+ 1 312 693 5992
cameria.l.granstra@accenture.com