July 28, 2016
More Than 100,000 Accenture Employees Received World-Class Technology Education Through 10-Year Collaboration with MIT Professional Education


Accenture Technology Academy to offer new certificates in artificial intelligence, data science, security and more
NEW YORK; July 28, 2016 – Accenture (NYSE: ACN) recently achieved a significant milestone by providing more than 100,000 employees globally with a world-class technology education developed through a 10-year collaboration with MIT Professional Education, the professional education arm of the Massachusetts Institute of Technology. Established in 2006, the Accenture Technology Academy (ATA) was created to equip employees with the skills needed to deliver leading technology services for clients, and to date, Accenture employees around the world have received more than 16 million hours of MIT education through the program.
"The Accenture Technology Academy has been a cornerstone of our enduring relationship with MIT over the past decade," said Bhaskar Ghosh, group chief executive, Accenture Technology Services. "Accenture is committed to investing in our people, and our relationship with MIT enables us to educate and grow our talent so we can differentiate ourselves. Our mission is to help our clients achieve business outcomes through new liquid strategies, and our focus is on new IT such as digital, cloud and security. We're also expanding our capabilities to innovate in fast-growing areas like block chain and artificial intelligence."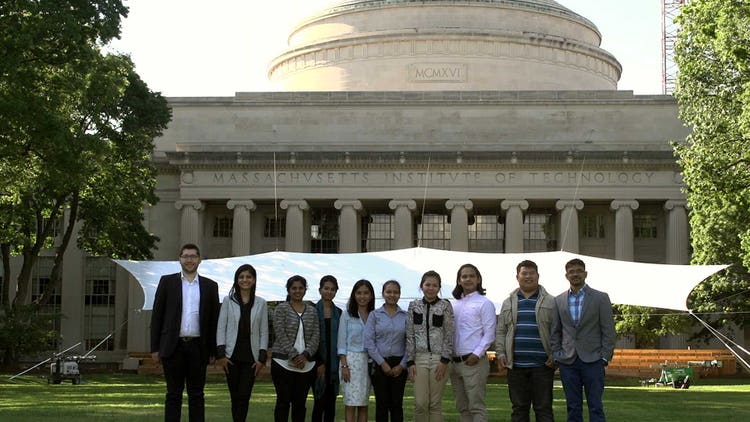 Accenture Technology Academy participants attended the "Radical Innovation"
MIT Professional Education Short Program in Cambridge, Mass.

Over the past decade, Accenture invested in the Accenture Technology Academy to provide employees with access to MIT research, knowledge and expertise through advanced training programs. Drawing on the expertise of MIT faculty, the ATA is designed to arm employees with advanced professional and technology strategies, approaches and skills; it is comprised of two distinct components:
A certification program – Four different certifications have been available to employees over the past 10 years: application developer, designer, tester and test designer. Accenture is preparing to launch 10 new certificate programs in several areas including: agile, artificial intelligence, cloud, data science, design thinking, DevOps, Internet of Things, mobile, security, and web essentials. When in-person training sessions aren't possible, the sessions can be conducted via Accenture Connected Learning classrooms in 72 locations around the globe.
Lectures and online videos, podcasts, and learning boards – Each person in Accenture's global workforce has an opportunity to learn from MIT faculty through in-person lectures and online videos, podcasts, and learning boards. Many new online training courses are now available on a variety of topics including: artificial intelligence, micro-services and DevOps, security, next-generation cloud, and the Internet of Things.
"We at MIT Professional Education are proud to have facilitated quality training of tens of thousands of Accenture practitioners in the area of information technology over the last 10 years," said Bhaskar Pant, Executive Director of MIT Professional Education. "Our expert faculty have provided research-based, cutting-edge knowledge to Accenture employees, deploying traditional to the most modern education dissemination methods. We enthusiastically look forward to the next decade of growing our relationship with Accenture through the development of new certificate programs covering emerging and transformation-enabling areas such as artificial intelligence, data science, mobility and security."

"Accenture's 10-year relationship with MIT began with the Accenture Technology Academy and grew to encompass additional valuable programs that involve research, thought leadership, and the development of innovative business concepts for our clients," said Sanjeev Vohra, managing director and business sponsor for MIT, Accenture Technology Services. "Today, as we collaborate with several entities across MIT, we are steadfastly focused on learning, research and recruiting to spur innovation for both organizations, providing our employees with valuable opportunities, and delivering better business outcomes for our clients."

For more information on the Accenture and MIT 10-year relationship and the Accenture Technology Academy, please visit here.

About Accenture
Accenture is a leading global professional services company, providing a broad range of services and solutions in strategy, consulting, digital, technology and operations. Combining unmatched experience and specialized skills across more than 40 industries and all business functions—underpinned by the world's largest delivery network—Accenture works at the intersection of business and technology to help clients improve their performance and create sustainable value for their stakeholders. With more than 375,000 people serving clients in more than 120 countries, Accenture drives innovation to improve the way the world works and lives. Visit us at www.accenture.com.

# # #

Contact:

Kathryn Zbikowski
Accenture
+ 1 917 452 0127
kathryn.zbikowski@accenture.com