October 18, 2016
Mobile Payments Awareness Grows, Cash Use Declines; Consumers Demand more to make the Leap to Mobile, Accenture Survey Finds


Consumers say cash and plastic are fine for their payments needs

NEW YORK; Oct. 18, 2016 – Sixty percent of consumers in North America use cash at least weekly to make purchases at a merchant location, down seven percentage points from 2015 – the most significant decline in use of traditional payment methods over the past year, according to a new report from Accenture (NYSE: ACN). Awareness of mobile phone payments increased four percentage points from last year to 56 percent, however the regular use of mobile payments remains flat at 19 percent.
The report – the Accenture 2016 North America Consumer Digital Payments Survey – is based on a survey of more than 4,000 smartphone users in the United States and Canada, and is the most recent report in Accenture's multi-year research on consumer attitudes about how they want to pay now and in the future.

The survey found that even with the decline in cash use, cash and plastic continue to be the most common payment methods. North American consumers' use of debit cards for payments in merchant locations has remained consistent at 58 percent, while credit card usage was up three percentage points from the previous year to 53 percent in 2016.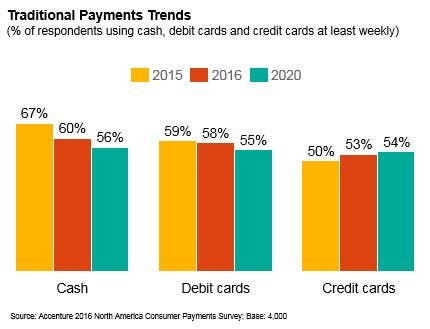 "We are seeing a gradual increase in consumer awareness of mobile phone payments options; however, adoption has remained flat over the past few years," said Robert Flynn, managing director of Accenture Payments in North America. "Consumers are content to use cash and plastic for their everyday transactions, and while the use of cash is declining overall, it is the most commonly used form of payment – and consumers expect it to remain so in 2020. To shift consumers' payment behaviors will take more than just providing another 'me too' mobile payments option; leading merchants will identify and provide next-generation, value-added services."

While the use of mobile phone payments at merchant locations remains flat according to the survey, other digital payments are on the rise – a trend that consumers expect to continue. Since 2014, consumers' use of PayPal has increased four percentage points to 18 percent in 2016. Consumers expressed optimism about mobile wallet adoption in the future, expecting a nearly 60 percent increase in the use of mobile wallets by card networks (from 14 percent in 2016 to 22 percent in 2020) and tech giants (from 13 percent to 21 percent in 2020).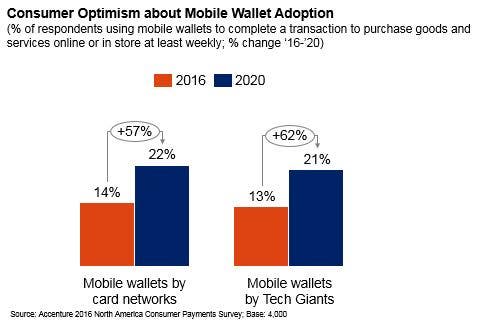 "The existing payments system isn't broken, which is why consumers are not making a mass-move to mobile phone payments adoption – the incentives are not there yet," said Michael Abbott, managing director of Accenture Digital, Financial Services, North America lead. "Today's mobile phone payments options provide basic, first-generation functionality; it's like running an Atari game on an Xbox system – amazing underlying potential, but only providing a very basic offering. Consumers expect more in today's fast-paced digital environment; just the ability to tap-and-pay is not enough. Payments providers need to bring the traditional card to life and create a real-time interactive experience for consumers."

The survey identified barriers to consumer adoption of mobile payments, which, if addressed, can provide first-movers with a significant advantage. Of the nearly two-thirds (64 percent) of consumers who have never used their mobile phone as a payment vehicle at a merchant location, more than one-third (37 percent) said they have not done so because they believe cash and plastic are fine for their payments needs; while nearly one-in-five prefer not to register payments credentials into their mobile phone (21 percent) or are concerned that unauthorized transactions may happen (19 percent).

Consumers trust traditional payments providers the most and are largely satisfied with digital payments transactions; however, there are no clear winners yet. Nearly three-quarters (73 percent) of North America consumers said they trust traditional card providers the most as their mobile payments provider, followed by alternative payments providers like PayPal (63 percent), established retail banks (62 percent) and large tech companies (59 percent). Of those consumers who have used mobile payments apps in store, consumers most frequently used their bank's mobile app (26 percent), and 76 percent expressed satisfaction with this experience.

Millennials and Mass Affluents: the Path to Adoption
Millennials and mass affluent individuals (earn $100,000 annually after taxes) are natural segments to target for payments providers, leading adoption trends in digital and mobile payments and self-proclaimed early adopters for the next wave of payments technology. More than half of both groups (52 percent) consider themselves to be among the first to try new technologies. Nearly one-third of millennials (30 percent) and mass affluents (35 percent) are extremely interested in initiating payments transactions using wearables (e.g. watch, etc.) or smart devices, such as a refrigerator or car.

Flynn concluded, "Millennials and higher income individuals may be low-hanging fruit for payments providers looking to increase adoption, but there is also a vast amount of untapped opportunity with consumers who are becoming more familiar with digital technologies and the rewards and convenience it affords. As open banking becomes more prevalent, driven by APIs, consolidated customer data will provide a full picture of the customer, giving payments providers the information they need to create unique and differentiated offerings. Winning in mobile payments is anyone's game at this point."

While millennials and mass affluents are leading the adoption charge, the survey found that consumers overall are becoming more open to considering digital payments options. One-in-five consumers are interested in using wearables (21 percent) or smart devices (20 percent) to initiate payments, a two and three percentage point increase, respectively, from 2015. Consumers expressed the most interest in the ability to park their car and have the car automatically pay for parking (30 percent).Today, nearly one-in-five consumers (21 percent) are extremely comfortable linking personal data with different ways to pay for faster authentication and one-step checkout, and nearly two-in-five are comfortable providing online bank account credentials to third-parties.

Methodology
The survey was conducted by Accenture Research among 4,000 adults in the United States and Canada between July 6, 2016 and July 22, 2016. The overall margin of error is +/- 1.55 percentage points at the midpoint of the 95 percent confidence level.

About Accenture
Accenture is a leading global professional services company, providing a broad range of services and solutions in strategy, consulting, digital, technology and operations. Combining unmatched experience and specialized skills across more than 40 industries and all business functions – underpinned by the world's largest delivery network – Accenture works at the intersection of business and technology to help clients improve their performance and create sustainable value for their stakeholders. With approximately 384,000 people serving clients in more than 120 countries, Accenture drives innovation to improve the way the world works and lives. Visit us at www.accenture.com.

# # #

Contact:

Melissa Volin
Accenture
+ 1 267 216 1815
melissa.volin@accenture.com