July 13, 2016
Millennials' Strong Interest in New Products and Services Will Drive the Most Future Value for Energy Utilities, But They Are Much More Demanding Consumers, Finds Research From Accenture


Connected living solutions, solar and other digital products and services are at the top of their list

NEW YORK; July 13, 2016 – Consumer demand for new energy-related products and services is high, especially for millennials (ages 18-34), demonstrating that this group will drive much of the future value for energy providers, according to new research by Accenture (NYSE: ACN).
Accenture's seventh annual survey of energy consumers explores the views of almost 10,000 respondents across 17 countries. The research, The New Energy Consumer: Thriving in the Energy Ecosystem found that a large demographic, millennials, bring a strong influence on key consumer engagement trends amid an increasingly complex set of competitors vying for energy products, services and experiences.

Millennials want to be the first to sign up for new energy products and services – 24 percent of that demographic are classified as early adopters, compared with 17 percent among the 35-54 age range and seven percent of those over 55. Additionally, 22 percent of millennials said they wanted to experiment with new technologies, which was higher when compared with other age groups (15 percent for those aged 35-54 and six percent for those aged 55 or over).

Millennials, for example, are very receptive and far more likely to consider distributed energy resources (DER) products and services after receiving related information -- 87 percent compared to 60 percent among those over 55. Almost 80 percent said they'd be more satisfied if offered an in-home digital assistant and monitoring service that suggested customised new products and services offers, compared to 62 percent of respondents over 55 years of age.

When it comes to in home energy management, 61 percent are likely to sign up for an application to remotely monitor and control home elements in the next five years vs. 36 percent of those over 55. Notably, 56 percent of millennials, twice as many as people over 55, are likely to sign up for solar panels in the next five years.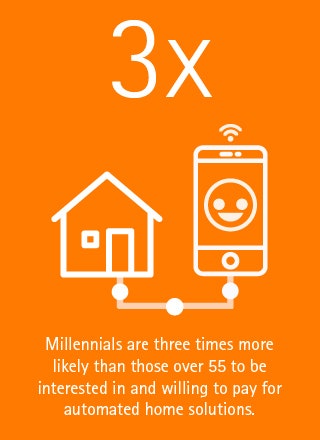 Millennials: a generation more demanding of their energy providers
Millennials view energy and engage in a far deeper way with energy providers and from a completely different vantage point. While there's obvious demand for new products and services in this space from them, they want information, and they want everything to be instantaneous and accessible on their terms.

Millennials' expectations when it comes to use of digital channels are also higher. For example, they attach more importance than older demographics to a personalized experience across digital channels as well as access to the latest digital technologies that enable them to interact with their energy providers. Moreover, 83 percent would be discouraged from signing up for additional products and services if their provider could not provide a seamless experience.

"Energy providers must take these and other insights about these groups to heart, to unlock value, because consumers' preferences and behaviours are rapidly changing the market landscape," said Tony Masella, managing director of Accenture Energy Consumer Services. "Successful energy providers will place design thinking at the heart of their business and view customer and retail operations as a strategic asset."

Engaging with this growing influential group
The survey showed that utilities have substantial opportunities to engage with millennials as they gain in influence over other consumers.

For example, 41 percent of millennials interact more frequently with their energy provider using social media, and they would also be more satisfied if they could log into their provider's portal via social media credentials.

The survey also showed that new value propositions are of higher interest to millennials. Seventy-seven percent would be interested in an online personalized marketplace to select and purchase energy-related products and services. Additionally, just over a third would be interested in automated home solutions and would be willing to pay for them.

"Customer strategies must take a broad view of the trends shaping today's consumers, and more importantly, the consumers of tomorrow," said Masella. "To thrive, energy providers must move quickly to architect their transformation, build new capabilities to seize new opportunities, achieve scale and continuously innovate using digitalization, automation and multi-faceted operations."

About the research
The multi-year New Energy Consumer research program is designed to help utilities understand emerging consumer needs and preferences, to identify new challenges and opportunities and to bring focus to the critical competencies required to succeed in the evolving energy marketplace. The program draws upon primary research insights from end consumers around the world, leading practices from industry and cross-industry providers, and technology adoption analysis.

Methodology
Accenture's seven years of global research surveys are based on questionnaire-led interviews with end consumers. Surveys were conducted online in native languages for Accenture by Harris Interactive. The selected countries represent a range of regulated and competitive markets. In 2016, a total of 9,537 interviews were conducted in 17 countries, including 1,358 in the United States, 647 in the United Kingdom, 532 in Canada, and 500 in Australia, Brazil, China, France, Germany, Ireland, Italy, Japan, Malaysia, the Netherlands, Philippines, Portugal, Singapore and Spain. For residential consumers the survey sample was statistically representative of the general population in each country, with the exceptions of Brazil, China, Malaysia and Philippines, where the sample was representative of the urban populations. For countries with large and/or diverse populations, participants were selected from a broad spectrum of locations. The surveys included attitudinal, behavioral and demographic questions.

About Accenture
Accenture is a leading global professional services company, providing a broad range of services and solutions in strategy, consulting, digital, technology and operations. Combining unmatched experience and specialized skills across more than 40 industries and all business functions – underpinned by the world's largest delivery network – Accenture works at the intersection of business and technology to help clients improve their performance and create sustainable value for their stakeholders. With approximately 373,000 people serving clients in more than 120 countries, Accenture drives innovation to improve the way the world works and lives. Visit us at www.accenture.com.

# # #

Contacts:

Guy Cantwell
Accenture
+ 1 281 900 9089
guy.cantwell@accenture.com

Matt Corser
Accenture
+ 44 755 784 9009
matthew.corser@accenture.com