December 13, 2016
M6 Publicité and M6 Web Select Accenture's New Advertising Offering, Powered by Artificial Intelligence, To Target Ads More Effectively

NEW YORK; Dec. 13, 2016 – M6 Publicité and M6 Web, Group M6 subsidiaries, have chosen the Accenture Video Analytics offering that uses artificial intelligence to more accurately predict customer advertising preferences and serve targeted ads more effectively. M6 Group is the second largest private TV Group in France with major traditional TV channels such as M6, W9, and 6ter, as well as 6play, a free digital TV platform.
M6 Publicité and M6 Web chose Accenture to implement a powerful data-driven advertising optimization tool run by a team of data scientists, analysts and developers. This data tool integrates several Accenture offerings including artificial intelligence that increases the number of users reached with targeted ads.

Processing large amounts of historical user data, artificial intelligence can predict with more precision users' interests, behaviors, and purchasing actions. To increase the number of relevant users reached by targeted ads, the technology identifies new users likely to be interested in purchasing goods, based on users with similar characteristics and behaviors who are known by M6 Publicité to have already purchased them.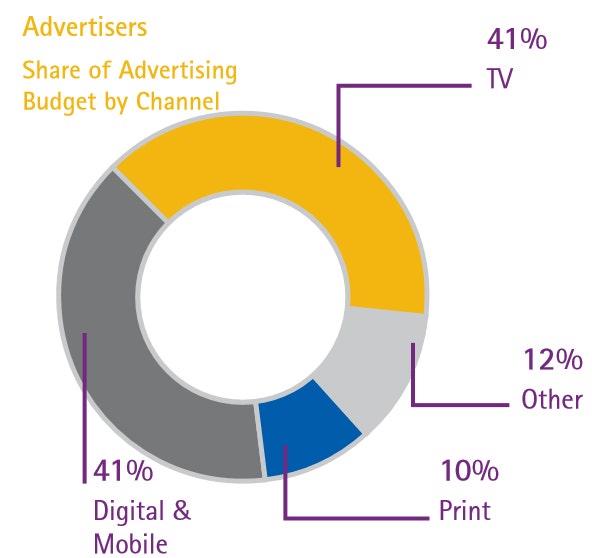 "The advertising industry is confounded by an avalanche of intractable and unreliable data about consumers," said Francesco Venturini, global managing director for Accenture's Communications and Media business. "Accenture's new machine learning technology, a type of artificial intelligence algorithm, helps solve these problems by making predictions about huge amounts of data compiled from disaggregated sources. This new relationship with M6 Publicité, a leader in this new advertising era, is another example of how digital transformation, and associated technologies, continue to change the face of advertising."

Based on the Accenture Insights Platform, the Accenture Video Analytics offering uses applications to improve advertising relevance and personalization through targeting. For example, M6 Publicité enhances its ability to forecast highly qualified audience impressions over any digital platform, increasing monetization of ad inventories on digital sales channels. By comparing behaviors of known users, artificial intelligence algorithms understand age and gender for undefined users who watch M6 Web's content.

"Accenture's artificial intelligence technology, and overall expertise in data analytics and digital transformation, have already generated incremental revenues and increased advertisers satisfaction, because we are able to predict more rapidly and easily which users are most likely to be interested in our ads," said Guillaume Charles, deputy general director for M6 Publicité who leads the advertising Smart 6tem data project. "The new world of advertising is all about better, more reliable, and more effective personalization of marketing messages."

6play, a Group M6 service, was the first and only free digital TV platform to create a mandatory log-in to enter its services in France. 6play counted on the unique attractiveness of its content and its new personalized platform to create a one-to-one relationship with its audience.

One year later, this launch has proven to be a great success providing 6play with both an increase of 60 percent of the number of videos viewed as well as highly qualified coverage of nearly 30 percent of the French online market with millions of profiles defined by deterministic data. These data capabilities, combined with an above 90 percent visibility rate of advertising messages, offer to 6play's customers a reliable and extremely effective solution.

The Accenture-M6 Publicité initiative reflects the rapid growth of the digital advertising market. According to The Accenture Future of Advertising Report, 41 percent of advertising budgets within a group of major corporations go to digital and mobile advertising. Over the next two years, the research predicts that digital advertising is expected to increase to more than half of overall advertising budgets.

About M6 Publicité
As France's No. 2 advertising sales house, M6 Publicité contributes to the Group's operations by selling advertising space, sponsorship, special operations and licenses for the Group's channels and brands. Traditional advertising space gives advertisers a powerful window through which they can reach millions of viewers at once. The extensive advertising offer enables them to reach all target groups through an array of channels with clearly defined identities.

The digital offering consists of leading media brands, based on the Group channels and broadcasts, coupled with powerful thematic portals (Clubic.com, Déco.fr, Turbo.fr, CuisineAZ, etc.), and multi-channel networks (Golden Moustache, Rose Carpet, etc.). Together, these enable unique multi-screen coverage every month: over 14 million unique visitors on PC, 4.2 million on tablets, over 4 million on smartphones, and over 7 million households using interactive services available on television. Website: http://m6pub.fr; Twitter: @m6publicite

About Accenture
Accenture is a leading global professional services company, providing a broad range of services and solutions in strategy, consulting, digital, technology and operations. Combining unmatched experience and specialized skills across more than 40 industries and all business functions – underpinned by the world's largest delivery network – Accenture works at the intersection of business and technology to help clients improve their performance and create sustainable value for their stakeholders. With approximately 384,000 people serving clients in more than 120 countries, Accenture drives innovation to improve the way the world works and lives. Visit us at www.accenture.com.

Accenture Analytics, part of Accenture Digital, helps clients to use analytics and artificial intelligence to drive actionable insights, at scale. Accenture Analytics applies sophisticated algorithms, data engineering and visualization to extract business insights to help clients turn those insights into actions that drive tangible outcomes—to improve their performance and disrupt their markets. With deep industry and technical experience, Accenture Analytics provides services and solutions that include, but are not limited to: analytics-as-a-service through the Accenture Insights Platform, continuous intelligent security, machine learning, and IoT Analytics. For more information follow us @ISpeakAnalytics and visit www.accenture.com/analytics.
# # #


Contact:

Charles Hartley
Accenture
+ 1 973 590 9920
charles.hartley@accenture.com