June 22, 2016
Keeping up with Customers, not Competitors, Is Becoming Greatest Challenge to Brands, Accenture Interactive Study Finds


Small group of high performers is using digital to drive higher customer experience value

CANNES; June 22, 2016 – More than nine in ten companies are struggling to deliver digital customer experiences that exceed their customers' expectations, according to a new study from Accenture Interactive. The finding reflects the huge challenge brands are facing as customer expectations are becoming "liquid" and changing at a lightning pace. The study, "Expectations vs Experience: The Good, The Bad, The Opportunity", is based on a survey of 702 customer experience decision-makers from companies in 14 countries and was launched at the Cannes Lions Festival today.
While 52% of all respondents said that they're ahead of their competitors at providing digital customer experiences, only 7% said their company exceeds the expectations of their actual customers. Another 67% stated they 'meet' these expectations.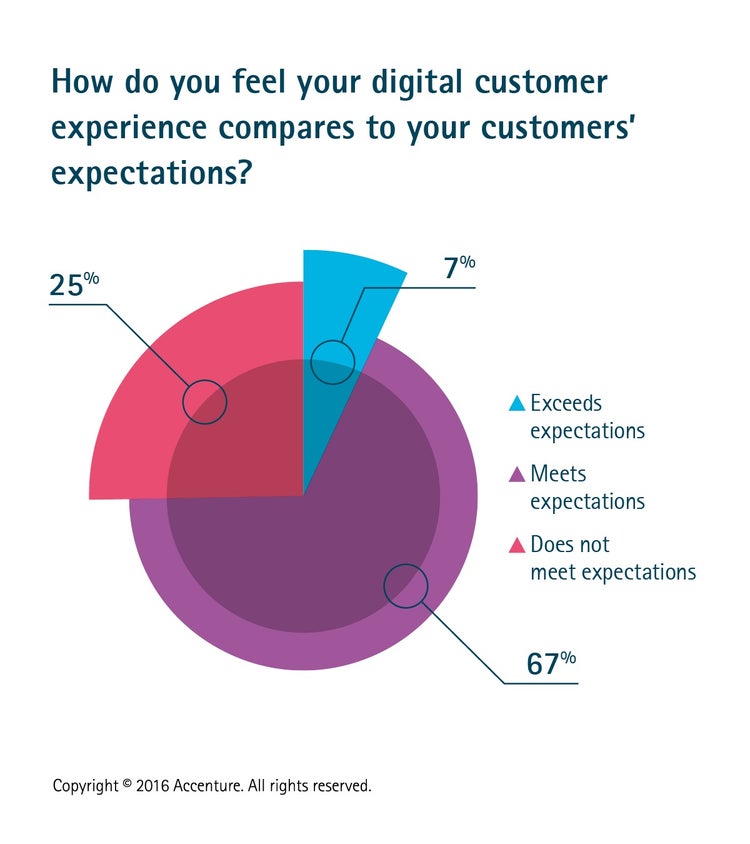 "Meeting customer expectations is by no means a small achievement," said Anatoly Roytman, managing director, Accenture Interactive Europe, Africa, Middle East, Latin America. "However, it's not enough anymore. Customer expectations are changing faster than ever and what people learn to love in one industry increasingly defines what they expect in other areas as well – we call this 'liquid expectations.' It's now your customer who's setting the bar, not your competitor."

Shifting expectations require companies to stay closer to customers to learn their needs and preferences directly from them. The reality is that businesses often think "inside out" and take customer experience initiatives without consulting customers directly. While 81% of all respondents believe that it is important to involve customers in customer experience efforts, only 57% actually take this "outside-in" perspective. The findings show that many companies fail at measuring what they know they should, too. For example, 90% see value in churn metrics, but less than 40% capture them.

What defines customer experience high performers
The study identified a group of customer experience high performers (18%) which scored highest across eight key metrics as a result of using digital technology to improve the customer experience. Significantly more high performers than their peers report "better than expected" outcomes for increased brand relevance, cost savings, customer loyalty, customer satisfaction, market differentiation, return on investment, revenues, scale and efficiency. Additionally, more high performers than other companies are able to at least 'meet' customers' expectations (85% vs. 63%).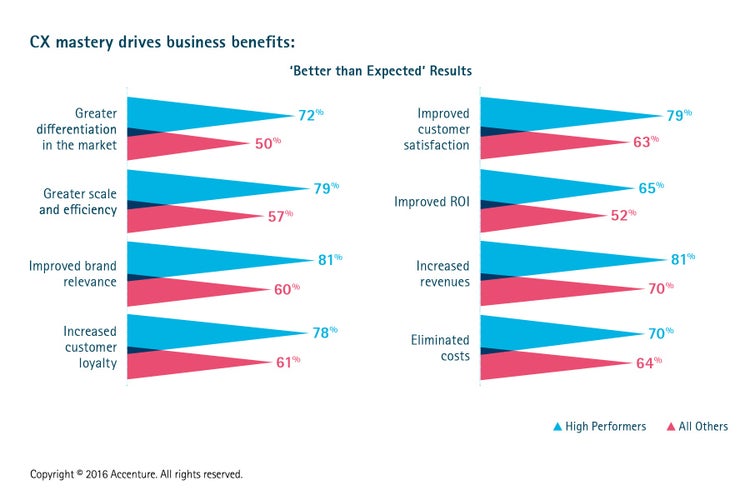 These outcomes parallel four distinct behaviors high performers are showing – indicating that customer experience is a mindset:
High performers' senior executive sponsorship for customer experience initiatives is fully aligned.
They have adapted to a state of constant flux, treating digital customer experience transformation as an ongoing initiative rather than a project.
They are analytics-focused and data-driven around customer experience.
They have built strategic partnerships, not just vendor relationships, to help them with skills and resources they lack but need in order to continuously transform the customer experience.
These winning traits may be helping high performers stay ahead of the competition now. But the next wave of customer experience disruption is at hand, a development that Accenture calls Living Services. These are smart digital services that leverage the Internet of Things to wrap around the consumer and respond to them in real-time according to their individual needs and environments.

"The next wave of digital services will completely transform customer experience as we know it," said Roytman. "Every business will have to truly rally around the customer and become even more digitally savvy in order to take advantage of it."

Accenture Interactive commissioned Forrester Consulting to survey 702 customer experience decision makers from companies in 14 countries (US, Canada, UK, France, Germany, Italy, Spain, Brazil, Mexico, India, Australia, New Zealand, Japan, and China). High performers were identified by analyzing the data with an artificial intelligence and cluster analysis solution by Accenture. Check out the full study here for more details on the sample and research methodology.

For further information on this research, please join an upcoming webinar with Accenture and guest Forrester on July 12, 2016 at 11:00 AM ET/16:00 PM GMT/17:00 PM CET and register here:
http://webcast.accenture.com?event=expectations-vs-experience.

About Accenture
Accenture (NYSE: ACN) is a leading global professional services company, providing a broad range of services and solutions in strategy, consulting, digital, technology and operations. Combining unmatched experience and specialized skills across more than 40 industries and all business functions – underpinned by the world's largest delivery network – Accenture works at the intersection of business and technology to help clients improve their performance and create sustainable value for their stakeholders. With more than 373,000 people serving clients in more than 120 countries, Accenture drives innovation to improve the way the world works and lives. Visit us at www.accenture.com

Accenture Interactive, part of Accenture Digital, helps the world's leading brands drive superior marketing performance across the full multichannel customer experience. It was recently named by Ad Age as the world's largest and fastest-growing digital agency. Accenture Interactive offers integrated, industrialized and industry-driven digital transformation and marketing solutions. To learn more, follow us @Accenture Social and visit https://www.accenture.com/interactive.

# # #

Contacts:
Jens Derksen
Accenture
+ 175 57 61393
jens.derksen@accenture.com

David LaBar
Accenture (on site at Cannes Lions Festival)
+ 1 646 456 4505
david.labar@accenture.com