Investment in On-Demand Healthcare to Reach $1 Billion in 2017, Accenture Finds
CHICAGO; Feb. 2, 2016 – New research from Accenture(NYSE: ACN) estimates that U.S. funding for on-demand healthcare companies – those providing location-based offerings with near-real-time and 24/7 services – will quadruple from over $200 million in 2014 to $1 billion by the end of 2017.
"On-demand healthcare is fundamentally changing – and enriching – the doctor-patient relationship, making the physician much more accessible to patients while simultaneously reducing costs," said Kaveh Safavi, M.D., J.D., senior managing director for Accenture's global health business. "With no end to this type of investment in sight, there's an enormous opportunity for companies to offer fast, convenient and customized user-experiences that ultimately improve the patient experience and outcomes."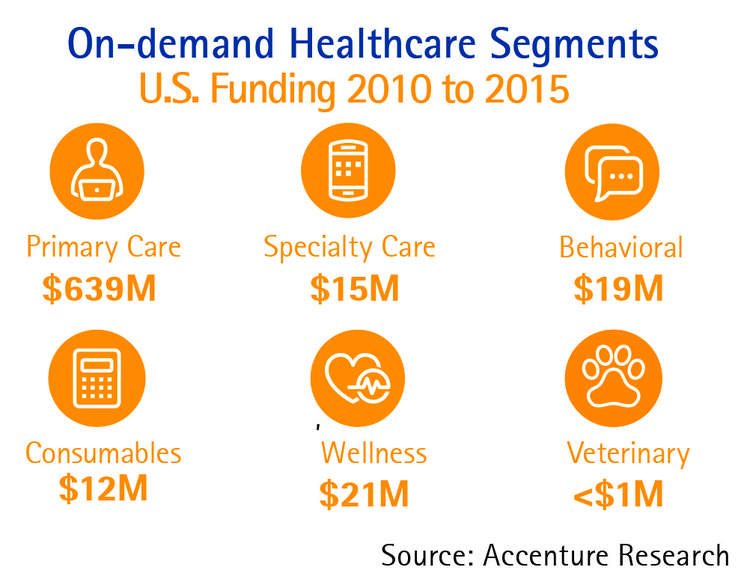 Since 2000, the top 230 on-demand companies have raised more than $12.5 billion, distributed across six main sectors: auto and transportation (76 percent); food and drink (10 percent); health (6 percent); household chores (3 percent); logistics (3 percent); and professional services (2 percent).

Excluding the transportation industry, healthcare is the fastest growing on-demand sector, representing one-fifth of total U.S. funding. The number of on-demand health companies has spiked from four in 2010, to 42 in 2014, with annual investment growing at an annual rate of 224 percent over the same period. Funding for primary-care services alone has totaled more than $639 million since 2010. Within the same timeframe, on-demand specialty care, behavioral health, wellness and veterinary companies received a total of roughly $68 million in U.S. funding.

According to Accenture's research, some of the main forces driving interest and investment in on-demand healthcare are:* Government support: Large payers are now reimbursing virtual doctor's appointments, with government backing. Twenty-nine (29) states have telehealth parity laws, up from 20 in 2014.
Attractive economics: On-demand virtual visits are less expensive for consumers: up to 40 percent less expensive for primary care, 28 percent less expensive for urgent care, and 3 to 7 percent less expensive for emergency-room visits.
Technology maturation: Roughly 190 million people in the U.S. own smartphones. As the number of mobile users rises, so too will the demand for mobile health services.
Cultural adoption: Expectations for seamless, coordinated services are not limited to Gen X or Y; more than half (57 percent) of seniors are also interested in digital health options.
Plan design: Payers want to create best-in-class benefits packages with new products and services that will attract and retain members. On-demand services can be the differentiator."Investment in on-demand healthcare and collaboration between industries will ultimately precipitate a shift away from a goods and services model to a 'life care' model, providing patients with personalized services that addresses a multitude of daily needs," added Safavi.

Methodology
Accenture assessed the number of on-demand companies and investment funding from 2010 through September 2015. The analysis focused on early-stage, digital-first businesses that through connected devices offer closed-loop, human-delivered experiences to the consumer in near real time. Companies are identified and vetted by Accenture, with funding data collated from a number of primary and secondary sources.

About Accenture
Accenture is a leading global professional services company, providing a broad range of services and solutions in strategy, consulting, digital, technology and operations. Combining unmatched experience and specialized skills across more than 40 industries and all business functions – underpinned by the world's largest delivery network – Accenture works at the intersection of business and technology to help clients improve their performance and create sustainable value for their stakeholders. With more than 373,000 people serving clients in more than 120 countries, Accenture drives innovation to improve the way the world works and lives. Visit us at www.accenture.com.

# # #

Contact:
Jenn Francis
Accenture
+ 1 630 338 6426
jennifer.francis@accenture.com