April 18, 2016
Invasion of Ad Blockers Threatens Future of Digital Advertising Market, New Accenture Survey Finds


Majority of consumers aware of ad blockers, and 4 in 10 would pay to remove ad interruptions

NEW YORK; April 18, 2016 – Signaling a serious and growing threat to the digital advertising industry, a new Accenture (NYSE: ACN) survey reveals that most consumers – 61 percent – are aware of several options for removing advertising such as ad blockers. The survey of 28,000 consumers across 28 countries also finds that more than four in 10 (42 percent) said they would pay to eliminate ad interruptions.
Ad blockers are technological methods for automatically removing or altering advertising content such as videos, images, and text on a Web page. The blockers enable TV, smartphone, tablet and PC users to load video files more quickly, view more clean-looking Web pages, reduce bandwidth consumption, and increase their privacy by removing tracking and profiling systems of video advertising delivery platforms.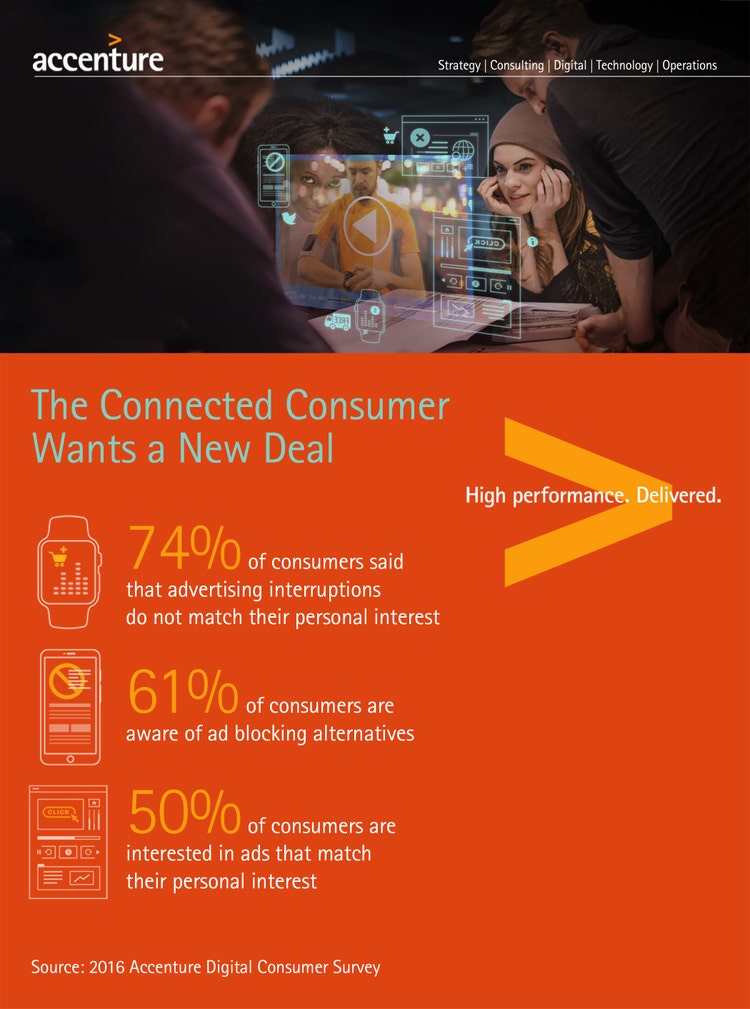 "Ad blockers are a relatively new threat to the digital advertising industry," said Gavin Mann, Accenture's Global Broadcast Industry lead. "Consumers are increasingly willing to pay for blockers because too many ads are poorly targeted. In today's world of personalized content, being forced to watch an ad that has no relevance is a missed opportunity and feels increasingly intrusive on precious screen-time. In fact, simple avoidance of content associated with heavy and repetitive irrelevant advertising will increase as consumer choice and awareness of choice increases."

The survey finds that young consumers are especially aware of ad blockers compared with older age groups. More than two-thirds (69 percent) of those aged 18-to-24, and almost the same number (66 percent) of those between 25 and 34, say they know about ad-interruption technologies.

Awareness of ad-blocking methods is more prevalent among consumers in emerging than in developed markets. For instance, two-thirds (65 percent) of respondents in emerging-market countries said they know about ad-blockers compared with 58 percent in mature-market countries. Awareness of these technologies is especially high in Mexico, at 82 percent, whereas only 55 percent of consumers in the United Kingdom know about ad blockers.

Regionally, ad-blocker awareness is especially pervasive in Latin America (78 percent) and the Middle East (69 percent). In addition, consumers in emerging markets are significantly more likely than those in mature markets – 47 percent versus 34 percent – to say they plan to pay to expunge ad interruptions.

"There's no point in following the music industry's failed attempts at thwarting piracy," Mann added. "It's futile to focus all efforts on trying to outsmart ever-evolving ad-blocking technologies to force audiences to watch ads. The industry needs to do everything possible to make ads less of an infringement on precious screen time, by building on early successes that deliver targeted, relevant and entertaining ads – in a creative style appreciated by the individual."

Drawing upon its industry consulting capabilities and knowledge of digital transformation, Accenture recommends that digital advertising organizations invest in user experience and user interface transformation, production studios, and post-production support resources and facilities. Equipped with a wealth of operational and analytical technologies that can be applied to solve these business problems, advertising can deliver value-added creative capabilities and more robust customized services to consumers.

Methodology
Between October and November 2015, Accenture's online survey with 28,000 consumers in Australia, Brazil, Canada, China, Czech Republic, France, Germany, Hungary, India, Indonesia, Italy, Japan, Mexico, Netherlands, Philippines, Poland, Romania, Russia, Saudi Arabia, Slovakia, South Africa, South Korea, Spain, Sweden, Turkey, United Arab Emirates, United Kingdom, and the United States. The sample in each country was representative of the online population, with respondents ranging in age from 14-to-55 and over. The survey and related data modelling quantify consumer perceptions of digital devices, content and services, purchasing patterns, preference and trust in service providers, and the future of their connected lifestyles.

About Accenture
Accenture is a leading global professional services company, providing a broad range of services and solutions in strategy, consulting, digital, technology and operations. Combining unmatched experience and specialized skills across more than 40 industries and all business functions – underpinned by the world's largest delivery network – Accenture works at the intersection of business and technology to help clients improve their performance and create sustainable value for their stakeholders. With more than 373,000 people serving clients in more than 120 countries, Accenture drives innovation to improve the way the world works and lives. Visit us at www.accenture.com.
# # #


Contacts:

Charles Hartley
Accenture
+ 1 973 590 9920
charles.hartley@accenture.com
@charleshartley

Anthony Suarez
North of Nine
+ 1 212 614 4331
anthony.suarez@nof9.com