November 29, 2016
Innovation Is Switching from a Product Focus to Differentiating the Customer Experience, With $1 Billion in Revenues Up for Grabs, Accenture Research Finds


Leading companies are moving beyond products to create a superior connected customer experience

NEW YORK; Nov. 29, 2016 – A focus on distinct innovation and product development capabilities is paying off for some companies as they deliver between three and seven percent higher annualized revenue than their peers, Accenture research shows.
A survey of 351 G2000 companies across eight industry sectors and nine countries – Canada, China, France, Germany, Italy Japan, South Korea, the United Kingdom and the United States – shows that leaders are evolving their approach to innovation by developing a total customer experience that combines product, service, software and hardware. Two thirds (66 percent) of companies surveyed reported that their most successful innovations in the last two years have been derived from improved customer experiences and related new business models versus new products alone.

Accenture has quantified the economic and financial impact of leading innovation and product development practices for the eight industries below. The research and analysis identifies the specific innovation and product development capabilities that correlate to revenue increase and operating income lift in each of the eight industries surveyed.\

"It is no longer enough to build the next generation car, music player, crane or plane to satisfy customers. Companies need to provide a superior experience to their rivals, from the point a customer shows interest in a product, through the research and purchase, to long after they own the item, with a series of services to keep the customer delighted," said Richard Holman, managing director, Accenture Strategy. "Companies across all sectors are rewriting the playbook for how they innovate and organize to drive growth, with leaders achieving between 3.5 percent and seven percent higher revenues that are attributable to distinct approaches to innovation, product development and solution development."

The impact of applying innovation to all aspects of consumer interaction, rather than just a product will be significant. Accenture estimates for the automotive industry, the impact of applying innovation in this way could see revenues increase by up to $1 billion; for consumer technology the revenue impact could be $633 million; for medical technology, it could be $581 million; and for industrial equipment manufacturers, the industry impact of innovation in this area could see a revenue increase of $567 million.

The research reveals the innovation and product development capabilities on which leaders in each industry focus. For example, in the Communication Equipment industry, the focus is on new business incubation and integration, while in the Industrial Equipment sector, the leaders focus on innovation and product development. For the Consumer Goods sector, a focus on corporate & product strategy alignment is the primary distinct innovation capability focus.

Leading companies are differentiated by "innovating in the new" versus "innovating in the core." Traditional hardware companies are being disrupted by digital technologies and are shifting their strategies to focus on software and new connected experiences. Industries ranging from sporting apparel companies, traditional toys and games to refrigerators and other consumer durables manufacturers are now enabling consumer services through higher level of interactivity, personalization and functionality. For the leaders, differentiation comes from being able to go beyond asking customers what they want and instead targeting customers' and consumers' unmet needs.

Based on the survey data, Accenture has segmented four distinct categories of innovators: Early Innovator, Value Maker, Market Share Protector and Efficient Executor. All of the leaders fall in either the Early Innovators or Value Makers category.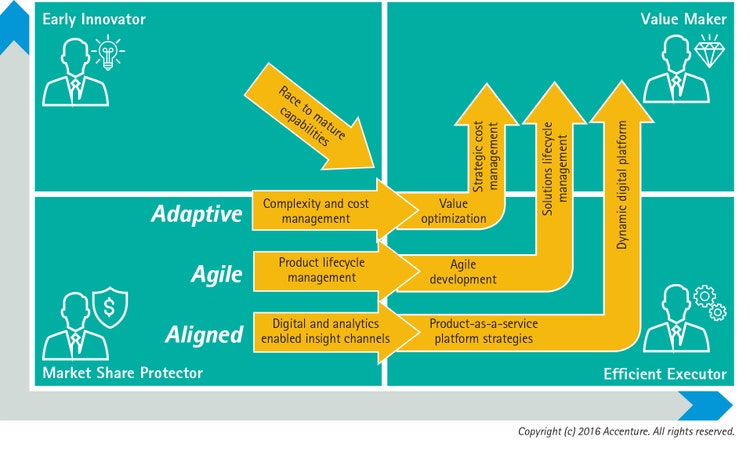 "The leading innovators, who Accenture defines as 'Early Innovators' and 'Value Makers' are focusing innovation to deliver differentiated outcomes, solutions and experiences, at a strategic level. They are seeing higher revenues as a result," said Eric Schaeffer, senior managing director and head of Accenture's Industrial practice. "Only 20 percent of those companies surveyed fell into these two categories, with the vast majority falling into the other two categories, typified by a more tactical approach to differentiated customer experience. 'Value Makers' find new ways to connect with customers through platforms and ecosystems, in which the product or service is just one dimension of a much larger value proposition."

Methodology
Accenture analyzed the innovation practices and value performance of 351 businesses from the Global2000 across eight industries (automotive, industrial equipment, consumer goods, medical technology, enterprise technology, consumer technology, communications technology and software) and nine geographies – Canada, China, France, Germany, Italy Japan, South Korea, the United Kingdom and the United States. Interviews were carried out with Chief Technology Officers, Division Presidents and Division Vice Presidents of engineering and innovation, or their equivalent. The results confirm a clear, empirical correlation between distinct innovation capabilities and company growth. Leaders benefited from a 3.5-7.0 percent annualized revenue lift and a corresponding operating income growth compared to their industry peers. Leaders were identified as the top 20 percent of all companies as defined by their industry-specific financial performance along with their advanced innovation approaches and capabilities.

About Accenture
Accenture is a leading global professional services company, providing a broad range of services and solutions in strategy, consulting, digital, technology and operations. Combining unmatched experience and specialized skills across more than 40 industries and all business functions – underpinned by the world's largest delivery network – Accenture works at the intersection of business and technology to help clients improve their performance and create sustainable value for their stakeholders. With approximately 384,000 people serving clients in more than 120 countries, Accenture drives innovation to improve the way the world works and lives. Visit us at www.accenture.com.

# # #

Contact:

Anthony Hatter
Accenture
+ 44 7810 756 138
anthony.hatter@accenture.com