April 28, 2016
HfS Research Report Highlights Accenture Leadership and Excellence in Supply Chain Management As-a-Service Capabilities

NEW YORK; April 28, 2016 – Accenture (NYSE: ACN) has been positioned in the 'Winner's Circle" of HfS Research's Blueprint Report for Supply Chain Management (SCM) As-a-Service. Accenture is recognized as a leader for its strengths in the delivery of services, its flexibility in delivering end-to-end and point solutions, its vision for the evolution of supply chain management as-a-service, its solutions for accessible and actionable data, and for the integration of its consulting, business process outsourcing (BPO) and technology services.
The report assessed 14 major SCM As-a-Service service providers based on excellence in both execution and innovation in adopting the ideals of the supply chain services value chain, which include: order management, inventory management, manufacturing management, transportation management, aftermarket services, master data management and sustainability services. HfS highlights that SCM was one of the strongest areas of BPO/As-a-Service market growth in 2014 - 2015 and that all service providers included in the report have grown SCM much faster than their overall portfolio, and yet the total market remains small at ~$1.8 billion all commodity value.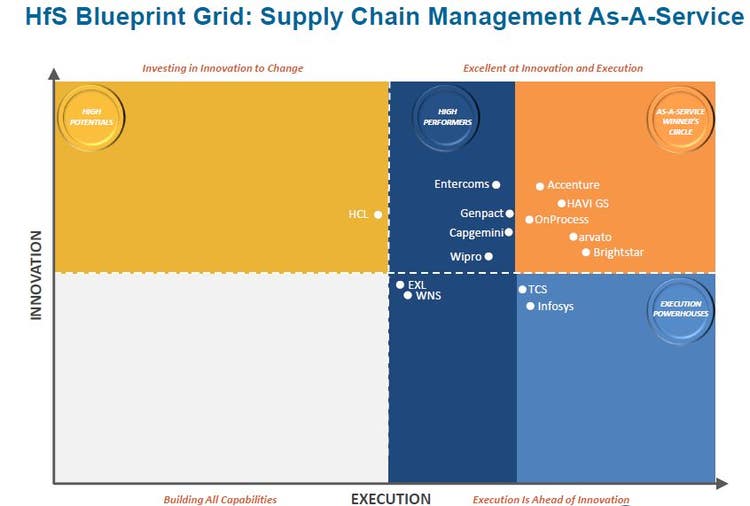 "Building off our initial Supply Chain Management BPO Blueprint in 2014, Accenture continues to demonstrate strong leadership and expertise as a top service provider, particularly in this year's focus area of As-a-Service capabilities," said Phil Fersht, CEO, HfS Research. "Accenture's positioning is due in large part to the company's substantial investments in Supply Chain Management Services to drive analytical solutions and for its ability to respond to global client needs."

Accenture's unique strengths highlighted in the report include:
Investments in Supply Chain Management Services: HfS notes that Accenture Operations has increased its investment in supply chain management services considerably since the 2014 Blueprint, in which Accenture was already the leader. The development of a cross-client analytics application infrastructure is particularly noteworthy as it replicates best practices in tools and insights at scale. Clients have seen direct business impact of these tools on process operations.
Expanding Role in Client Supply Chain Operations: HfS has seen Accenture's offering set evolve over time to take on a comprehensive scope of clients from across the SCM value chain. Accenture is expanding its role in clients' processes and is at the very core of daily operations in a way that other competing service providers are not.
Integration of Consulting, BPO and Technology in SCM: HfS notes that Accenture is responding to market needs to eliminate conflict between BPO and Consulting in SCM to get synergistic value out of organic investments and M&A activity.
"We remain committed to continuing to grow our robust suite of As-a-Service capabilities, including Supply Chain Management, to drive new business value for our global clients when and where they need it through the implementation of smarter technology and intelligent automation," said Tushar Narsana, Supply Chain BPO offering lead, Accenture Operations.

The findings of the HfS Blueprint report were determined by 930 data points collected in three different categories including: interviews with buyers who have evaluated service providers and experienced the services, structured discussions with service providers, and publicly available information.

The HfS Research Blueprint Report for Supply Chain Management As-a-Service can be accessed here.

About Accenture
Accenture is a leading global professional services company, providing a broad range of services and solutions in strategy, consulting, digital, technology and operations. Combining unmatched experience and specialized skills across more than 40 industries and all business functions – underpinned by the world's largest delivery network – Accenture works at the intersection of business and technology to help clients improve their performance and create sustainable value for their stakeholders. With approximately 373,000 people serving clients in more than 120 countries, Accenture drives innovation to improve the way the world works and lives. Visit us at www.accenture.com.

# # #

Contact:

Oriana Branon
Accenture
+ 1 415 537 5032
oriana.branon@accenture.com