February 23, 2016
Fiat Chrysler Automobiles Showcases Immersive Augmented Reality Car Configurator Built by Accenture with Project Tango


First-of-its-kind mobile augmented reality solution creates a life-size 3D, virtual vehicle to enhance the car buying experience with Google's technology

MOBILE WORLD CONGRESS, BARCELONA ; Feb. 23, 2016 – Fiat Chrysler Automobiles (FCA) unveiled a prototype of an immersive car sales application at Mobile World Congress designed and built by Accenture Digital using Google's Project Tango developer kit. The prototype demonstrates how augmented reality can revolutionize the shopping experience for consumers by allowing them to view and interact with a full-scale virtual version of the object – or car – they are considering buying.
The prototype allows car buyers to hold a device and, using the integrated sensor technology and motion tracking, area learning, and depth perception from Project Tango, view, walk around, look inside and configure a life-size virtual car. On the Accenture demo, doors can be opened to reveal a realistic and detailed interior, where changes to upholstery colors or dashboard styles can be made with a tap on the device screen.

Project Tango technology gives mobile devices the ability to navigate the physical world similar to how we do as humans. Project Tango brings a new kind of spatial perception to Android devices by adding advanced computer vision, image processing, and special vision sensors. A Project Tango device maps the 360-degree environment around it, meaning that as it is moved it navigates and views the changing environment in the same way as a person would. As the car is viewed through the device, the virtual car moves in relation to how the user moves.

The first commercial Project Tango device is expected to be available in summer 2016 and this application will be previewed to attendees of this year's Mobile World Congress. Accenture Interactive, part of Accenture Digital, has worked with FCA to create an application for this new technology that will transform the process of buying and configuring a new car.

Users of the FCA car configuration solution will be able to walk freely around a full-scale vehicle in almost any environment because Project Tango enables an untethered, handheld experience that does not rely on external tracking technology such as markers, beacons or GPS.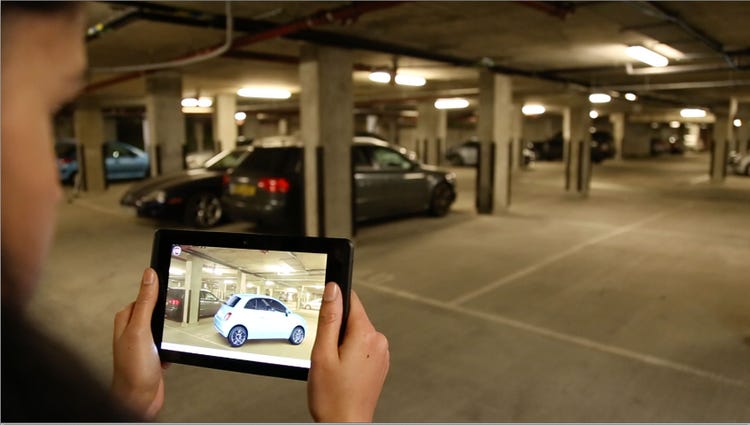 "Project Tango is a new, unique technology that is set to become standard functionality in the next generation of mobile devices," said Matteo Aliberti, Digital Innovation lead for Accenture Interactive EALA. "Accenture has been experimenting with Project Tango and potential business uses for as long as it has been in development, creating a range of potential applications, including this one for the automotive industry."

Accenture's design-led development of this solution means that the process of making decisions about cars will be completely transformed with the new generation of mobile devices. FCA is the first automotive brand to use this type of digital car configuration tool. Today's car configurators are essentially flat, so with this tool FCA customers could have a more interesting and immersive experience.

This work is the latest collaboration between FCA and Accenture that aims to deliver a new and unique digital experience for FCA customers.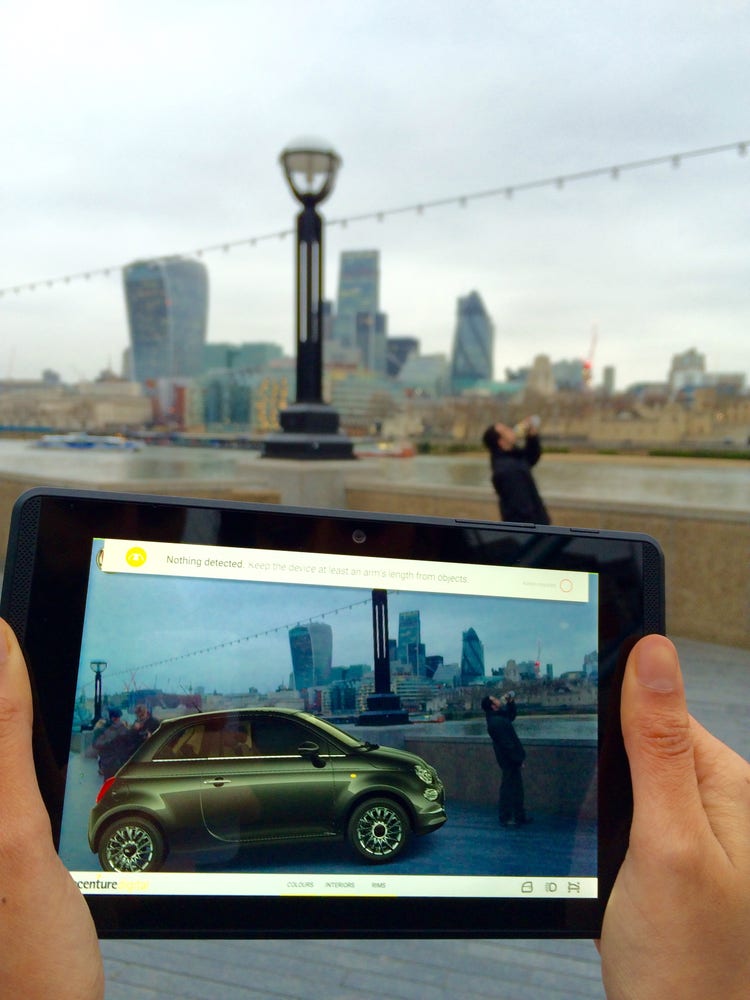 "Augmented reality is set to transform the way car-buyers choose and configure vehicles through the provision of immersive technology because it provides an enjoyable, delightful experience for customers," said Luca Mentuccia, senior managing director and head of Accenture's Automotive practice. "We believe dealers and car buyers will be quick to embrace this enhanced way of buying a car as the new devices become readily available, taking advantage of the 360-degree mapping environment to create this unique experience."

Images and a video of the application can be downloaded here: http://we.tl/MkXeBUkFiv

Note to Media: This will be one of the first demonstrations of Project Tango technology in a business environment, and will be shown alongside a demonstration of the same technology in a retail setting at the Accenture booth, by appointment only. To make an appointment to view the demo during Mobile World Congress, please email joanna.r.vos@accenture.com.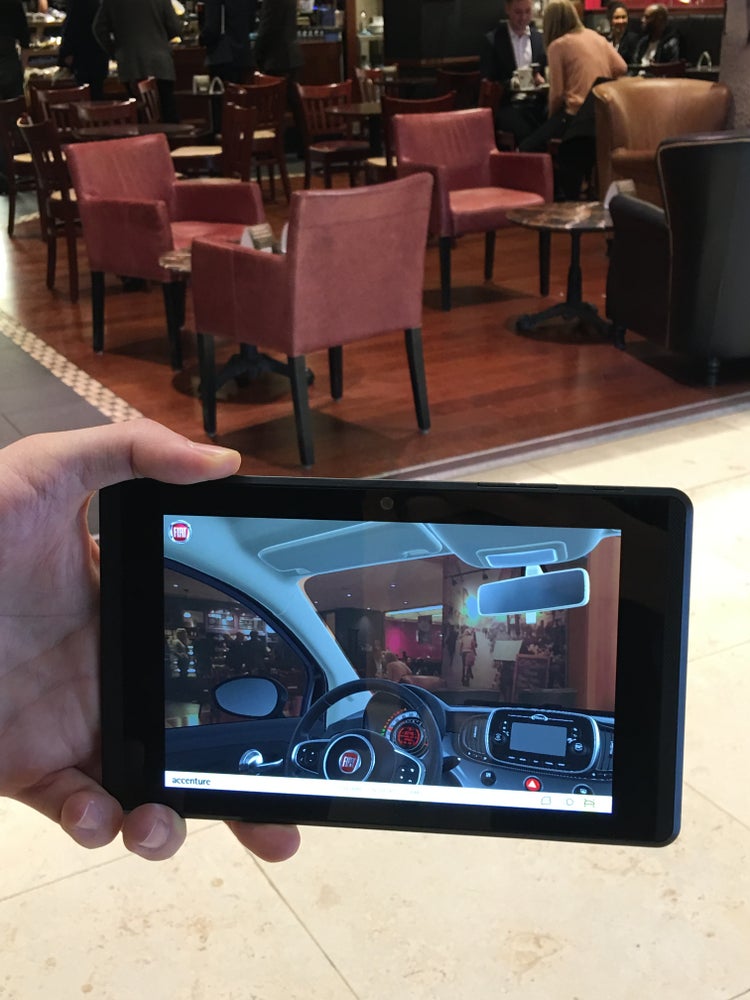 About Accenture
Accenture is a leading global professional services company, providing a broad range of services and solutions in strategy, consulting, digital, technology and operations. Combining unmatched experience and specialized skills across more than 40 industries and all business functions – underpinned by the world's largest delivery network – Accenture works at the intersection of business and technology to help clients improve their performance and create sustainable value for their stakeholders. With approximately 373,000 people serving clients in more than 120 countries, Accenture drives innovation to improve the way the world works and lives. Visit us at www.accenture.com.

About Accenture Digital
Accenture Digital , comprised of Accenture Analytics, Accenture Interactive and Accenture Mobility, offers a comprehensive portfolio of business and technology services across digital marketing, mobility and analytics. From developing digital strategies to implementing digital technologies and running digital processes on their behalf, Accenture Digital helps clients leverage connected and mobile devices; extract insights from data using analytics; and enrich end-customer experiences and interactions, delivering tangible results from the virtual world and driving growth. To learn more about Accenture Digital, follow us @AccentureDigi and visit
.

# # #

Contact:

Anthony Hatter
Accenture
+ 44 7810 756 138
anthony.hatter@accenture.com