August 31, 2016
Female Board Members Far More Likely Than Male Board Members to Have Professional Technology Experience, Accenture Research Finds


Results show lack of technology experience – among women and men alike – in boardrooms globally
NEW YORK; Aug. 31, 2016 – Female members of corporate boards of directors are nearly twice as likely as their male counterparts to have professional technology experience, according to new research from Accenture (NYSE: ACN).
To understand the gender composition of corporate boards and the role technology plays in the careers of female board members, Accenture examined women's representation on the boards of more than 500 Forbes Global 2000 companies in 39 countries across Europe, Asia, North America, South America and Australia.

The research found that 16 percent of female directors, versus 9 percent of male directors, have professional technology experience.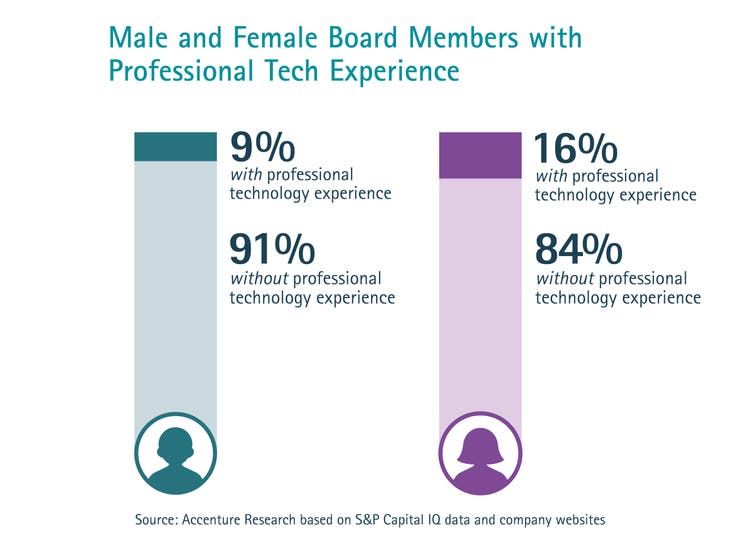 While Accenture's research shows a general shortage of technology experience in boardrooms in this digital era – with only 10 percent of all board members having professional technology experience – the findings point to the opportunity that women with professional technology experience might have in getting on corporate boards.

"As technology disrupts virtually every industry, companies need to think more broadly about the type of skills and experience needed for their boards, including getting more technology acumen into the boardroom. At the same time, they need to stay focused on gender diversity, since organizations with diversity at the board level perform better," said Roxanne Taylor, Accenture's chief marketing and communications officer. "Women directors with technology experience bring diversity and valuable insight – a clear recipe for strategic advantage."

The research also reveals key differences among countries in the percentage of female directors with technology experience. For example, among the 10 most-represented countries in the sample – the United States, Japan, Germany, China, France, the United Kingdom, Spain, Canada, the Netherlands and Australia – the U.S. has the highest percentage of female directors with professional technology experience, at 26 percent (versus 17 percent of male board members).

In seven of those 10 countries, the percentage of female board members with technology experience exceeded the percentage of male board members with such experience. Only in Spain, Canada and China did male directors have more professional technology experience than female directors.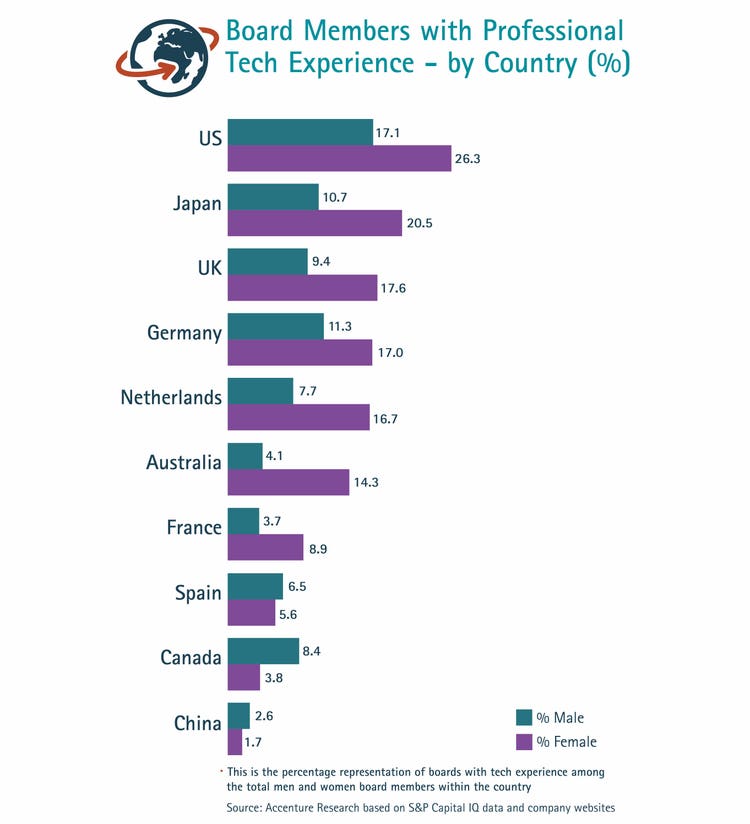 Accenture's research also found notable differences between industries in the percentage of female directors with technology experience. Not surprisingly, of the 15 industries covered by the research (see Methodology, below), the one with the highest percentage of tech-savvy female board members is technology, at 51 percent – more than double the average of most other industries.

Communications ranks second, at 29 percent, followed by healthcare, at 22 percent; and automotive and industrial; energy; and pharmaceuticals, chemicals and life sciences, at 17 percent each. At the bottom of the list are banking and insurance, at 8 percent and 2 percent, respectively. In all but two industry sectors, both of which are part of the broader financial services sector – capital markets & diversified financials, and insurance – the percentage of women with technology experience exceeds the number of men with technology experience.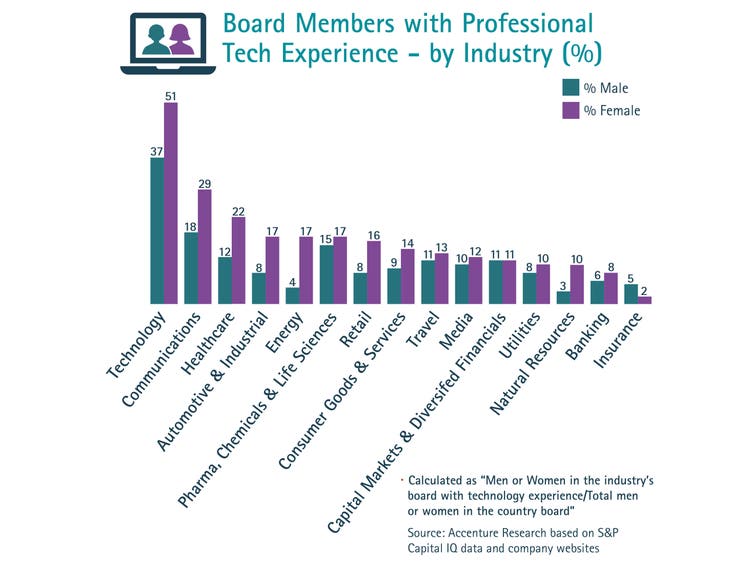 "It's clear that more and more jobs – up to and including the board level – will require technology skills," added Taylor. "With the number of women pursuing computer science degrees hovering around 20 percent, we need to find new ways to get women excited about technology as early as possible."

These findings complement those of a recent Accenture study about women in the workplace and digital fluency – the extent to which people embrace and use digital technologies to become more knowledgeable, connected and effective. That research, entitled Getting to Equal: How Digital is Helping Close the Gender Gap at Work, found that digital fluency is helping to close the gender gap and level the playing field for women in the workplace.

Methodology
Accenture examined women's representation on the boards of 518 Forbes Global 2000 companies in 39 countries across Europe, Asia, North America, South America and Australia. In total, 7,188 board of director profiles were screened, including those of 1,166 female directors. The research covered 15 industry sectors: automotive and industrial; banking; insurance; capital markets & diversified financials; communications; consumer goods & services; energy; healthcare; media; natural resources; pharmaceuticals, chemicals and life sciences; retail; technology; travel, and utilities. For the purpose of the research, professional technology experience was defined as holding a key technology position – such as serving as a chief technology officer, chief information officer or chief digital officer – at their current company or at a previous company, or having senior responsibility at a technology firm. The research was conducted between February and April 2016.

About Accenture
Accenture is a leading global professional services company, providing a broad range of services and solutions in strategy, consulting, digital, technology and operations. Combining unmatched experience and specialized skills across more than 40 industries and all business functions – underpinned by the world's largest delivery network – Accenture works at the intersection of business and technology to help clients improve their performance and create sustainable value for their stakeholders. With more than 375,000 people serving clients in more than 120 countries, Accenture drives innovation to improve the way the world works and lives. Visit us at www.accenture.com.

# # #
Contacts:

Stacey Jones
Accenture
+ 1 917 452 6561
stacey.jones@accenture.com

Sam Hyland
Accenture
+ 1 917 452 5184
samuel.hyland@accenture.com