May 05, 2016
European Financial Services Companies Must Close the Gap Between Vision and Execution in their Digital Strategies, According to Accenture Study


Banks and insurers in UK, Italy, Germany, Spain, France are 50 percent more effective at recognizing the value of digital initiatives than applying them

LONDON; May 5, 2016 – Major European banks and insurance companies are ready to embrace digital technologies, but they are nearly 50 percent more effective in identifying the value of innovations than actually applying them to streamline their businesses, according to an Accenture (NYSE: ACN) analysis of 53 institutions in the continent's five largest economies.
Accenture's "European Financial Services Digital Readiness Report" found that – on a scale of one (basic level) to four (best practice) – major banks and insurers across UK, Italy, Germany, Spain and France scored an average of 3.15 for recognizing the importance of digital as part of their strategy and only 2.10 for their progress in actually using digital solutions to streamline activities.

The analysis, which is designed to reflect customer and investor perceptions, is based on publicly available information, such as annual reports, websites and news releases, and uses more than 100 metrics for evaluation.

"Digital is universally embraced by financial institutions in Europe but inconsistently executed," said Sushil Saluja, senior managing director of Accenture's Financial Services group in Europe, Africa and Latin America. "This report, which provides a benchmark for digital readiness, tells a story of an industry that recognizes the importance of digital as an instrument of change, but that has yet to find its footing for the level of transformation it needs to execute."

'Digital Readiness' Linked to Higher Financial Performance
According to the report, institutions that achieved a higher score in the analysis tended to have lower cost-income ratios, generate higher returns on equity and maintain higher average share prices.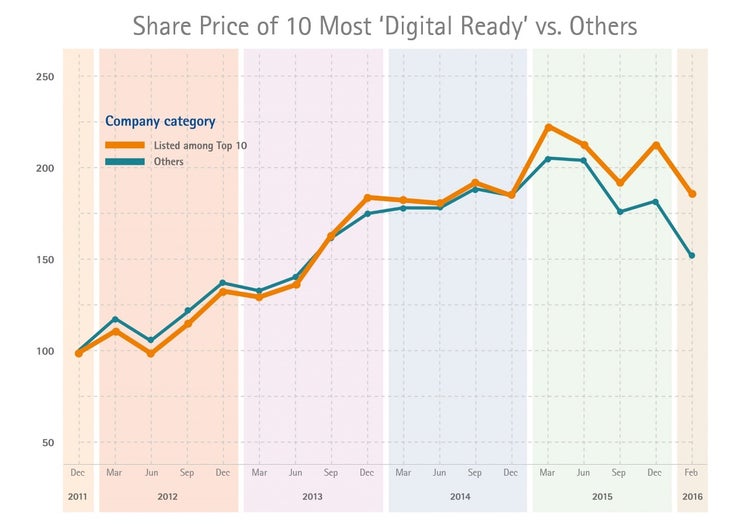 No Clear Regional Leader
According to Saluja: "No one country can boast being a digital leader in Europe. When viewed through a geographic lens, the research results indicate varying levels of digital maturity among banks and insurers within each of the five European countries included in the study." The report found:
UK financial services firms outperform in the planning dimension but have room for improvement in the execution of digital strategies, the design of new products and services and digitalizing their internal processes.
German institutions are followers in the dimensions related to digital strategies, indicating a less mature market, with most effort needed to catch up in embracing digital internally.
Italian and Spanish institutions overall need to embrace digital more in their growth strategy, but may be more consistent than others when it comes to implementing their declared digital initiatives. They record poor results in embracing digital in their internal activities.
French institutions have a clear digital agenda and are better at leveraging digital to engage with customers. But like other European players they fall short in embracing digital for internal activities.
Massimo Proverbio, senior manager director of Accenture's banking practice in Europe, Africa and Latin America said: "Top European financial services firms see digital as a key component of their growth strategies, and, in many cases have devised a partial plan on how to integrate digital activities into their businesses. But this often translates into a number of dispersed initiatives instead of a structured and holistic action plan to capture value from the digital market." According to the study:
86 percent of institutions include digital as part of their strategy, and 63 percent have established a "chief digital officer"—but only 37 percent have allocated budget specifically for digital transformation.
Firms have built online and mobile presence for engaging with clients via social media, but C-level executives participate in these initiatives at only 39 percent of institutions.
81 percent of firms highlight their work with start-ups and universities on digital topics, but fewer than 60 percent have open innovation initiatives or use digital technologies in their product development.
Proverbio concluded: "When it comes to technology, digital and legacy are sometimes seen as mutually exclusive. But while financial services firms are launching digital offerings—or even just refreshing existing applications and services—they should also be shoring up or replacing legacy applications to enable the digital experience for their customers, derive cost savings to fund further digital investments and maintain the vast amounts of transaction history and processing power that new entrants just don't have."

View the full report: www.accenture.com/EuropeanFSDigitalReadiness

Methodology
An Accenture Research team created the European Financial Services Digital Readiness report by analyzing the extent of digital transformation of 53 leading banks and insurers in UK, Italy, Germany, Spain and France. Each organization's digital activities and capabilities are analyzed using a framework of 117 detailed metrics grouped under 42 themes.

About Accenture
Accenture is a leading global professional services company, providing a broad range of services and solutions in strategy, consulting, digital, technology and operations. Combining unmatched experience and specialized skills across more than 40 industries and all business functions – underpinned by the world's largest delivery network – Accenture works at the intersection of business and technology to help clients improve their performance and create sustainable value for their stakeholders. With approximately 373,000 people serving clients in more than 120 countries, Accenture drives innovation to improve the way the world works and lives. Visit us at www.accenture.com.

About Accenture Research
Accenture Research is a global team of industry, geographic, economic and digital technologies analysts who provide data-driven insights that identify disruptors, opportunities and risks for Accenture and its clients. They use innovative business research techniques such as economic value modeling, analytics, crowdsourcing, expert networks, surveys, data visualization and research with academic and business partners to create provocative points of views published by Accenture every year. The research in this study was led by Accenture Research.
# # #


Contacts:

Sean K. Conway
Accenture
+ 1 917 452 7116
sean.k.conway@accenture.com

Petra Shuttlewood
Accenture
+ 44 7788 305373
petra.shuttlewood@accenture.com