January 19, 2016
Electric Ireland and Accenture Announce Smarter Living Collaboration


Electric Ireland Smarter Living Panel to Trial Connected Home Control

DUBLIN; Jan. 19, 2016 – Electric Ireland has collaborated with Accenture (NYSE: ACN) to develop and deliver a pilot program that will introduce new Connected Home solutions to its customers.
The latest phase in a series of trials on Smart Controls for Connected Homes, this initiative will see 600 Electric Ireland Smarter Living Panel members trial the latest technology available for real-time, intelligent control of energy usage in residential homes. Working with the global Accenture Internet of Things practice, the trial will use Accenture Connected Platforms as a Service (CPaaS) to enable remote and automated control of multiple smart devices for homes and businesses.

All 600 members will receive a number of smart plugs and a monitor to measure electricity consumption installed in their homes. In order to remotely monitor and control their electricity usage, users can also access mobile and web-based applications that will also help to promote energy efficiency and savings for Electric Ireland customers. The services are integrated into the Accenture Connected Home Services suite, supporting the Internet of Things and advanced analytics technologies. Electric Ireland and Accenture are the first to be trialling Connected Home solutions with Irish customers, starting with energy appliances before extending to other areas such as smoke detectors and carbon monoxide alarms to bring comfort and convenience to customers in next phases of this trial.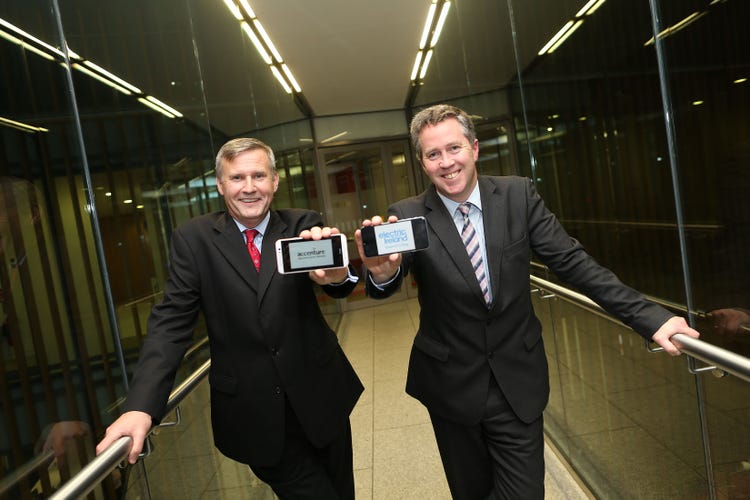 Alastair Blair, Country Managing Director for Accenture in Ireland and Paul Stapleton, General Manager,
Electric Ireland showcasing the mobile and web-based application developed by Accenture

Paul Stapleton, General Manager, Electric Ireland said, "This collaboration with Accenture is part of our mission to lead the market in the introduction of innovative technologies. With this latest technology, customers will be able to not only control the supply to certain appliances remotely but also monitor their usage through real time data ensuring convenient and efficient use of energy in the home. We have started rolling this out with the Electric Ireland Smarter Living Panel, who are a valuable resource to us when it comes to understanding and meeting customers wants and needs."

Alastair Blair, Country Managing Director for Accenture in Ireland said, "This exciting new initiative with Electric Ireland and its Smarter Living Panel trial will deliver innovative new services to Irish energy consumers, including real-time energy consumption feedback and remote control of different devices in the home. Our joint Internet of Things project highlights the critical role of digital technology in improving our energy efficiency, and offers Irish consumers the future of managing and controlling their own energy consumption."

Electric Ireland has invested over €1.5 million to date in the Smarter Living Panel program, and participants have received new technology installed in their homes to give them smarter control of their energy consumption. The program creates an innovative customer feedback platform that helps Electric Ireland to understand the changing needs and requirements of Irish energy consumers.

The Electric Ireland Smarter Living Panel has been testing heating controls such as Climote, Nest and Honeywell since January 2015. This collaboration with Accenture is the latest phase in a multi–faceted customer feedback platform project at Electric Ireland, and will see further emerging technologies introduced over the coming months.

For further details visit www.electricireland.ie follow Electric Ireland on Facebook www.facebook.com/electricireland or on Twitter @ElectricIreland #SmarterLiving

About Accenture
Accenture is a leading global professional services company, providing a broad range of services and solutions in strategy, consulting, digital, technology and operations. Combining unmatched experience and specialized skills across more than 40 industries and all business functions – underpinned by the world's largest delivery network – Accenture works at the intersection of business and technology to help clients improve their performance and create sustainable value for their stakeholders. With approximately 373,000 people serving clients in more than 120 countries, Accenture drives innovation to improve the way the world works and lives. Visit us at www.accenture.com.

Accenture Mobility, part of Accenture Digital, plans, implements and manages mobility solutions for businesses and public organizations, including developing and implementing enterprise mobility strategies; building and testing applications; and supplying credible, business ready Internet of Things offerings and managed services. Accenture Mobility services are based on deep industry insights and technical expertise that help clients across all industries achieve growth, efficiency and manage a successful transformation as they adopt the tools of a digital business. Find out more by following @mobilitywise and visiting www.accenture.com/mobility.

# # #

Niamh Commins
Electric Ireland
+ 353 (01) 669 0030
niamh.commins@ogilvy.com

Paul Hand
Electric Ireland
+ 353 (01) 702 7532
+ 353 (0)857 256 798 (mobile)
Paul.Hand@esb.ie

Alison Mills
Accenture
+ 353 (01) 646 2481
+ 353 868 512 890
alison.mills@accenture.com