July 13, 2016
Efma and Accenture open applications for 4th Distribution & Marketing Innovations Awards


Joint programme to recognise retail banks' latest innovations in distribution and marketing worldwide

PARIS, NEW YORK AND HONG KONG; July 13, 2016 – Retail banks worldwide have until 7 September 2016 to enter their solutions for Efma and Accenture's fourth annual Distribution & Marketing Innovations Awards, which will take place in Barcelona, Spain on 26 October.
Jointly developed by Accenture and Efma, an association of 3,300 retail financial services companies in more than 130 countries, the awards programme aims to identify and reward the most innovative projects in the global retail banking sector. It also encourages banks to share best practices in the retail banking distribution and marketing arena.

"Efma and Accenture's joint awards initiative began in 2013, and since then, we've seen how thousands of innovations have helped financial services institutions worldwide to transform their business models," said Vincent Bastid, Efma's CEO. "We hope financial institutions from all over the globe will be part of this exciting innovation journey and we look forward to rewarding the most successful innovators in Barcelona this October."

"Large Internet and retail giants are driving customer experience and service expectations across all industries – today, consumers expect a similar, seamless digital interaction from their bank to what they receive from an online retailer," said Piercarlo Gera, senior managing director of Accenture Distribution and Marketing Services. "As banks continue to evolve to play a more central role in the lives of consumers, they are focusing on creating innovative new businesses to help generate revenue while also increasing the number of interactions with customers."

Banks are encouraged to showcase their most innovative initiatives for eight categories, including Customer Experience; Digital Marketing; Physical Distribution; Digital Distribution; Payments & Wallets; Salesforce Change Management; Big Data, Analytics and Artificial Intelligence; and Best New Product or Service. Applications can be submitted via www.efma.com/InnovationSubmit16.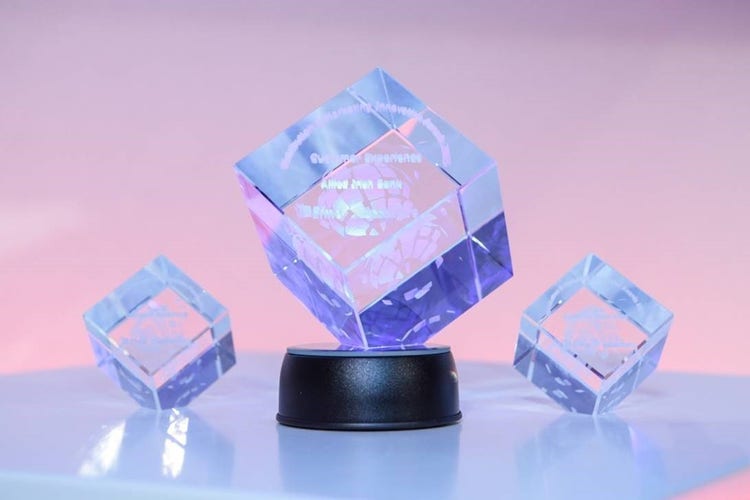 Efma Accenture's Distribution & Marketing Innovations awards
Submissions will be reviewed by the Efma Innovation Awards Committee to create a shortlist of nominees for each category. Efma members will then vote for the final winners, who will receive their awards at the ceremony in Barcelona this October.

Efma's Innovation Award Committee will also present a Most Disruptive Innovation award to the organisation whose solution has redefined the traditional banking model. Meanwhile, a Global Innovator award will be given to the bank that has successfully committed its overall vision to innovation, developing projects in different areas to continuously transform its business model.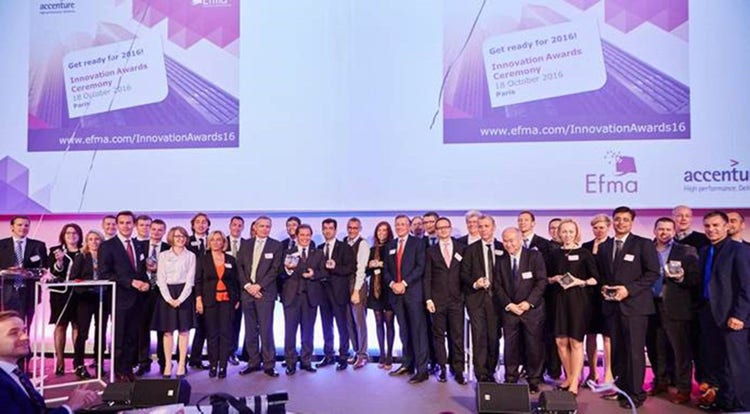 2015 awards ceremony in Amsterdam, Netherlands
More information about the ceremony and registration is available at www.efma.com/innovationawards16. Information about last year's award winners is available at: www.efma.com/article/detail/21054\
About Efma
A global non-profit organisation, established in 1971 by banks and insurance companies, Efma facilitates networking between decision-makers. It provides quality insights to help banks and insurance companies make the right decisions to foster innovation and drive their transformation. Over 3,300 brands in 130 countries are Efma members. Headquarters in Paris. Offices in London, Brussels, Barcelona, Stockholm, Bratislava, Dubai, Mumbai and Singapore. Learn more at www.efma.com

About Accenture
Accenture is a leading global professional services company, providing a broad range of services and solutions in strategy, consulting, digital, technology and operations. Combining unmatched experience and specialized skills across more than 40 industries and all business functions – underpinned by the world's largest delivery network – Accenture works at the intersection of business and technology to help clients improve their performance and create sustainable value for their stakeholders. With more than 375,000 people serving clients in more than 120 countries, Accenture drives innovation to improve the way the world works and lives. Visit us at www.accenture.com.

# # #

Contacts:

Florence Chatelet
Efma
+ 33 6 77 43 02 32
florence@efma.com

Melissa Volin
Accenture
+ 1 267 216 1815
melissa.volin@accenture.com