April 28, 2016
Consumers Willing to Pay Extra for In-Car Technologies, Accenture Research Reveals


Survey indicates potential stand-alone pricing, high demand for location-based services, remote and diagnostic services among drivers in China, Germany and the US

NEW YORK and BEIJING; April 28, 2016 – Drivers would opt to pay up to an additional 10 percent of a new car's price to get the in-car technology that they want, according to a new survey conducted by Accenture.
The survey polled drivers in China, Germany and the United States about their current and future use of in-car technologies, including entertainment, information, remote and driver support services, as well as the features they would consider paying a premium for over the vehicle price. Accenture believes that by 2025, all new cars sold will be connectivity-enabled.

When asked what percentage of a new car's selling price drivers would be willing to spend on infotainment services relevant to their needs, seven in ten of all respondents, 71 percent, would pay up to 10 percent of the car price.

The research found that the functionalities consumers would be most willing to spend more on include remote services like eCall, where the vehicle automatically sends a distress message to the nearest emergency center when a life-threatening situation occurs, and bCall, a system which alerts a vehicle recovery organization when a vehicle breaks down. Sixty-three percent of respondents are interested in the e-Call feature, and 41 percent is willing to pay for the service.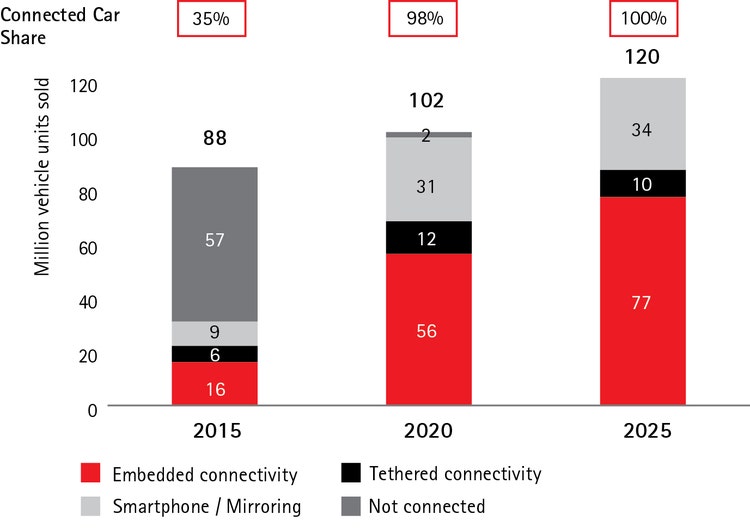 By 2025, all new cars sold will be connectivity enabled
According to the survey, there is a high interest in remote diagnostics and location-based services. Seventy-five percent are interested in receiving vehicle health reports and 71 percent would consider, or are very likely to start using vehicle lifecycle management reports; with nearly half of the respondents (43 percent) willing to spend extra on these features. Over half (55 percent) want location functionalities like stolen vehicle tracking and recovery, navigation, and remote parked car locator systems. A third (29 percent) would pay more for these in-car services.

"Consumers are becoming more inclined to make separate purchases of the in-car functions they want most, offering automakers the opportunity to increase revenues and create after-sales relationships with their customers – but only they can better accommodate demand for the right functionality and services," said Axel Schmidt, managing director in Accenture's automotive practice. "We believe that the demand for a range of features, from safety systems and remote services to parking assist technology, will increase in the coming years."

Future Demand
The survey reveals consumer interest in key in-car technologies is likely to grow. For example, nearly three-quarters of the respondents say they will very likely start using or consider using the eCall feature in the future. In terms of future use of remote diagnostics, 75 percent and 71 percent respectively expect to use vehicle health and vehicle lifecycle management services. Appeal for location-based services is also anticipated to gain popularity, as 78 percent of respondents are interested in having the stolen vehicle recovery and tracking system, 71 percent want features like the remote parked car locator, and just under two-thirds, or 59 percent, would welcome the use of high-quality, in-car navigation systems in the future.

In addition, 35 percent of drivers questioned wanted concierge services, such as voice-activated responses to location-based questions, with 19 percent willing to pay an additional fee for this. Thirty-two percent want smart home integration, which provides the ability to control automated devices within the home from a connected vehicle, and 20 percent would pay more for it. Twenty-eight percent indicated an interest in online service booking, with 13 percent willing to pay a premium for the convenience.

With regard to payments for in-car services, nearly half of respondents (47 percent) are willing to make an upfront payment when buying a new car, or pay for connected services over the lifetime of the services. More than one-third of those polled (34 percent) want free basic services subject to in-car advertising with the option to upgrade to premium versions of services. And 32 percent would consider paying a monthly fee for connected vehicle services using a credit card or PayPal.

The research also found:
Vehicle Diagnostics Use – U.S. drivers are very interested in using this technology with 63 percent of respondents indicating they are very likely to start using it or would consider its use in the future. Respondents in China show a strong interest in remote diagnostics (65 percent) and remote health check (72 percent). Of the drivers polled in Germany, 47 percent were interested in vehicle diagnostics.
Willing to Pay More – Drivers surveyed in China would be willing to spend an average of 16 percent of the new car's price on infotainment features. U.S. drivers polled would consider spending an additional 15 percent, with drivers in Germany willing to pay 11 percent more than the price of the car for these services. For convenience services, drivers in the U.S. are willing to spend on average up to 16 percent of a car's price, followed by those in China, at 15 percent and Germany at 11 percent.
Preferred payment methods – Nearly half of German respondents (49 percent) would opt to pay upfront in the car's price for additional services, or would choose the option of paying for connected services during the life of the service. Forty-six percent of Chinese drivers and 45 percent of U.S. respondents would prefer this method.
Connected Vehicle Data Ownership – More than half of the German respondents believe that the data generated by connected services is owned by the provider of the services. In contrast, a majority of U.S. and China drivers believe that they own the data.
Data-Sharing with Third Parties – Seventy-five percent of German respondents say they would only share their data if it was kept anonymous. This view is shared by 72 percent and 71 percent of those surveyed in China and the U.S, respectively. However, 68 percent of U.S. and Chinese drivers would share their data if it were to improve their current technology services, and 53 percent of German participants agree.
"Consumer interest in spending more on desired in-car functionality and services in three of the world's largest automotive markets reinforces Accenture's belief that in-car technologies - and the concept of the connected vehicle itself – are defining the automotive industry, and transforming the way consumers view the automobile," said Schmidt. "We also believe that the willingness of consumers to pay for in-car services separately from a new vehicle's purchase price will provide the industry with new sources of revenue, further enhancing the global connected vehicle market. We estimate that in China alone, the value of the connected vehicle market could be as much as $216.2 billion by 2025."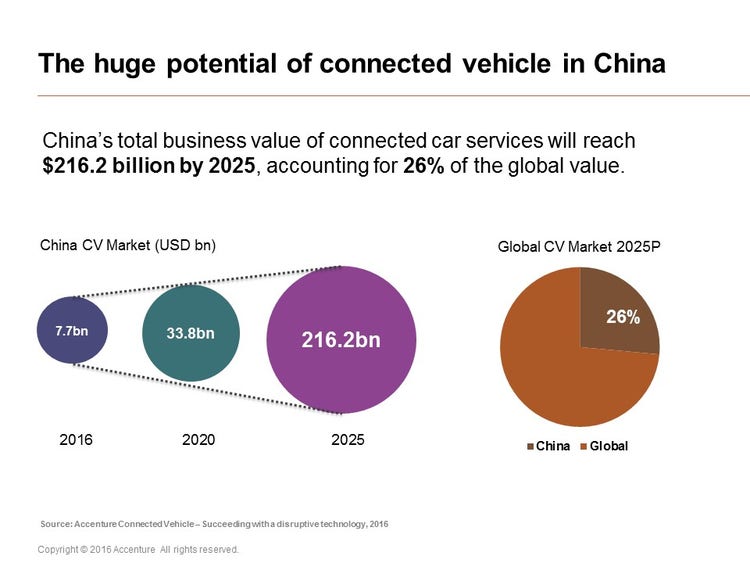 Country-Specific Findings
Among the three markets, U.S. respondents (71 percent) and China respondents (70 percent) show the most interest in using connected information technologies that would enable them to receive streaming music from their smartphone. German respondents are not far behind, as 63 percent want the same capability.
US drivers, at 80 percent, are the most interested in having a stolen vehicle recovery/tracker system.
Forty-three percent of respondents in both China and the US are interested in the delivery services trunk feature, where delivery companies can access the car's trunk or boot, and deliver parcels. German drivers are the least interested in this feature, at 34 percent.
High quality navigation solutions hold the most appeal for Chinese respondents in comparison with other participants. China drivers mirror their U.S. counterparts in terms of interest in a remote engine start function with 62 percent of respondents in the two markets wanting this function.
The research questioned 5,111 respondents in China, Germany and the United States. All respondents were over the age of 18 and drive a car regularly, own a smartphone or plan to buy one in the next 6-12 months.

About Accenture
Accenture is a leading global professional services company, providing a broad range of services and solutions in strategy, consulting, digital, technology and operations. Combining unmatched experience and specialized skills across more than 40 industries and all business functions – underpinned by the world's largest delivery network – Accenture works at the intersection of business and technology to help clients improve their performance and create sustainable value for their stakeholders. With approximately 373,000 people serving clients in more than 120 countries, Accenture drives innovation to improve the way the world works and lives. Visit us at www.accenture.com .
# # #
Contact:

Anthony Hatter
Accenture
+ 44 7810 756 138
anthony.hatter@accenture.com