October 13, 2016
Consumers Welcome Personalized Offerings but Businesses Are Struggling to Deliver, Finds Accenture Interactive Personalization Research


Almost 40% of online consumers have abandoned a retailer's website because of overwhelming choice of options

NEW YORK; Oct. 13, 2016 – New research from Accenture Interactive indicates that offering personalized experiences will translate to higher sales if businesses remove unintended barriers consumers report. While most consumers welcome personalized offerings, many complain of having received irrelevant recommendations and experienced an overwhelming choice of options when visiting brands and retailers' websites.
The Ups and Downs of Personalization
According to Accenture Interactive's new Personalization Pulse Check, a survey among more than 1,500 consumers aged 18 to 60 across the United States and United Kingdom, consumers have a positive attitude towards personalized offerings and services. This includes:
Being recognized – more than one in two consumers (56%) are more likely to shop at a retailer in store or online that recognizes them by name.
Being offered relevant recommendations – three in five (58%) are more likely to make a purchase when a retailer recommends options for them based on their past purchases or preferences.
Being remembered – two in three (65%) are more likely to shop at a retailer in store or online that knows their purchase history.
A full 75% of consumers are more likely to buy from retailers that provide any of these three services.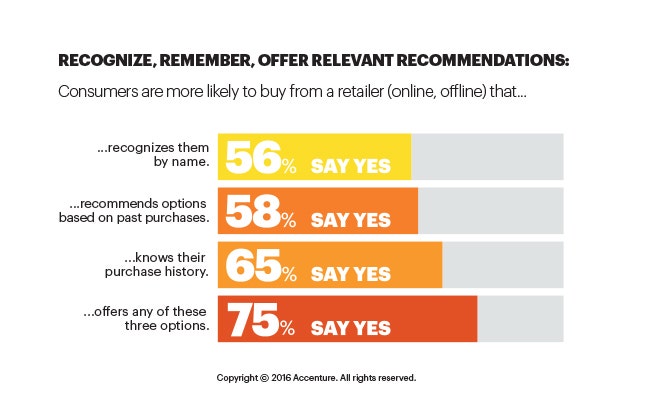 Despite their openness to personalization, many consumers are disappointed with the experiences they receive, such as:
A glut of options – two in five (39%) have left a business' website and made a purchase elsewhere, because they were overwhelmed by too many options.
Irrelevant recommendations – just one in two (50%) reported ever making a purchase recommended to them on a retailer's website.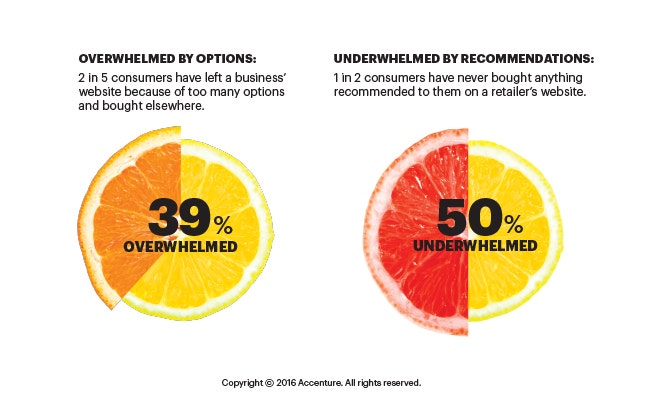 "Brands today have a responsibility to make it easy for customers to engage, buy and consume what they want, how and when they want," said Jeriad Zoghby, global personalization lead at Accenture Interactive. "The availability of data and digital technology today allows for a deeper level of personalization needed to dynamically curate experiences to each individual and context, across marketing, shopping, and services interactions. Yet many brands are still grappling with delivering upon customers' desire for more personalized experiences. They create unintended barriers, for example, when onsite search delivers irrelevant results or landing pages don't match known customer intent or profiles. In an era when your brand is the experience, it's imperative that retailers deliver the ultimate user-friendly and tailored experiences or risk sacrificing sales and loyalty."

Most Companies Are Still Experimenting with Personalization
According to Zoghby, many customers are finding personalized experiences lacking because most companies are still in the experimental stages. Based on his market observations, the vast majority of businesses are in stages 1 and 2 of a 5-stage personalization maturity model, meaning they practice personalization minimally or selectively and base their campaigns and experiences on expert judgment, simplistic business rules and simple testing of web page or email experiences to see which one performs better (A/B testing).

"The next stage is managed personalization, where companies transition to an operating model in a similar fashion to what they've created for content management or ecommerce operations," Zoghby said. "It includes having dedicated teams and well-defined processes and governance to ensure that personalization is applied consistently across all customer experiences."

According to the survey, video streaming is among the more sophisticated industries regarding personalization. It demonstrates particularly high rate of customer satisfaction when it comes to the use of personal data for a better personalized experience. Two in three respondents (66%) reported services, such as Netflix and Hulu, use their data to recommend products and videos they might like.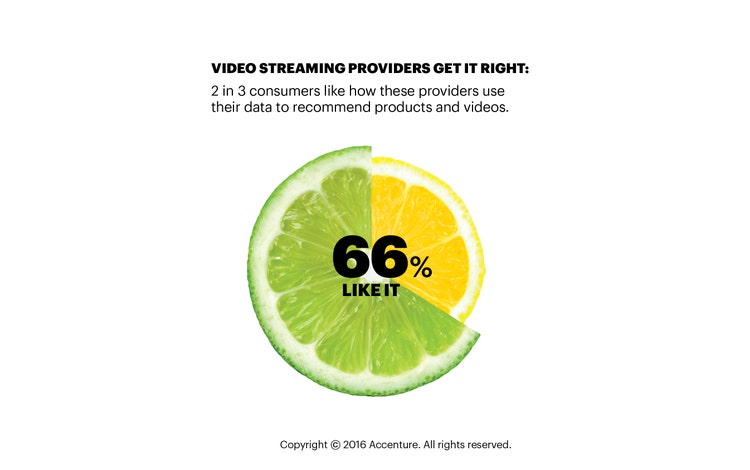 Consumers Expect Transparency and Control of their Data
More than anything, personalization depends on data. The survey found that 70% of consumers are generally comfortable with retailers, news sites, streaming services and service providers collecting personal data if they are transparent about how they use it. Three in four (75%) are generally comfortable with companies collecting personal data if they can control how it is used. Four in five (80%) are comfortable with their data being collected if a company offers either of these two options.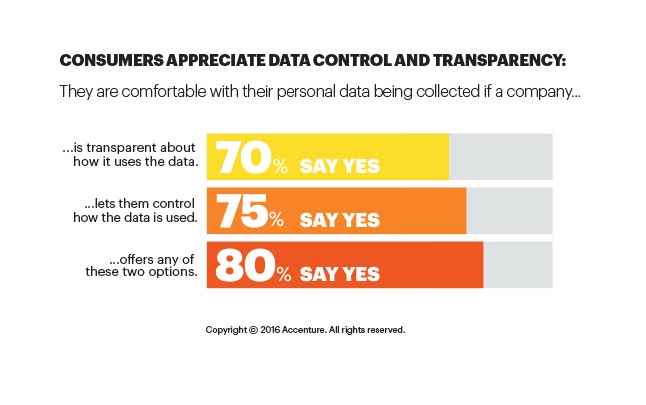 About Accenture
Accenture (NYSE: ACN) is a leading global professional services company, providing a broad range of services and solutions in strategy, consulting, digital, technology and operations. Combining unmatched experience and specialized skills across more than 40 industries and all business functions – underpinned by the world's largest delivery network – Accenture works at the intersection of business and technology to help clients improve their performance and create sustainable value for their stakeholders. With approximately 384,000 people serving clients in more than 120 countries, Accenture drives innovation to improve the way the world works and lives. Visit us at www.accenture.com.

Accenture Interactive, part of Accenture Digital, helps the world's leading brands drive superior marketing performance across the full multichannel customer experience. Accenture Interactive offers integrated, industrialized and industry-driven digital transformation and marketing solutions. It was recently named by Ad Age as the world's largest and fastest-growing digital agency. To learn more follow us @Accenture Social and visit www.accenture.com/interactive

# # #

Contacts:

Jens R. Derksen
Accenture
+ 49 175 57 61393
jens.derksen@accenture.com