May 10, 2016
Citizens Embrace Potential of "Sharing Economy" to Improve Government


Public sector leaders proceeding cautiously

NEW YORK; May 10, 2016 – U.S. citizens are embracing the "sharing economy" in the form of ride-hailing services and accommodations, but an Accenture survey of more than 3,000 citizens and 130 public service leaders shows a big difference between the two on these emerging digital platforms.
Accenture research found a sizable gap between U.S. citizens' acceptance of "sharing economy" business models – such as car ride-hailing or car fleet-sharing services – and public sector leaders' plans to embrace the emerging services. Citizen support for government using a variety of sharing economy services ranges from 73 percent to 87 percent, while around half of public sector leaders surveyed said their organizations are unprepared to leverage such services.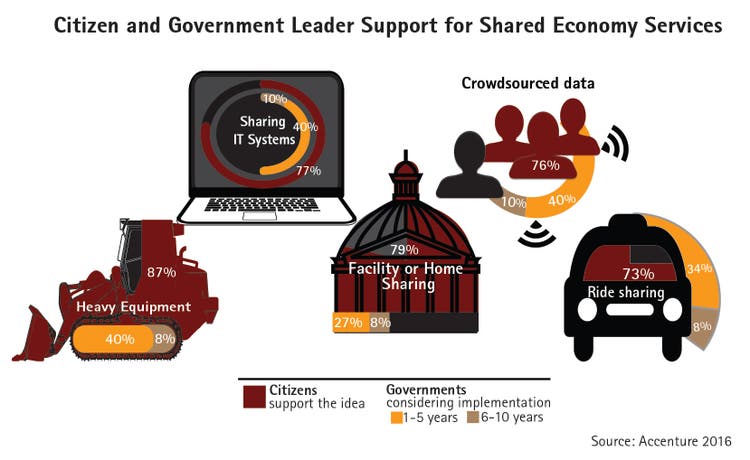 When asked about the potential positive impact of sharing economy models on government, both citizens and public sector leaders were generally optimistic and closer in their views, with 62 percent of citizens and 66 percent of public sector leaders agreeing that greater government engagement in shared economy activities would improve "citizen satisfaction with government."

"Digital technologies are empowering people to take a modern approach to the old-fashioned idea of sharing, and we are seeing strong growth in businesses delivering services without owning the underlying assets, such as vehicles, facilities and equipment," said Daniel T. London, group chief executive of Accenture's Health & Public Service operating group. "These sharing – or 'We' economy – models offer government innovators some exciting new pathways to be even more cost-effective while enhancing citizen perceptions, engagement and satisfaction with government."

The research also looked at current use of shared economy services by age group, and found 37 percent of Millennials (adults aged 18-36) are current users of such services compared to 22 percent of all U.S. adult respondents. Aside from the difference in current usage of shared economy services by age group, age was not a statistically significant factor in citizen views of the potential for government to leverage such services.

Methodology
In September 2015, Market Strategy Group surveyed 3,161 U.S. voting-age citizens and 133 public sector leaders on the topic of government's role in the sharing economy. Results for citizens are statistically significant with a confidence level of 95 percent and a margin of error of +/- 2 percent. Results for public service leaders are statistically significant with a confidence level of 95 percent and a margin of error of +/-10 percent.

About Accenture
Accenture is a leading global professional services company, providing a broad range of services and solutions in strategy, consulting, digital, technology and operations. Combining unmatched experience and specialized skills across more than 40 industries and all business functions – underpinned by the world's largest delivery network – Accenture works at the intersection of business and technology to help clients improve their performance and create sustainable value for their stakeholders. With approximately 373,000 people serving clients in more than 120 countries, Accenture drives innovation to improve the way the world works and lives. Visit us at www.accenture.com.
# # #


Contact:

Joe Dickie
Accenture
+ 1 512 694 6422
joseph.r.dickie@accenture.com