March 08, 2016
CFOs Putting Off Strategic Cost Management Despite Nearly One-Quarter Fearing Their Company Will Cease to Exist, Finds Research From Accenture Strategy


CFOs Need to Invest More in Digital to Be Competitive
NEW YORK; Mar. 8, 2016 – Nearly one-quarter (24 percent) of Chief Financial Officers (CFOs) fear that their companies will cease to exist as they do today due to disruptive competition. Yet, in response, while companies intend to focus on growth, only six percent of CFOs plan to make strategic cost management a priority this year, according to a new study by Accenture (NYSE: ACN).
The Accenture Strategy report, CFO Reality Check: Good Intentions in Cost Management are Not Good Enough, reveals that beyond fears for the future of their own company, 58 percent of CFOs think their industries will be disrupted, and 41 percent think that more than half of their competitors will disappear. The majority (59 percent) of CFOs think strategic cost management must be part of their response at some stage, but the low priority they place on it this year suggests they are putting off taking action.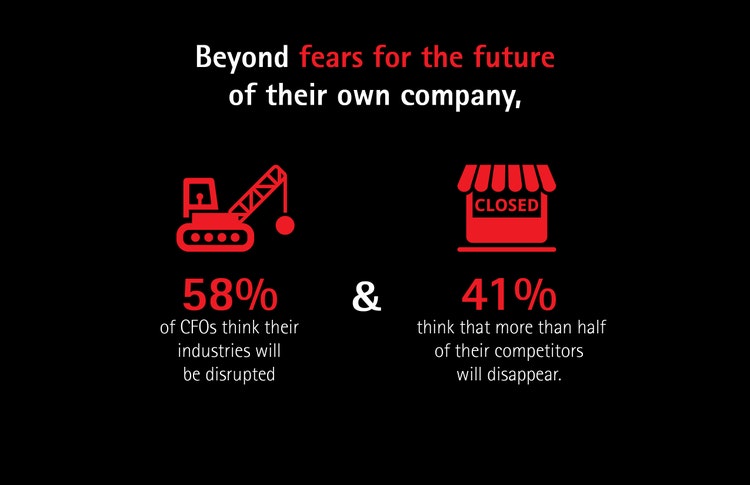 "In the past decade, CFOs have moved away from being only focused on the finance function into being strategic decision makers for the broader business," said Christian Campagna, senior managing director, Accenture Strategy, CFO & Enterprise Value. "As part of this shift, more CFOs are advocating for digitally-driven strategic cost management to improve agility and fund growth initiatives. More than half of CFOs already have performance objectives in place that make them responsible for strategic cost management on a daily basis. The challenge will be to consistently perform against those set objectives."

A New Way of Thinking about Cost Management
The report argues that if companies want to survive the impacts of competitive disruption, they must shift from ad hoc cost cutting to strategic cost management that uses digital technologies to sustain their efforts. For CFOs who are currently pursuing this approach, over half of their companies are mostly investing in mobility and moving activities to the cloud (54 percent and 52 percent respectively). Three years from now, they will also make further investments in robotics and big data analytics (44 percent and 40 percent respectively).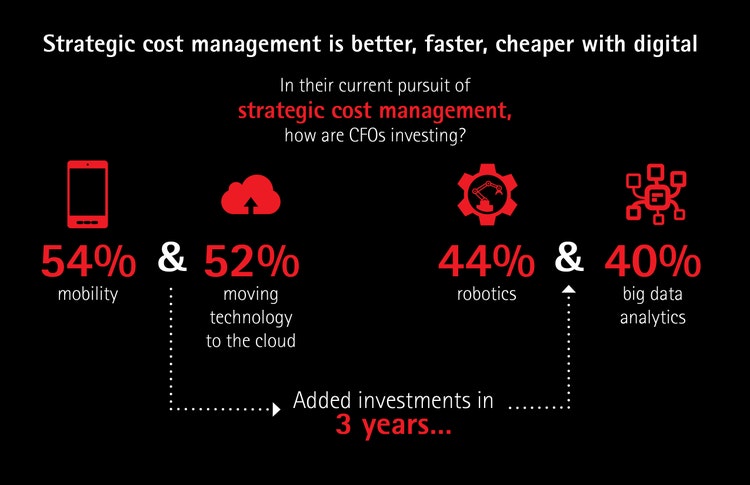 "As CFOs' roles evolve, from corporate bean counter to enterprise value architect, they will need to attack costs comprehensively and strategically in order to provide their companies a longer runway of financial viability and a differentiated competitive position," said Aneel Delawalla, managing director, Accenture Strategy, CFO & Enterprise Value.

The Industry Perspective
The research shows that CFOs in some industries are particularly concerned about the risk of digital irrelevance. The CFOs in the following industries most strongly believe their businesses may not survive against competition:
Insurance (40 percent)
Energy (31 percent)
Consumer Goods (23 percent)
Automotive and Industrial (23 percent)
While there is recognition for a need to change, few are committed to changing their company's business strategy. CFOs in insurance (three percent), Energy (16 percent), Consumer Goods (10 percent), Automotive and Industrial (seven percent) all ranked changing business strategy as a low priority.

Leading the Charge on Strategic Cost Management
As businesses seek to become market disruptors, Accenture Strategy suggests that CFOs take a leadership role to help companies redefine how they compete. Accenture Strategy's recommendations for CFOs include:
Pass a digital stress test with flying colors. Conduct outside-in scenario planning for digital disruption to highlight those areas of the operating model and cost structure that need to be transformed. Be ready with a plan to shift from fixed to variable costs if the company must scale down in specific functions, areas or geographies.
Create a gutsy, 'digital-first' plan of action. Create and implement an action plan to redefine the current cost base, with digital at the core. This means that enterprise investment plans must include a view into how all investment equips the company to run as a digital business. The plan should cut the cost base, through immediate targets and long-term cost-cutting goals.
Live and breathe relentless customer obsession. Ensure that strategic cost management does not stop at the corporate center or at the walls of an advanced shared services model. Extend it to go-to-market activities so customers have better experiences and enjoy better quality, cost and responsiveness.Learn more at www.accenture.com/CFORealityCheck.

Methodology
In September 2015, Accenture Strategy surveyed 216 CFOs (Global, Regional and Divisional) of organizations with global annual revenues greater than $1 billion (USD). The goal of this study was to assess the strategic importance of cost management, the extent of business disruption, as well as the actions and investments companies are taking in response to this disruption.

About Accenture
Accenture is a leading global professional services company, providing a broad range of services and solutions in strategy, consulting, digital, technology and operations. Combining unmatched experience and specialized skills across more than 40 industries and all business functions – underpinned by the world's largest delivery network – Accenture works at the intersection of business and technology to help clients improve their performance and create sustainable value for their stakeholders. With approximately 373,000 people serving clients in more than 120 countries, Accenture drives innovation to improve the way the world works and lives. Visit us at www.accenture.com.

Accenture Strategy operates at the intersection of business and technology. We bring together our capabilities in business, technology, operations and function strategy to help our clients envision and execute industry-specific strategies that support enterprise wide transformation. Our focus on issues related to digital disruption, competitiveness, global operating models, talent and leadership help drive both efficiencies and growth. For more information, visit www.accenture.com/strategy

# # #

Contact:

Tourang Nazari
Accenture Strategy
+ 1 202 322 4640
tourang.nazari@accenture.com