October 05, 2016
Car-buyers Hindered by Online-Dealer Showroom Disconnect, Accenture Finds


Automakers and dealers must tighten multi-channel integration strategy and embrace the latest technology or risk losing sales

NEW YORK; Oct. 5, 2016 – As car-buyers become more accustomed to shopping online, they are visiting dealer showrooms for fewer and more specific reasons to accelerate the purchase process. But they are finding that their expectations are not being met due to poor web-showroom integration at a time when technology is offering some of the best opportunities for a compelling experience, a new Accenture survey reveals.
The survey of consumers in China, Germany, and the United States who recently bought a car shows that they believe that their online and offline experiences are poorly integrated. Rating seamless integration on a scale of one to four, with four being the most integrated and one the least, they rated their experience 2.32, on average.

Accenture defined consumers that shop online frequently, defined as "Digital Natives," and those that are more conservative online users, characterized as "Digital Laggards." The report found that the "Natives" visit the dealer more often than the "Laggards": 60 percent of them stop at their dealership more than twice before buying a car, while only 47 percent of the more conservative customers do the same.
Majority of car-buying decisions made online, but consumers still using showrooms, says Accenture Survey


The findings indicate that Digital Natives may need less time at the dealer because they have made their vehicle purchase decision online. This underscores how the showroom's value is being re-defined as a destination to finalize the purchase of a car, rather than the traditional starting point for initiating the sale. The survey also reveals that nearly all car-buying decisions are made online, and many customers do not believe that in-person interaction is necessary at every stage of the transaction.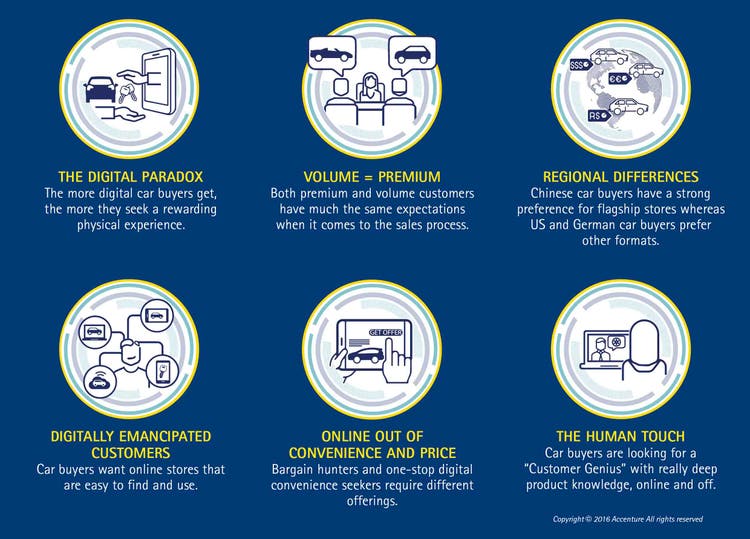 "Today's consumers, influenced by digital technology, are driving the car-buying process. They are visiting showrooms to seek distinct information to supplement the information found on the web, and want counsel from product- and customer experts instead of a traditional sales presentation," said Axel Schmidt, managing director in Accenture's automotive practice. "As digitization increases, automakers and dealers can no longer afford to ignore full integration of their operations. They must work together more closely than ever to create a truly seamless, multichannel experience to satisfy customers."

The report also found that respondents believe there is room for improvement in both digital channels and showrooms. Nearly half (43 percent) would consider purchasing a new vehicle online if prices were lower than those at the dealership. This is true for half of the Digital Laggard respondents, who said they would buy new vehicles online if prices were cheaper. Yet lower prices are not the only online enhancements customers would like to see. They are also interested in advanced product configurators, online chat consultation, and augmented reality-based experiences.

In terms of offline improvements, the survey found that in addition to wanting expert product advice, many of the respondents would like staff to be available to answer additional questions and provide well-founded recommendations regarding their purchase throughout the buying process, not just in person, at the dealership.

"There are clear opportunities for the industry to improve interaction with customers using new technologies like cloud-based customer relationship management, business-insights software and virtual- and augmented-reality technologies. Automakers and dealers have almost everything they need to make the online-offline experience more compelling, but what they need to do is to bring it all together and make it work," said Schmidt. "That's likely to be challenging, but it will be rewarding for those who are able to create strong multi-channel integration."

Buying preferences vary from country to country
There are some important differences between the surveyed countries regarding auto retail channels, which dealers and car-makers need to consider.
China - Chinese consumers showed the strongest preference for flagship stores, with 37 percent saying they would buy their next car at such an outlet, and 28 percent preferred picking up their new car from their dealer. Fifteen percent would buy their next vehicle from an online store if possible.
Germany – Prospective buyers in Germany showed the strongest interest in buying a car at a standard dealership, with nearly half (46 percent) citing such a preference as their vehicle purchase location. Sixty-one percent also preferred picking up their car from the dealer. Twenty percent were open to auto retail outlets featuring advanced technologies, such as virtual reality experiences, and 10 percent would entertain purchasing a car from an online store.
The U.S. – These drivers are the most likely group to buy a car online. Nineteen percent of U.S. drivers polled could see themselves buying from an online store, and only 14 percent would prefer to purchase a vehicle from a flagship outlet. Thirty-five percent still prefer buying their new car from a standard dealership.
"Despite these market differences, it is clear that automotive retail business models throughout the global market need to undergo a dramatic transformation to fully benefit from the multi-channel customer and fend off new market entrants, whose platform business models have already disrupted the second-hand car market," said Schmidt.

About the survey
Accenture carried out an online survey of approximately 3,000 consumers in China, Germany and the United States. The survey participants are a representative number of private car buyers in each market who had purchased a new car in the past five years.
Copies of the research report are available here.

About Accenture
Accenture is a leading global professional services company, providing a broad range of services and solutions in strategy, consulting, digital, technology and operations. Combining unmatched experience and specialized skills across more than 40 industries and all business functions – underpinned by the world's largest delivery network – Accenture works at the intersection of business and technology to help clients improve their performance and create sustainable value for their stakeholders. With approximately 384,000 people serving clients in more than 120 countries, Accenture drives innovation to improve the way the world works and lives. Visit us at www.accenture.com.

# # #

Contact:

Anthony Hatter
Accenture
+ 44 7810756 138
anthony.hatter@accenture.com