October 18, 2016
Airline Executives Believe They Are Falling Short in Their Plans to Enhance the Customer Experience According to Accenture Research


96 percent want to personalize the air travel experience for customers with real-time data

NEW YORK; Oct. 18, 2016 – While nearly 80 percent of airlines executives say they have a clear vision for their customer strategy, nearly two-thirds (64 percent) believe they are failing to implement their plans to enhance the customer experience, according to findings of a study from Accenture.
The Accenture Digital Readiness for Customer Experience in the Airline Industry study is based on interviews with executives representing a third of the world's largest airlines based on volume of passengers flown. Among the key challenges facing the airline executives polled, meeting customer experience expectations, delivering consistency across multiple touchpoints and implementing digital technology are among the biggest issues. While 65 percent of executives polled are open to collaborating with third parties and nearly half (48 percent) are concerned about the security of data, airlines do want to leverage their ownership of the flight to build a stronger relationship with the customer.

When asked to identify the barriers airlines face when implementing their digital customer experience strategies, 40 percent of executives cited aligning their internal culture to digital technology and services as the top challenge. Additionally, more than a third (36 percent) identified siloed technology systems as the top implementation barrier - particularly the difficulty of integrating legacy technology systems and multiple customer touchpoints.

"Despite the advances that digital technologies have already enabled, the airline industry is still missing out on opportunities to better interact with its customers," said Jonathan Keane, managing director and head of Accenture's Aviation practice. "Airlines should take a cue from consumer-related business leaders such as Amazon and Uber, whose simple and direct manner of engaging and communicating with their customers allows them to offer unique, personalized experiences in real-time. That is the best way for carriers to meet the growing customer demands of a connected travel experience."

Accenture's study revealed executive's interest in emerging digital customer experiences concepts: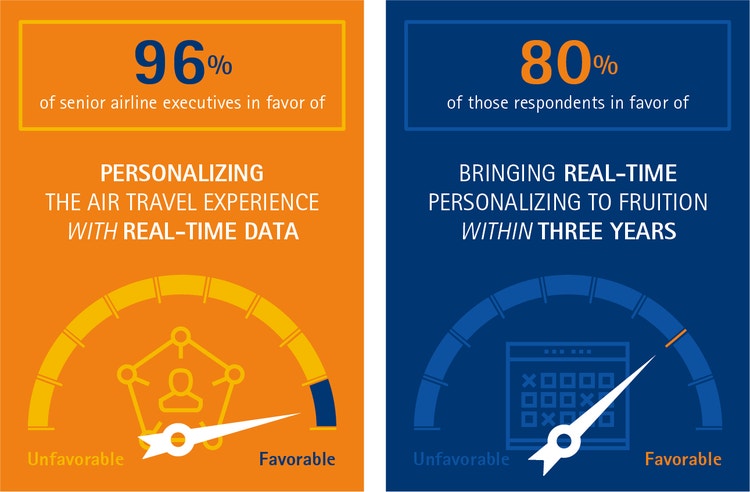 Personalizing the air travel experience with real-time data was ranked as the top emerging concept by senior airlines executives, cited by 96 percent of respondents, and 80 percent said they will deliver real-time personalization within three years.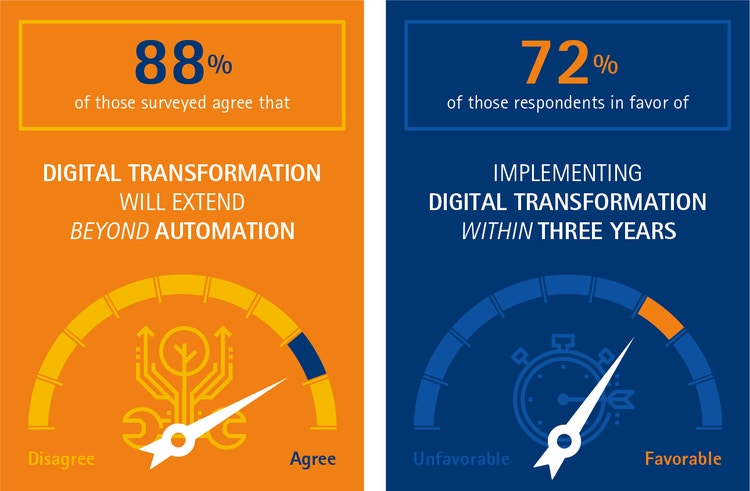 Eighty-eight percent of those surveyed agreed that digital transformations will extend beyond automation to include new business, technology and operating models, and 72 percent said they plan to conduct this implementation within the next three years.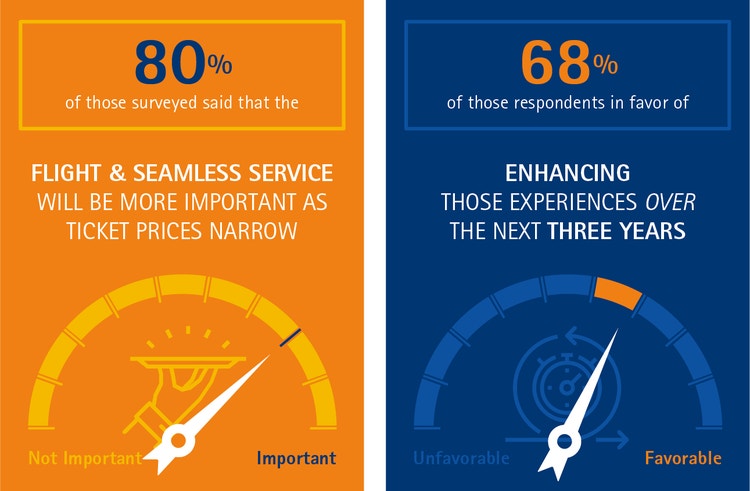 As the pricing boundaries between the different types of carrier become less distinct, 80 percent of those surveyed said that the flight and seamless service will be more important than ever, and 68 percent said they plan to enhance those experiences over the next three years.

With real-time personalization of travel experiences being ranked as the top emerging digital customer experience (supported by 96 percent of executives), airlines will need to consider how to manage their data partnerships with third-party entities as data ownership interests can be complex. Two-thirds (65 percent) of the airline executives surveyed said they are open to collaborating with third parties, and 20 percent are building customized software with application program interfaces (APIs) to better engage with their customers. However, 70 percent prefer that customers use an airline's direct platforms rather than a third-party distribution option for all of their travel needs.
Accenture's study further showed that to help manage the customer influence from third-parties, nearly half (48 percent) of executives believe airlines will need to take better advantage of their centralized position in the end-to-end travel experience. They want to leverage three unique strengths: owning the most important piece of the travel value chain – the flight, having access to richer customer insights and offering more touchpoints and services.

Additionally, the Accenture study identified the level of digital sophistication as another key strategy that will further improve the customer's connected travel experience with airlines. Results showed that all airlines in the study are supporting self-service through mobile applications and websites as well as creating and leveraging a 360-degree view of the customer. Two-thirds of respondents are engaged in expanding the digital dialogue through social media and third-party partnerships, while one-third of respondents are using real-time insights to enhance the personalized customer experience.

Methodology
The Accenture Digital Readiness for Customer Experience in the Airline Industry study is based on interviews with executives representing a third of the world's largest airlines based on volume of passengers flown. Respondents represented a range of roles including Chief Marketing Officer, Chief Commercial Officer, Chief Strategy Officer, and Chief Revenue Officer. Both full-service and low-cost airlines from North America, Latin America, Europe, Middle East, Africa and Asia-Pacific participated.
For more information, please visit: www.accenture.com/travel

About Accenture
Accenture is a leading global professional services company, providing a broad range of services and solutions in strategy, consulting, digital, technology and operations. Combining unmatched experience and specialized skills across more than 40 industries and all business functions – underpinned by the world's largest delivery network – Accenture works at the intersection of business and technology to help clients improve their performance and create sustainable value for their stakeholders. With approximately 384,000 people serving clients in more than 120 countries, Accenture drives innovation to improve the way the world works and lives. Visit us at www.accenture.com.

# # #

Contacts:

Stefanie Schumann
Accenture
+ 1 847 722 4144
stefanie.l.schumann@accenture.com