January 27, 2016
Accenture's New Digital Portal Helps Product Developers and Engineers Accelerate Deliveries to Market

NEW YORK; Jan. 27, 2016 – Accenture (NYSE: ACN) has launched a digital portal that helps product developers such as engineers accelerate delivery of products to market at lower costs through greater efficiency.
The Accenture Enterprise Product Information and Content (EPIC) Portal consolidates large amounts of product development data from multiple enterprise systems in a single, organized view, reducing the time needed for product developers to search for this data by up to 95 percent. Leveraging this portal, these professionals can use analytics to anticipate and solve problems, as well as develop insights and make better-informed decisions.

Accenture developed the EPIC portal for companies that design, engineer and manufacture complex products in the aerospace, automotive, consumer products, electronics, industrial equipment, high-tech and life science industries. The portal features pre-defined integration with product lifecycle management, enterprise resource planning and a range of other applications used in product design and production.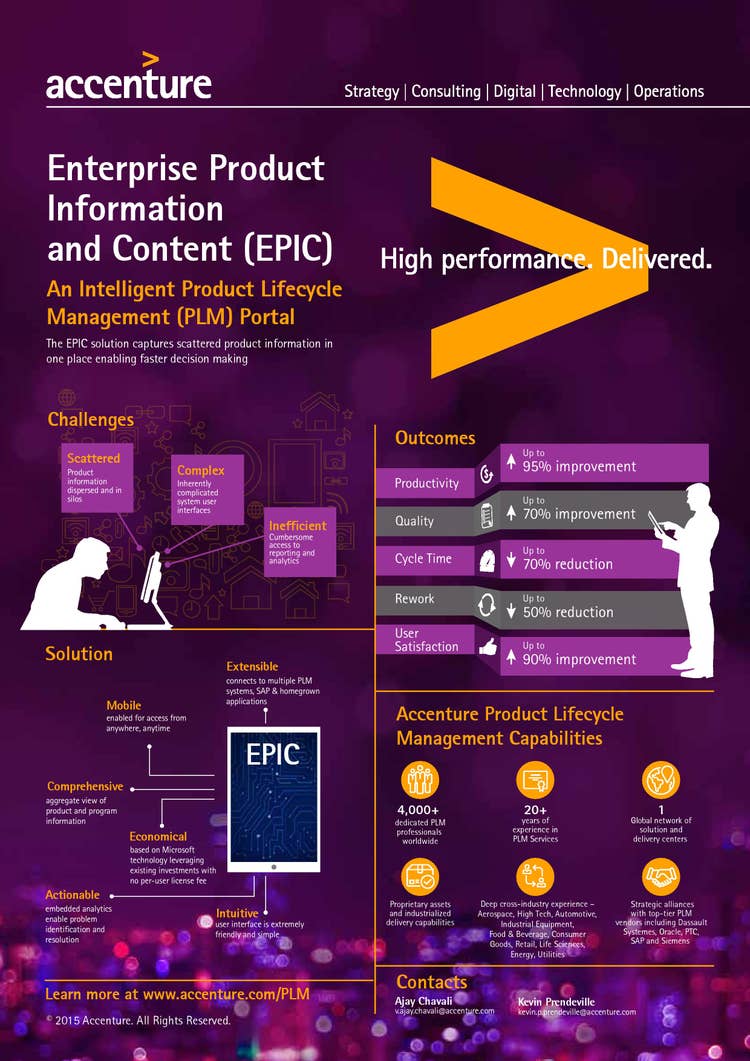 "Throughout large, complex companies, product developers grapple with data scattered across too many siloed databases, complicated system user interfaces, and cumbersome access to analytics and product data reports," said Kevin Prendeville, a managing director in Accenture's Product Lifecycle Services business. "The EPIC portal equips engineers with one integrated source to identify risks and speed product deliveries whenever they need to, wherever they are, which increases efficiency and lowers costs."

For example, a supply chain procurement engineer with an automotive manufacturer could use the EPIC portal to more rapidly ascertain the engineering status of automotive parts and avoid delays delivering products to market. Knowing this status also benefits numerous other corporate groups, including engineering, sourcing, quality, marketing, manufacturing and operations.

"Accenture's product information portal addresses a common product innovation pain point," said Jeff Hojlo, IDC program director for Product Innovation Strategies. "The product lifecycle management (PLM) portal encompasses all product innovation content in an organization ranging from PLM, enterprise, quality or compliance systems. These capabilities are not meant to replace PLM provider capabilities; rather, they are meant to complement them and extend PLM information to the global team."

Hojlo named Accenture a PLM market leader in a recently released report, "IDC MarketScape: Worldwide Manufacturing PLM Systems Integrators and BPO Services 2015 Vendor Assessment"; document #MI259496.

For more EPIC details click on this Infographic.

About Accenture
Accenture is a leading global professional services company, providing a broad range of services and solutions in strategy, consulting, digital, technology and operations. Combining unmatched experience and specialized skills across more than 40 industries and all business functions – underpinned by the world's largest delivery network – Accenture works at the intersection of business and technology to help clients improve their performance and create sustainable value for their stakeholders. With approximately 373,000 people serving clients in more than 120 countries, Accenture drives innovation to improve the way the world works and lives. Visit us at www.accenture.com.

# # #

Contacts:

Charles Hartley
Accenture
+ 1 973 590 9920
Charles.hartley@accenture.com
@charleshartley

Anthony Suarez
North of Nine
+ 1 212 614 4331
anthony.suarez@nof9.com