January 27, 2016
Accenture Unveils New Analysis Team for 2016 RBS 6 Nations Including Elite Rugby Experts Nick Mallett, Ben Kay and David Flatman


Expert panel to provide unrivalled data analysis during 'Rugby's Greatest Championship' to help fans See Beyond

LONDON; Jan 27, 2016 – Accenture (NYSE: ACN), the Official Technology Partner of the RBS 6 Nations Rugby Championship, today unveiled a new team of experts who will combine their insight with Accenture's data analysis to enrich the fan's experience of what is happening on the pitch during the 2016 Championship.
Nick Mallett, former head coach for Italy and South Africa national rugby union teams, will again join the team for the duration of the championship. This year the team will be bigger. Mallett will be joined by Rugby World Cup winner Ben Kay and former England prop David Flatman. Both will offer their renowned rugby insight and tactical awareness to complement Mallett and the Accenture team's data analysis expertise, helping fans to see beyond raw match data.

Known for his analytical approach, Mallett guided the Italians as head coach through four RBS 6 Nations Championships and the 2011 Rugby World Cup. As coach of the Springboks, Mallett masterminded a record 17 successive Test wins, an unbeaten Tri-Nations Championship triumph, and took them to the semi-finals of the 1999 Rugby World Cup.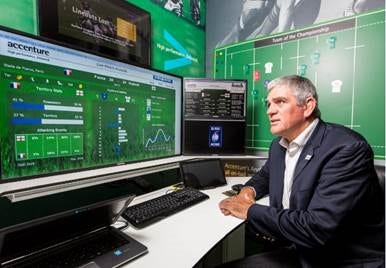 Nick Mallett joins the Accenture analysis team for a second year

Combining more than 60 years of playing and coaching experience with Accenture's analytics and business intelligence tools and expertise on the panel, the analysis team will provide a data-driven perspective on rugby during all 15 RBS 6 Nations games taking place at Twickenham, BT Murrayfield, Principality Stadium, Aviva Stadium, Stade de France and Stadio Olimpico.

Mallett commented: "The importance of data in sport has been growing steadily for well over a decade, with coaches all around the world seeking to gain even the smallest advantage on the field. Working alongside me, Ben and David, Accenture's analysis team will help develop insights that are usually the reserve of top level coaches.

"I believe that by utilising the smartest analysis, Accenture's analytics tools and indexes, overlaid with human insight, we will help fans to see beyond the surface of the game. Fans will be able to review not just game-changing moments but the reasons behind them; the game plan, how single moments affect results and, more importantly, have an improved fan experience during the RBS 6 Nations."

Nick Millman, managing director, Big Data and Analytics Delivery Lead for Europe, Africa and Latin America at Accenture, added: "Bringing Ben Kay and David Flatman onto the team to supplement Nick Mallett's extensive international rugby experience will ensure the analysis team has the very best rugby knowledge to sit alongside our technical expertise.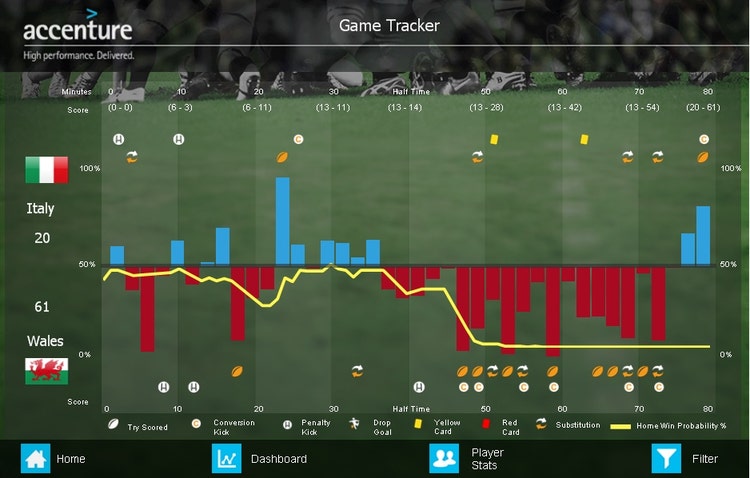 The Accenture analytics dashboard in action

"Our team will study two million rows of data per game using Accenture analytics tools to provide fans with insights that not only help them see the game in a new way but also enrich their RBS 6 Nations experience, for what is shaping up to be a very exciting Championship."

Accenture is the Official Technology Partner for the RBS 6 Nations for the fifth consecutive year and is committed to enhancing the digital experience for rugby fans. Using in-house data experts and analytics tools, Accenture powers the official RBS 6 Nations mobile app and provides match data analysis. The app is available for Android, Kindle and iOS devices, including a new Apple Watch application developed by Accenture Mobility specifically for the 2016 Championship.

The data insights from Accenture's analysis team will be published via the Accenture Twitter feed @AccentureRugby and hosted on www.accenture-rugby.com.

About Accenture
Accenture is a leading global professional services company, providing a broad range of services and solutions in strategy, consulting, digital, technology and operations. Combining unmatched experience and specialized skills across more than 40 industries and all business functions – underpinned by the world's largest delivery network – Accenture works at the intersection of business and technology to help clients improve their performance and create sustainable value for their stakeholders. With approximately 373,000 people serving clients in more than 120 countries, Accenture drives innovation to improve the way the world works and lives. Visit us at www.accenture.com.

About Accenture Digital
Accenture Digital , comprised of Accenture Analytics, Accenture Interactive and Accenture Mobility, offers a comprehensive portfolio of business and technology services across digital marketing, mobility and analytics. From developing digital strategies to implementing digital technologies and running digital processes on their behalf, Accenture Digital helps clients leverage connected and mobile devices; extract insights from data using analytics; and enrich end-customer experiences and interactions, delivering tangible results from the virtual world and driving growth. To learn more about Accenture Digital, follow us @AccentureDigiand visit www.accenture.com/digital.

# # #

Contacts:

Molly McDonagh
Accenture
+ 44 7825 023 622
molly.mcdonagh@accenture.com

Steve Spencer
Synergy
steve.spencer@synergy-sponsorship.com